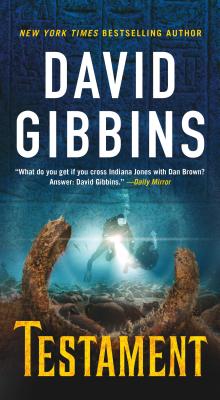 Testament (Jack Howard #9) (Paperback)
St. Martin's Paperbacks, 9781250156235, 464pp.
Publication Date: January 2, 2018
Other Editions of This Title:
Hardcover (3/14/2017)
* Individual store prices may vary.
Description
David Gibbins' Testament continues the thrilling Jack Howard series with a tale across time.
The race to locate the legendary Ark of the Covenant begins NOW.
586 BC
The ancient world is in meltdown. In desperation, the priests of the Temple look to the greatest navigators of their time to save their treasures. Meanwhile, on a far distant shore, a Phoenician named Hanno flees for his life from a terrifying enemy—to a place the prophets called the Chariot of the Gods.
1943
In the darkest days of the Second World War, Allied codebreakers play a game of live or die. A top-secret exchange of deadly materials between the Nazis and the Japanese is set to occur, but neither side knows about the priceless artifact that's hidden on board a ship whose fate they have just sealed.
Present day
Marine archaeologist Jack Howard is on the most important—and perilous—dive of his career: hunting for Nazi gold. His voyage will take him from a Phoenician shipwreck off the coast of England to the ruins of ancient Carthage. Can he unearth the truth about one of the world's most dangerous secrets without getting himself killed…and will he rewrite history as we know it today?
About the Author
DAVID GIBBINS is the internationally bestselling author of nine Jack Howard novels, which have sold over three million copies worldwide and are published in thirty languages, and the Total War series of historical novels. He has worked in underwater archaeology all his professional life. After taking a PhD from Cambridge University he taught archaeology in Britain and abroad, and is a world authority on ancient shipwrecks and sunken cities. He has led numerous expeditions to investigate underwater sites in the Mediterranean and around the world. He currently divides his time between fieldwork, England and Canada.
Praise For Testament (Jack Howard #9)…
"A brilliantly written thriller"—Parmenion Books on Testament
"David Gibbins is a marine archaeologist himself and his expertise and experience endow these books with invaluable authenticity and detail...There isn't another thriller hero like Jack Howard and I treasure him."—For Winter Nights on Testament
"Utterly absorbing . . . When the adventure is as exciting as it is here, it is too good not to be allowed to speak for itself. . . . Put aside your assumptions of what a thriller should be and instead immerse yourself in one of the best historical adventures you'll read this year." —For Winter Nights on Pharaoh
"History, mystery and myth all brought together to astound the reading senses . . . a true leader of his genre and his art." —Parmenion Books on Pharaoh
"An exciting mix of fact and fiction, with shades of Clive Cussler and Indiana Jones." —York Evening Press on Crusader Gold
"The historical conspiracy angle gives the book Da Vinci-esque appeal, and the intense visual details of the team's marine discoveries make it naturally cinematic."—Publishers Weekly on Atlantis
"What do you get if you cross Indiana Jones with Dan Brown? Answer: David Gibbins."—Daily Mirror on Atlantis
"...a superb novel...one of the best historical adventures you'll read this year." —For Winter Nights on Pyramid