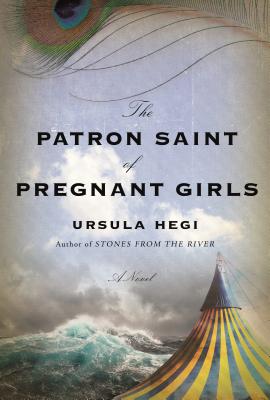 The Patron Saint of Pregnant Girls
A Novel
Hardcover

* Individual store prices may vary.
Other Editions of This Title:
Paperback (6/8/2021)
CD-Audio (8/18/2020)
Description
"A joy to read." —New York Times Book Review

From beloved bestselling author Ursula Hegi, a new novel about three mothers, set on the shores of the Nordsee, perfect for fans of Water for Elephants and The Light Between Oceans.

In the summer of 1878, the Ludwig Zirkus arrives on Nordstrand in Germany, to the delight of the island's people. But after the show, a Hundred-Year Wave roars from the Nordsee and claims three young children.

Three mothers are on the beach when it happens: Lotte, whose children are lost; Sabine, a Zirkus seamstress with her grown daughter; and Tilli, just a girl herself, who will give birth later that day at St. Margaret's Home for Pregnant Girls. After the tragedy, Lotte's husband escapes with the Zirkus, while she loses the will to care for their surviving son. Tilli steps in, bonding with him in a way she isn't allowed to with her own baby, taken away at birth. Sabine, struggling to keep her childlike daughter safe in the world, forms a complicated friendship with Lotte. But the mothers' fragile trio is threatened when Lotte and her husband hatch a dangerous plan to reunite their family, and Tilli and Sabine must try to find a way to pull them back to reality.

As full of joy and beauty as it is of pain, and told with the luminous power that has made Ursula Hegi a beloved bestselling author for decades, The Patron Saint of Pregnant Girls is a shining testament to the ways in which women hold each other up in the most unexpected of circumstances.
Praise For The Patron Saint of Pregnant Girls: A Novel…
Praise for The Patron Saint of Pregnant Girls

"How can a novel that begins with a drowning and probes the depths of loss, grief and longing be such a joy to read? Part of the answer can be found in Hegi's rhapsodic conjuring of the natural wonders of Nordstrand, in her depiction of the warmth of its people and the emotions that move them, sometimes against their best interests. There's also her ease in deploying a large and varied cast of characters…Nordstrand is full of surprises."
—New York Times Book Review

"Deeply compassionate…A surprisingly sunlit tale of grief and rebirth, drawing on history and folklore to create an indelible portrait of a family and community forged in crisis…Hegi performs a kind of alchemical cartography, transporting readers to a place so vividly rendered they may undergo culture shock upon reentering our own damaged world."
—The Washington Post

"Magical…A lyrical meditation on motherhood and mourning…Hegi is gentle with her characters, offering them consolation in their shared humanity…Ultimately transforming."
—The Boston Globe

"The novel's canvas resembles a feminist take on those hectic old Flemish masterworks…As Hegi perhaps prefers, we can choose to submit to untidiness — to magical descriptions of a liminal landscape, to the rhythms of characters living and dying, thinking and acting in ways far removed from our own and yet intimately, perfectly familiar."
—Los Angeles Times

"Haunting…Uplifting, a celebration of women, mothers and daughters."
—Minneapolis Star-Tribune

"A searing tale of loss, strength and the power of perseverance."
—GoodMorningAmerica.com

"Hegi presents fortunate readers with a new tour de force…Her women, whether conniving, tender, or briskly competent, will draw you into their welcoming arms. Thoroughly recommended."
—Historical Novel Society

"Mesmerizing…Hegi's command of the plot and ability to render poignant characters create a satisfyingly emotional story. Hegi's fans and devotees of literary fiction will treasure this."
—Publishers Weekly

"Compassionately observant…The offbeat characters enhance the quasi-dreamlike effect, but the scenarios they face are starkly real…Their emotional hardships are satisfyingly leavened by softer moments of romantic and familial love."
—Booklist

"[Hegi is] a writer at the height of her powers. I can't think of a better way to 'endorse' a novel than to say I will be gifting it to my book-loving friends and family—a gift, mind you, not a loan, as I want this title in my keeper bookshelf. As in a circus after a particularly riveting performance, The Patron Saint of Pregnant Girls deserves a thunderous round of applause."
—Julia Alvarez, author of In the Time of the Butterflies and Afterlife

"The Patron Saint of Pregnant Girls is a novel full of marvels—children with missing fathers, girls too young to be mothers, nuns who cherish their charges, circus acrobats, the beautiful northern light—but the greatest marvel is Ursula Hegi's shimmering, radiant, vivid prose. Her characters, and their lives full of love and longing, leap off the page and into the reader's heart."
—Margot Livesey, author of Mercury and The Flight of Gemma Hardy

Praise for Ursula Hegi

"An outstanding talent." —The New York Times Book Review

"A writer of grace and immediacy." —Meg Wolitzer

"Epic, daring, magnificent." —Los Angeles Times

"Unforgettable." —The Washington Post

"Stunning." — Los Angeles Times

"Deeply moving." —J.M. Coetzee

"Brilliant…Mesmerizing." —Chicago Tribune

"Marvelous." —Alice McDermott

"Devastatingly honest." —San Francisco Chronicle

"Masterful." —The Washington Post
Flatiron Books, 9781250156822, 288pp.
Publication Date: August 18, 2020
About the Author
Ursula Hegi is the author of over a dozen books, including Stones from the River, Children and Fire, Floating in My Mother's Palm, and Tearing the Silence. A German-born writer, she immigrated to the United States at eighteen. She has served as juror for the National Book Award and the National Book Critics Circle. Ursula lives with her family on Long Island and has taught writing at Stony Brook, USC Irvine, and Barnard College.