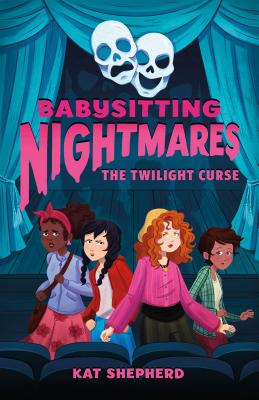 Babysitting Nightmares (Hardcover)
The Twilight Curse
Imprint, 9781250157010, 224pp.
Publication Date: August 20, 2019
Other Editions of This Title:
Digital Audiobook (8/19/2019)
* Individual store prices may vary.
Description
Bad dreams take center stage in the third book of this spooky middle grade series, Babysitting Nightmares: The Twilight Curse by writer Kat Shepherd and illustrator Rayanne Vieira!
When the town's old movie palace is converted into a theater, Maggie is thrilled to get a job helping with the first stage production. Even though she's just babysitting an actor's daughter, Maggie is determined to learn everything she can about acting.
But a devilish ghoul seems to have other plans for the performance! It's up to Maggie, Clio, Rebecca and Tanya to investigate. Can they vanquish the threat in time for opening night?
An Imprint Book

"Babysitting Nightmares makes me believe in the power of female friendship to survive anything—even a haunted house and visits from the Nightmare Realm! A crackling, suspenseful tale of true sisterhood." —Sarah Mlynowski, New York Times bestselling author of the Whatever After series
"These spooky stories of friendship and paranormal adventure will have young readers flipping pages well past their bedtime."—Jennifer Chambliss Bertman, New York Times bestselling author of Book Scavenger
About the Author
Kat Shepherd lives in Los Angeles with her husband, two dogs, and a rotating series of foster dogs. Each year she and her husband travel to a different national park for her wedding anniversary, and they have been lucky enough to also visit places like South Africa, Paris, and the Galapagos Islands.

Babysitting Nightmares is her first middle grade series.
Rayanne Vieira
is a children's book illustrator who also works on visual development for short films and TV shows. She has illustrated such books as
Babysitting Nightmares: The Phantom Hour
,
Babysitting Nightmares: The Shadow Hand
, and
The Nice Monster Under My Bed
.
Praise For Babysitting Nightmares: The Twilight Curse…
"Babysitting Nightmares makes me believe in the power of female friendship to survive anything—even a haunted house and visits from the Nightmare Realm! A crackling, suspenseful tale of true sisterhood." —Sarah Mlynowski, New York Times bestselling author of the Whatever After series
"These spooky stories of friendship and paranormal adventure will have young readers flipping pages well past their bedtime."— Jennifer Chambliss Bertman, New York Times Bestselling author of Book Scavenger
"Fast-paced, action-packed, and just as fun as it is frightening, this series is a sure winner. The cast of real, relatable characters and the thrillingly vivid prose only further ensure that readers—reluctant, eager, or somewhere in between—will be left looking forward to more of Shepherd's delightfully creepy tales." —Jarrett Lerner, author of EngiNerds

"A wicked fun friendship series, packed with deliciously creepy scares." —Lauren Myracle, co-author of the New York Times-bestselling Upside-Down Magic series
Praise for Babysitting Nightmares: The Shadow Hand:
"Expect the girls to appear in another spooky adventure!" —Booklist

"Fans of "Goosebumps" and the updated "Baby-Sitters' Club" graphic novels will find lots to like in this delightfully monstrous mash-up." —School Library Journal