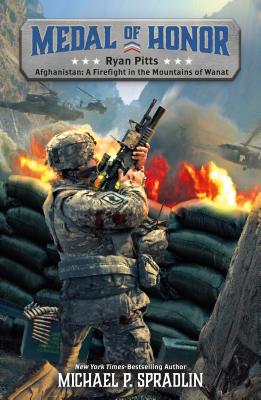 Ryan Pitts (Hardcover)
Afghanistan: A Firefight in the Mountains of Wanat (Medal of Honor #2)
Farrar, Straus and Giroux (BYR), 9781250157119, 112pp.
Publication Date: January 15, 2019
* Individual store prices may vary.
Description
Staff Sergeant Ryan M. Pitts enlisted in the Army when he was seventeen, and was just twenty-two years old when he fought at the Battle of Wanat in Afghanistan, where his heroic actions earned him the Congressional Medal of Honor. On July 13, 2008, Staff Sergeant Pitts was trapped and badly wounded at an elevated outpost, but helped turn back a brutal attack by 200 insurgents and save many of his company in one of the bloodiest battles of the war with Afghanistan.
The Medal of Honor series profiles recipients of the highest and most prestigious personal military decoration, awarded to recognize U.S. military service members who have distinguished themselves through extraordinary acts of valor.
About the Author
Michael P. Spradlin is the New York Times Bestselling and Edgar Award-nominated author of more than a dozen books for children, including the Western Heritage Award-winning Off like the Wind: The Story of the Pony Express. Spradlin grew up in Homer, Michigan and attended Central Michigan University where he graduated with a BS degree in History in 1982. He currently resides in Lapeer, Michigan with his wife, daughter, and two schnoodles Apollo and Willow.