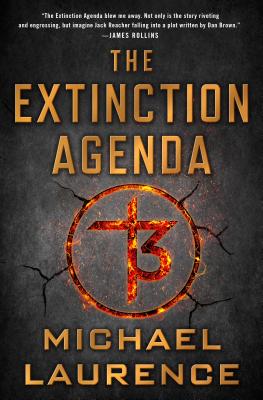 The Extinction Agenda
Hardcover

* Individual store prices may vary.
Other Editions of This Title:
Digital Audiobook (9/2/2019)
Mass Market (5/26/2020)
CD-Audio (11/5/2019)
Description
An FBI agent fights to stop a conspiracy to unleash a deadly virus on the world in this propulsive, exhilarating new thriller.

The discovery of a deadly virus being smuggled across the border pits FBI Special Agent James Mason and his strike force against an unknown adversary hell-bent on humanity's destruction. In a desperate effort to contain the pathogen, they launch a predawn raid, only to find that their enemy knows they're coming…and it's not about to be taken alive. An explosion rips through the building, killing the majority of Mason's team, including his partner and mentor.


Tormented by guilt, Mason returns to his home division, but he can't seem to let go of the tragedy. He remembers seeing something inside the building before it went up in flames, something that convinces him that not only is the virus still out there, it's merely the first stage of an even more nefarious plan. Obsessed with unraveling the plot, he launches his own investigation and uncovers a shadow organization on the brink of enacting its genocidal agenda, one carried out by a sinister mass murderer who's been photographed at the epicenter of seemingly every historical pandemic…without appearing to age. An evil man who attempts to derail Mason's investigation by murdering his wife.


With the help of his longtime friends—Gunnar Backstrom, a corporate espionage gun-for-hire, and Ramses Donovan, a sin merchant of questionable morality—Mason's hunt for his wife's killer leads him from a dark union at the dawn of the twentieth century to a network of Nazi collaborators and a conspiracy against mankind more than a hundred years in the making. Fueled by anger and driven by the promise of vengeance, he must overcome a monster preparing to unleash his virulent wrath upon an unsuspecting world if he's to have any hope of exposing a deep-state entity that's rooted in every facet of our society, an entity known only as…The Thirteen.
Praise For The Extinction Agenda…
"An exciting page-turner that will keep a fan awake long past bedtime." —New York Journal of Books

"With a hero facing enough twists and turns to make James Bond look like a piker....A nail-biting thriller." —The Denver Post

"The mixture of science, history, and conspiracy echoes the work of James Rollins and Steve Berry. The pacing never lets up." —Booklist

"Think The X-Files by way of Michael Connelly...a refreshing switch from the usual, tried-and-true run-and-gun, non-stop action formula thrillers of this type tend to go for. Instead, The Extinction Agenda relies more on intelligently twisted machinations and a smart conspiracy that slowly unravels over the evolution of Mason's investigation." —High Fever Books

"The character of James Mason joins all the other bad asses out there like Bond, Jason Bourne, Jack Ryan and Jack Reacher....The story is full of twists and turns and is non-stop action. I for one cannot wait for the next chapter with Mason and company." —Red Carpet Crash

"Michael Laurence's The Extinction Agenda blew me away. Not only is the story riveting and engrossing, but imagine Jack Reacher falling into a plot written by Dan Brown, and you might get some hint at the rollercoaster of a ride found in this book. Don't miss the start of what I hope will be a long series featuring Special Agent James Mason." —James Rollins, New York Times bestselling author

"Michael Lawrence's blistering debut, The Extinction Agenda, is an exciting, bold, and dynamic thriller! The stakes are impossibly high, the action and suspense is non-stop, and the characters are vibrant and memorable. Michael Lawrence is a new name to watch in the genre." —Mark Greaney #1 New York Times bestselling author of Mission Critical

"The Extinction Agenda is a pedal-to-the-floor thriller. Michael Laurence writes in the high-concept, high-action spirit of Crichton by way of Clancy but in a style all his own. Clean, crisp prose and a great visual eye make this one sizzle." —Michael Koryta, New York Times bestselling author

"Michael Laurence explodes into the world of weird science thrillers with The Extinction Agenda. Devious, dangerous and full of twists. Highly recommended!" —Jonathan Maberry, New York Times bestselling author

"Michael Laurence not only writes the sort of books I want to read, he writes the sort of books I want to write. They're incredible -- in scope, in development, in pacing. Characters you love and love to hate, scenes that are so vivid, so real, you'll feel as though you're right there with Mason and his team!" -- Nick Thacker, USA Today bestselling author

"An engrossing and thrilling read!" —Michael Marshall, New York Times bestselling author of The Straw Men

"If you love conspiracy theories (and who doesn't?), The Extinction Agenda revolves around a doozy. Michael Laurence has concocted a mind-bending thriller that chills to the bone because it's all too plausible." —F. Paul Wilson, New York Times bestselling author

"Federal investigators, SWAT teams, mysterious entities, and catastrophic biological agents on the loose—The Extinction Agenda has it all! A roller coaster of nail-biting suspense, breathless action and dark intrigue, Michael Laurence has crafted a gem of a thrill ride!"—Richard Chizmar, New York Times bestselling author (with Stephen King) of Gwendy's Button Box

"If Michael Crichton and Tom Clancy had collaborated on a globe-trotting thriller about a shadowy conspiracy the book would look like this. I can't wait to read more of James Mason's adventures, and I believe this series will have a long, entertaining run." —David Bell, USA Today bestselling author of Somebody's Daughter
St. Martin's Press, 9781250158482, 400pp.
Publication Date: September 3, 2019
About the Author
Michael Laurence was born in Colorado Springs, Colorado to an engineer and a teacher, who kindled his passions for science and history. He studied biology and creative writing at the University of Colorado and holds multiple advanced certifications in medical imaging. Before becoming a full-time author, he worked as an x-ray/CT/MRI technologist and clinical instructor. He lives in suburban Denver with his wife, four children, and a couple of crazy Labrador Retrievers.
or
Not Currently Available for Direct Purchase