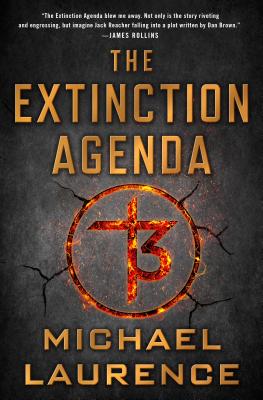 The Extinction Agenda (Hardcover)
St. Martin's Press, 9781250158482, 400pp.
Publication Date: August 27, 2019
* Individual store prices may vary.
Description
An FBI agent fights to stop a conspiracy to unleash a deadly virus on the world in this propulsive, exhilarating new thriller by Michael Laurence.

We're fighting a war, whether we choose to admit it or not. A war for survival. A war we may have already lost.
While searching for the man who killed his partner and his wife, FBI Special Agent James Mason uncovers a shadow organization on the brink of enacting its genocidal agenda and a sinister mass murderer who's been photographed at the epicenter of every historical pandemic since the outbreak of the Spanish Flu in 1918—without appearing to age.
Mason's quest for answers takes him from the criminal underbelly of America to its untouchable elite, from a dark union at the turn of the last century to a network of Nazi collaborators and a plot for global financial domination. Aided by his longtime friends Gunnar Backstrom—a corporate espionage gun-for-hire—and Ramses Donovan—a sin merchant of questionable morality—Mason uncovers a conspiracy against mankind more than a century in the making. A conspiracy to unleash a deadly virus and make a killing in the process.
Can Mason's small team bring down a seemingly unbeatable shadow empire that's rooted in every facet of our society, or does its influence run too deep?
The Extinction Agenda is the first book in a new series. It falls between Brad Thor and Boyd Morrison on the conspiracy spectrum, James Rollins and Steve Berry on the historical spectrum, and the story-telling and world-building skill of John Connolly.
About the Author
Michael Laurence was born in Colorado Springs, Colorado to an engineer and a teacher, who kindled his passions for science and history. He studied biology and creative writing at the University of Colorado and holds multiple advanced certifications in medical imaging. Before becoming a full-time author, he worked as an x-ray/CT/MRI technologist and clinical instructor. He lives in suburban Denver with his wife, four children, and a couple of crazy Labrador Retrievers.
Praise For The Extinction Agenda…
"Michael Laurence's The Extinction Agenda blew me away. Not only is the story riveting and engrossing, but imagine Jack Reacher falling into a plot written by Dan Brown, and you might get some hint at the rollercoaster of a ride found in this book. Don't miss the start of what I hope will be a long series featuring Special Agent James Mason." —James Rollins, New York Times bestselling author
"Michael Lawrence's blistering debut, The Extinction Agenda, is an exciting, bold, and dynamic thriller! The stakes are impossibly high, the action and suspense is non-stop, and the characters are vibrant and memorable. Michael Lawrence is a new name to watch in the genre." —Mark Greaney #1 New York Times bestselling author of Mission Critical
"The Extinction Agenda is a pedal-to-the-floor thriller. Michael Laurence writes in the high-concept, high-action spirit of Crichton by way of Clancy but in a style all his own. Clean, crisp prose and a great visual eye make this one sizzle." —Michael Koryta, New York Times bestselling author
"Michael Laurence explodes into the world of weird science thrillers with The Extinction Agenda. Devious, dangerous and full of twists. Highly recommended!" —Jonathan Maberry, New York Times bestselling author
"An engrossing and thrilling read!" —Michael Marshall, New York Times bestselling author of The Straw Men
"If you love conspiracy theories (and who doesn't?), The Extinction Agenda revolves around a doozy. Michael Laurence has concocted a mind-bending thriller that chills to the bone because it's all too plausible." —F. Paul Wilson, New York Times bestselling author
"Federal investigators, SWAT teams, mysterious entities, and catastrophic biological agents on the loose—The Extinction Agenda has it all! A roller coaster of nail-biting suspense, breathless action and dark intrigue, Michael Laurence has crafted a gem of a thrill ride!"—Richard Chizmar, New York Times bestselling author (with Stephen King) of Gwendy's Button Box
"If Michael Crichton and Tom Clancy had collaborated on a globe-trotting thriller about a shadowy conspiracy the book would look like this. I can't wait to read more of James Mason's adventures, and I believe this series will have a long, entertaining run." —David Bell, USA Today bestselling author of Somebody's Daughter