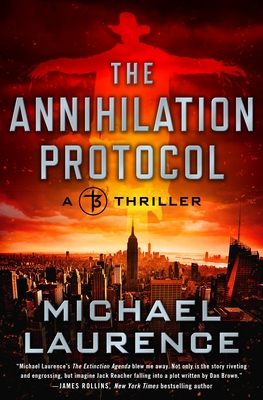 The Annihilation Protocol (Extinction Agenda #2)
Hardcover

* Individual store prices may vary.
Description
Michael Laurence delivers The Annihilation Protocol, the follow-up to The Extinction Agenda, in a series described as "Jack Reacher falling into a plot written by Dan Brown" (James Rollins, #1 New York Times bestselling author of Crucible).

For centuries, a mysterious syndicate known as the Thirteen has staged a silent coup, infiltrating governments and manipulating the course of world events. It's more powerful than any nation, deadlier than any army. The time has come for it to emerge from the shadows and claim the entire world as its own. And only FBI Special Agent James Mason and his longtime friends stand in its way.

After narrowly preventing a global pandemic, Mason and his team discover an even deadlier threat has already been set into motion. An unknown adversary has produced enough of a lethal nerve gas to wipe every major city off the face of the world, and their only clue to finding it lies in a cryptic message written in the blood of a man found entombed behind a concrete wall. It isn't until another victim appears—right in the heart of Central Park—that Mason realizes the murders are personal in nature, and figuring out the connection between them is the key to averting catastrophe.

Eight million lives hang in the balance and their only chance of surviving lies in the hands of Mason, his old friends, and a new partner he's not entirely sure he can trust. Can his team track down a sinister agent codenamed Scarecrow before toxic gas fills the streets of New York City, or will the true power pulling the strings from behind the scenes—the Thirteen—succeed in enacting its genocidal agenda?
Praise For The Annihilation Protocol (Extinction Agenda #2)…
Praise for The Annihilation Protocol:

"[A] thrill-ride a minute. Nonstop action and twists and turns keep the reader engaged throughout." —Red Carpet Crash

"If you enjoy thrillers so plausible you can't go to sleep at night, then Michael Laurence's new novel, The Annihilation Protocol, is for you." —The Big Thrill

Praise for The Extinction Agenda:

"An exciting page-turner that will keep a fan awake long past bedtime." —New York Journal of Books

"With a hero facing enough twists and turns to make James Bond look like a piker....A nail-biting thriller." —The Denver Post

"The mixture of science, history, and conspiracy echoes the work of James Rollins and Steve Berry. The pacing never lets up." —Booklist

"Think The X-Files by way of Michael Connelly...a refreshing switch from the usual, tried-and-true run-and-gun, non-stop action formula thrillers of this type tend to go for. Instead, The Extinction Agenda relies more on intelligently twisted machinations and a smart conspiracy that slowly unravels over the evolution of Mason's investigation." —High Fever Books

"The character of James Mason joins all the other bad asses out there like Bond, Jason Bourne, Jack Ryan and Jack Reacher....The story is full of twists and turns and is non-stop action. I for one cannot wait for the next chapter with Mason and company." —Red Carpet Crash

"Michael Laurence's The Extinction Agenda blew me away. Not only is the story riveting and engrossing, but imagine Jack Reacher falling into a plot written by Dan Brown, and you might get some hint at the rollercoaster of a ride found in this book. Don't miss the start of what I hope will be a long series featuring Special Agent James Mason." —James Rollins, New York Times bestselling author
St. Martin's Press, 9781250158512, 448pp.
Publication Date: August 25, 2020
About the Author
Michael Laurence was born in Colorado Springs, Colorado to an engineer and a teacher, who kindled his passions for science and history. He studied biology and creative writing at the University of Colorado and holds multiple advanced certifications in medical imaging. Before becoming a full-time author, he worked as an x-ray/CT/MRI technologist and clinical instructor. He lives in suburban Denver with his wife, four children, and a couple of crazy Labrador Retrievers.
or
Not Currently Available for Direct Purchase