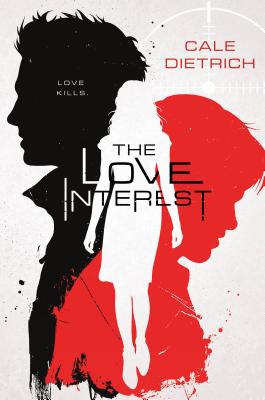 The Love Interest (Paperback)
Square Fish, 9781250158642, 384pp.
Publication Date: April 10, 2018
Other Editions of This Title:
Hardcover (5/16/2017)
MP3 CD (11/21/2017)
* Individual store prices may vary.
Description
A thrilling YA debut about teen spies disguised as "love interests"—whoever gets the girl lives; but the one she rejects, dies.

There is a secret organization that cultivates teenage spies. The agents are called Love Interests because getting close to people destined for great power means getting valuable secrets.

Caden is a Nice: The boy next door, sculpted to physical perfection.
Dylan is a Bad: The brooding, dark-souled guy, and dangerously handsome.

The girl they are competing for is important to the organization, and each boy will pursue her. Will she choose a Nice or the Bad?

Both Caden and Dylan are living in the outside world for the first time. They are well-trained and at the top of their games. They have to be – whoever the girl doesn't choose will die.

What the boys don't expect are feelings that are outside of their training. Feelings that could kill them both.

From debut author Cale Dietrich comes a fast-paced adventure that is full of both action and romance and subverts common tropes.

Praise for The Love Interest:

"This sci-fi young adult novel is the answer to all of our cliché love triangle woes. . . . If you're looking for something funny, action-packed, and romantic this summer, then this is your next read." —PBS Newshour

"There's a Hunger Games vibe here to be sure—a deadly teen-on-teen competition—and this is packed with similar questions of morality. High stakes, well-developed characters, and an LGBTQ slant on the classic spy story make it all the more intriguing. Stock up—this one has something for everyone." —Booklist, starred review

"In this subversive take on the quintessential YA love triangle, two guys—the clean-cut boy next door and the brooding bad boy—compete for a girl's affections. . . . Dietrich's debut is impressive, provocative, and a clever take on well-worn romantic tropes. . . . while the thriller elements add tension and numerous surprises." —Publishers Weekly

"Caden is a spy. . . . His competition is Dylan, a dark-souled Bad who's the dreamiest boy Caden's ever seen. . . . Caden doesn't intend to lose—but no one prepared him for the way Dyl makes him feel. . . . fans of spy fiction and LGBTQ titles will find the novel worth reading." —School Library Journal
About the Author
Cale Dietrich is a YA devotee, lifelong gamer, and tragic pop punk enthusiast. He was born in Perth, grew up on the Gold Coast, and now lives in Brisbane, Australia. His debut novel, The Love Interest, was named a 2018 Rainbow List Selection. He can be found on Twitter.
Praise For The Love Interest…
Praise for The Love Interest:

"This sci-fi young adult novel is the answer to all of our cliché love triangle woes. . . . If you're looking for something funny, action-packed, and romantic this summer, then this is your next read." —PBS Newshour

"There's a Hunger Games vibe here to be sure—a deadly teen-on-teen competition—and this is packed with similar questions of morality. High stakes, well-developed characters, and an LGBTQ slant on the classic spy story make it all the more intriguing. Stock up—this one has something for everyone." —Booklist, starred review

"In this subversive take on the quintessential YA love triangle, two guys—the clean-cut boy next door and the brooding bad boy—compete for a girl's affections. . . . Dietrich's debut is impressive, provocative, and a clever take on well-worn romantic tropes. . . . while the thriller elements add tension and numerous surprises." —Publishers Weekly

"Caden is a spy. . . . His competition is Dylan, a dark-souled Bad who's the dreamiest boy Caden's ever seen. . . . Caden doesn't intend to lose—but no one prepared him for the way Dyl makes him feel. . . . fans of spy fiction and LGBTQ titles will find the novel worth reading." —School Library Journal