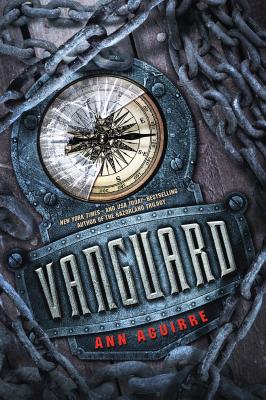 Vanguard (Paperback)
A Razorland Companion Novel (The Razorland Trilogy #4)
Square Fish, 9781250158673, 368pp.
Publication Date: July 24, 2018
* Individual store prices may vary.
Description
Ann Aguirre's dystopian YA saga continues with this companion fourth volume in the Razorland series

Since the war ended, Tegan has dreamed of an epic journey, so when she has the opportunity to sign on as ship's doctor, she can't wait. It's past time to chart her course. Millie Faraday, the kindest girl in the free territories, also yearns to outrun her reputation, and warrior-poet James Morrow would follow Tegan to the ends of the earth.
Their company seems set, but fate brings one more to their number. Tegan will battle incredible odds while aiding Szarok, the Uroch vanguard, who has ventured forth to save his people. Szarok is strange and beautiful, like a flower that blooms only in the dark. She shouldn't allow him close, as such a relationship is both alien and forbidden. But through stormy seas and strange lands, she will become stronger than she ever knew.
Aguirre impresses again with a tale that is sure to delight young adult readers who like strong heroines and high-stakes adventure.
Read all the books in the Razorland series.
Enclave
Outpost
Horde
Vanguard
Praise for Ann Aguirre and the Razorland series:
"In her first young adult novel, Aguirre has created a gritty and highly competent heroine, an equally deadly sidekick/love interest, and a fascinating if unpleasant civilization. This series is likely to hold considerable appeal for fans of The Hunger Games." —Publishers Weekly
"This well-paced zombie-esque adventure in an urban wasteland will keep fans happy." —Kirkus Reviews
"Aguirre's young adult debut is a gripping survival story set in an apocalyptic future. . . . This is a tense, action-packed dystopia with intriguingly gray characters." —Booklist
More from Ann Aguirre:
The Infinite Game series:
Public Enemies
Mortal Danger
Infinite Risk

The Queen of Bright and Shiny Things
About the Author
Ann Aguirre has been a clown, a clerk, a savior of stray kittens, and a voice actress, not necessarily in that order. She grew up in a yellow house across from a cornfield, but she now lives in a terracotta adobe house in Mexico with her husband and two adorable children. The post-apocalyptic novel Enclave is her first book for young adults. She also writes the romantic science fiction series about Sirantha Jax, starting with Grimspace, as well as urban fantasy and paranormal romance. As Ava Gray, she writes paranormal romantic suspense.
Praise For Vanguard: A Razorland Companion Novel (The Razorland Trilogy #4)…
Praise for Ann Aguirre and the Razorland series:
"In her first young adult novel, Aguirre has created a gritty and highly competent heroine, an equally deadly sidekick/love interest, and a fascinating if unpleasant civilization. This series is likely to hold considerable appeal for fans of The Hunger Games." —Publishers Weekly
"Enclave is dark and thrilling, fast-paced and intense. With some graphic and gross imagery and a hard look at a post-apocalyptic world, Aguirre has taken themes from Scott Westerfeld and an assortment of zombie literature and created something that is very much her own--and a very engaging read." —RT Book Reviews
"This well-paced zombie-esque adventure in an urban wasteland will keep fans happy." —Kirkus Reviews
"Aguirre's young adult debut is a gripping survival story set in an apocalyptic future. . . . This is a tense, action-packed dystopia with intriguingly gray characters." —Booklist
"Deuce's passion for life, even in her bleakest moments, is contagious, and that passion exemplifies the nebulous force that has driven all of these individuals to persist in the face of awful options." —The Bulletin of the Center for Children's Books