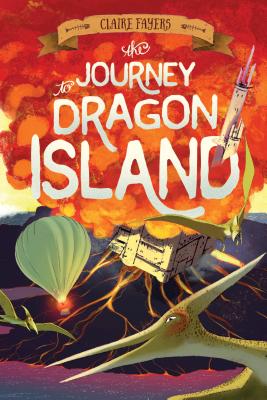 The Journey to Dragon Island (The Accidental Pirates #2) (Paperback)
Square Fish, 9781250158758, 304pp.
Publication Date: July 10, 2018
Other Editions of This Title:
Hardcover (5/16/2017)
* Individual store prices may vary.
Description
In this sequel to The Voyage to Magical North, Brine, Peter, Cassie and crew return for another swashbuckling adventure on the high seas.

Reaching the edge of the world can't stop the crew of the Onion! It's westward ho in search of dragons, no matter the obstacles. And there are obstacles. Flesh-eating vines, violent locals, and mischievous magi—not to mention Marfak West's ghost—meet the pirates when they land on the Western Island, where a volcano threatens to end them all. Together, Brine and Peter might just be able to save the crew, the island, and themselves. Or they might all go up in flames. It really could go either way.
Claire Fayers' The Journey to Dragon Island is a fast-paced, high-stakes middle-grade adventure.
Praise for The Journey to Dragon Island:
"Visions of dragons, treasure, and glory lead swashbuckling Capt. Cassie O'Pia and her doughty pirate crew into deadly waters once again. . . . Avast! Pirates and magicians. Dragons and dinosaurs. Big spiders and, for good measure, a pesky ghost. Anchors aweigh. " —Kirkus Reviews
"Dragons, dinosaurs, magic, and a search for missing parents blend together to create a dynamic, addictive follow-up to The Voyage to Magical North. . . . This title is full of swashbuckling escapades and crazy circumstances that will hold the attention of fans and new readers alike; even those not familiar with the first volume will be able to jump in easily. . . . A solid addition to middle grade collections; be sure to hand this to fans of fantasy and pirate stories." —School Library Journal
Praise for The Voyage to Magical North:
"A robust debut, well stocked with heroic exploits, monsters, pirates, explosions, magical transformations, and life-changing adventures, and a promising series starter." —Kirkus Reviews, starred review
"Welsh author Claire Fayers buoys her seaworthy series debut The Voyage to Magical North with agreeably understated humor, over-the-top sea monsters and nuanced characters. This finely spun adventure is the very definition of swashbuckler, but also thoughtfully examines ideas of story, good vs. evil, instinct vs. rules and self-discovery. A treasure." —Shelf Awareness, starred review
"The beautiful cover design reflects the charming adventure within; this multilayered fantasy handles a variety of themes, including the meaning of family, the ability of power to corrupt, and the importance of stories. Upper elementary and younger middle grade fans of Lynne Jonell's The Sign of the Cat will be enchanted by Brine's high seas adventure." —School Library Journal
Books in the Accidental Pirates series:
The Voyage to Magical North
The Journey to Dragon Island
About the Author
Claire Fayers is the author of The Voyage to Magical North and its sequel, The Journey to Dragon Island. She lives in South Wales with her husband and as many cats as she can get away with.
Praise For The Journey to Dragon Island (The Accidental Pirates #2)…
Praise for The Journey to Dragon Island:
"Visions of dragons, treasure, and glory lead swashbuckling Capt. Cassie O'Pia and her doughty pirate crew into deadly waters once again. . . . Avast! Pirates and magicians. Dragons and dinosaurs. Big spiders and, for good measure, a pesky ghost. Anchors aweigh. " —Kirkus Reviews
"Dragons, dinosaurs, magic, and a search for missing parents blend together to create a dynamic, addictive follow-up to The Voyage to Magical North. . . . This title is full of swashbuckling escapades and crazy circumstances that will hold the attention of fans and new readers alike; even those not familiar with the first volume will be able to jump in easily. . . . A solid addition to middle grade collections; be sure to hand this to fans of fantasy and pirate stories." —School Library Journal
Praise for The Voyage to Magical North:
"A robust debut, well stocked with heroic exploits, monsters, pirates, explosions, magical transformations, and life-changing adventures, and a promising series starter." —Kirkus Reviews, starred review
"Welsh author Claire Fayers buoys her seaworthy series debut The Voyage to Magical North with agreeably understated humor, over-the-top sea monsters and nuanced characters. This finely spun adventure is the very definition of swashbuckler, but also thoughtfully examines ideas of story, good vs. evil, instinct vs. rules and self-discovery. A treasure." —Shelf Awareness, starred review
"The beautiful cover design reflects the charming adventure within; this multilayered fantasy handles a variety of themes, including the meaning of family, the ability of power to corrupt, and the importance of stories. Upper elementary and younger middle grade fans of Lynne Jonell's The Sign of the Cat will be enchanted by Brine's high seas adventure." —School Library Journal