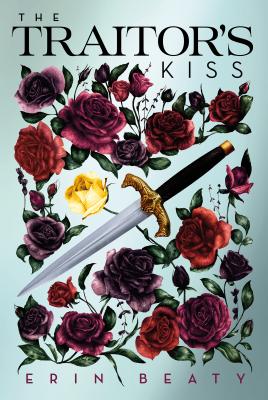 The Traitor's Kiss (Traitor's Trilogy #1) (Paperback)
Square Fish, 9781250158840, 368pp.
Publication Date: May 8, 2018
Other Editions of This Title:
Digital Audiobook (5/8/2017)
Hardcover (5/9/2017)
CD-Audio (5/9/2017)
* Individual store prices may vary.
Description
In a historically inspired fantasy realm, the apprentice to a matchmaker becomes a spy for the army to uncover a treasonous plot and finds herself entangled in a romance with a soldier.
"One of the most hotly anticipated young adult fantasy reads of 2017." —Bustle
"An action-packed, expertly plotted story, drenched in double crosses and intrigue, with an irresistible heroine and a sweet and sexy romance." —Publishers Weekly, starred review
An obstinate girl who will not be married.
A soldier desperate to prove himself.
A kingdom on the brink of war.
What makes her unfit to be a lady, makes her a brilliant spy—but can she spot another?
With a sharp tongue and an unruly temper, Sage Fowler is not what they'd call a lady—which is perfectly fine with her. Deemed unfit for marriage, Sage is apprenticed to a matchmaker and tasked with wrangling other young ladies to be married off for political alliances. She spies on the girls—and on the soldiers escorting them.
As the girls' military escort senses a political uprising, Sage is recruited by a handsome soldier to infiltrate the enemy ranks. The more she discovers as a spy, the less certain she becomes about whom to trust—and Sage becomes caught in a dangerous balancing act that will determine the fate of her kingdom.
With secret identities and a tempestuous romance, Erin Beaty's YA novel, The Traitor's Kiss, is a classic story with an espionage twist.
An Imprint Book
Praise for The Traitor's Kiss:
"Marital and martial matters collide when brides and spies become ensnared in a treasonous plot. . . . Sage is a clever, contrary female protagonist who remains realistic and likable, while her fellow protagonist Ash is enigmatic enough to require a second read. . . . Both epic and intimate, a semi–old-fashioned alternative to the wave of inexplicably lethal superheroines and their smoldering love triangles." —Kirkus Reviews
"This is an action-packed, expertly plotted story, drenched in double crosses and intrigue, with an irresistible heroine and a sweet and sexy romance. A late-breaking twist gives way to a final act that will leave readers eager for subsequent books in this planned trilogy." —Publishers Weekly , starred review
"Complex characterization, deftly layered adventure story, and [a] balanced blend of political maneuvering, romantic interludes, and action scenes." —Kirkus Reviews
"Beaty balances a taut web of deceit . . . readers will be carried away by the mystery." —The Bulletin of the Center for Children's Books (BCCB)
"A debut novel that blends fantasy, romance, and battlefield action. . . . A slow burn YA fantasy with clever genre mixing." —School Library Journal

About the Author
Erin Beaty was born and raised in Indianapolis, Indiana, which means she can't drive a tractor, but she won't eat veggies that come from a can. She graduated from the US Naval Academy with a degree in rocket science and somehow always ended up writing her study group's lab reports. After serving in the fleet as a weapons officer and a leadership instructor, it still amazes her when other people want to hear the stories that come out of her head.
She and her husband have five children, two cats, and a vegetable garden and live wherever the navy tells them to go.
The Traitor's Kiss is her debut novel.
Praise For The Traitor's Kiss (Traitor's Trilogy #1)…
Praise for The Traitor's Kiss:
"One of the most hotly anticipated young adult fantasy reads of 2017." —Bustle
"Marital and martial matters collide when brides and spies become ensnared in a treasonous plot. . . . Sage is a clever, contrary female protagonist who remains realistic and likable, while her fellow protagonist Ash is enigmatic enough to require a second read. . . . Both epic and intimate, a semi–old-fashioned alternative to the wave of inexplicably lethal superheroines and their smoldering love triangles." —Kirkus Reviews
"This is an action-packed, expertly plotted story, drenched in double crosses and intrigue, with an irresistible heroine and a sweet and sexy romance. A late-breaking twist gives way to a final act that will leave readers eager for subsequent books in this planned trilogy." —Publishers Weekly , starred review
"Complex characterization, deftly layered adventure story, and [a] balanced blend of political maneuvering, romantic interludes, and action scenes." —Kirkus Reviews
"Beaty balances a taut web of deceit . . . readers will be carried away by the mystery." —The Bulletin of the Center for Children's Books (BCCB)
"A debut novel that blends fantasy, romance, and battlefield action. . . . A slow burn YA fantasy with clever genre mixing." —School Library Journal