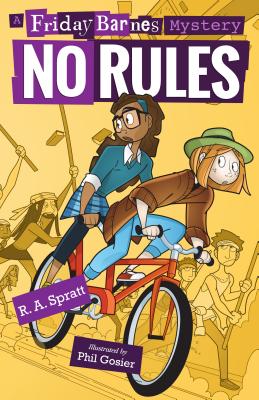 No Rules (Paperback)
A Friday Barnes Mystery (Friday Barnes Mysteries)
Square Fish, 9781250158994, 272pp.
Publication Date: August 14, 2018
Other Editions of This Title:
Hardcover (8/1/2017)
* Individual store prices may vary.
Description
No Rules, the fourth book of the hilarious Friday Barnes Mystery series—written by R. A. Spratt and with illustrations by Phil Gosier—brings even more trouble for this genius girl detective.
Friday Barnes has been deported to Switzerland . . . but we need her back!
With their go-to detective gone, Highcrest Academy has descended into chaos. Someone's fired all the teachers as an epic prank, and suspicion falls on Ian Wainscott, Friday's nemesis (who's also desperately in love with her). There's also the problem of the new vice principal and his questionable behavior. It's hard to take someone seriously when he's wearing tie-dyed shirts, right?
Can Friday prove Ian's innocence, find the prankster, and save her school? If it involves running, then probably no, but if not . . . Friday's on the case!
Praise for the Friday Barnes Mysteries:
"This second book in the Friday Barnes series is even funnier and quirkier than its predecessor." —School Library Journal on Under Suspicion
"Spratt continues to hit just the right mix of dry humor and suspense. Her characterization of her protagonist shines . . . Readers know that, like Sherlock Holmes, Friday will solve every mystery; the book's fun is in seeing how she does it . . . A cliffhanger ending will have readers drumming their fingers as they wait for the next episode." —Kirkus Reviews on Under Suspicion
"With off-the-wall plot turns and small mysteries scattered throughout, this is the perfect choice for mystery fans with a silly sense of humor, and the cliff-hanger ending promises more sleuthing on the horizon. Gosier's black-and-white spot illustrations add to the charming atmosphere. A sheer delight." —Booklist, starred review on Girl Detective
"Spratt's (the Nanny Piggins series) effortlessly funny narration will keep readers laughing from start to finish." —Publishers Weekly, starred review on Girl Detective
"Quirky, tongue-in-cheek . . . delightfully eccentric . . . A good choice for voracious readers who enjoy a blend of humor and mystery." —School Library Journal on Girl Detective
"Spratt begins this new series with a nifty, engaging protagonist who can keep readers laughing and help young geeks feel good about themselves . . . Delightful, highly logical, and well-informed fun." —Kirkus Reviews on Girl Detective
Read all the Friday Barnes Mysteries:
Girl Detective: A Friday Barnes Mystery
Under Suspicion: A Friday Barnes Mystery
Big Trouble: A Friday Barnes Mystery
No Rules: A Friday Barnes Mystery
About the Author
R.A. Spratt is an award-winning author and television writer. Her Nanny Piggins series went into nine best selling volumes in Australia. She lives in Bowral, Australia with her husband, two daughters and a puppy called Henry. Like Friday Barnes, R.A. enjoys wearing a silly hat.

Phil Gosier is an independent art director and designer working in the Washington, D.C. area. His illustration and design clients include Kellogg's, the Discovery Channel, Marvel and DC Comics, and Macmillan, where he illustrates the Friday Barnes Mystery series as well as his own picture books, including Snow Beast Comes to Play. He graduated from the University of Maryland and lives in suburban Maryland with his family.
Praise For No Rules: A Friday Barnes Mystery (Friday Barnes Mysteries)…
Praise for Friday Barnes, Under Suspicion:
"This second book in the Friday Barnes series is even funnier and quirkier than its predecessor." —School Library Journal
"Spratt continues to hit just the right mix of dry humor and suspense. Her characterization of her protagonist shines . . . Readers know that, like Sherlock Holmes, Friday will solve every mystery; the book's fun is in seeing how she does it . . . A cliffhanger ending will have readers drumming their fingers as they wait for the next episode." —Kirkus Reviews
Praise for Friday Barnes, Girl Detective:
"With off-the-wall plot turns and small mysteries scattered throughout, this is the perfect choice for mystery fans with a silly sense of humor, and the cliff-hanger ending promises more sleuthing on the horizon. Gosier's black-and-white spot illustrations add to the charming atmosphere. A sheer delight." —Booklist, starred review
"Spratt's (the Nanny Piggins series) effortlessly funny narration will keep readers laughing from start to finish." —Publishers Weekly, starred review
"Quirky, tongue-in-cheek . . . delightfully eccentric . . . A good choice for voracious readers who enjoy a blend of humor and mystery." —School Library Journal
"Spratt begins this new series with a nifty, engaging protagonist who can keep readers laughing and help young geeks feel good about themselves . . . Delightful, highly logical, and well-informed fun." —Kirkus Reviews