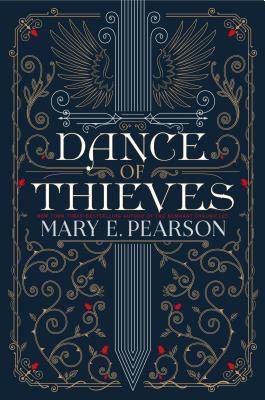 Dance of Thieves (Hardcover)
Henry Holt and Co. (BYR), 9781250159014, 512pp.
Publication Date: August 7, 2018
* Individual store prices may vary.
Description
A stunning new adventure set in the kingdoms of the Remnant.

A formidable outlaw family that claims to be the first among nations.
A son destined to lead, thrust suddenly into power.
Three fierce young women of the Rahtan, the queen's premier guard.
A legendary street thief leading a mission, determined to prove herself.
A dark secret that is a threat to the entire continent.
When outlaw leader meets reformed thief, a cat-and-mouse game of false moves ensues, bringing them intimately together in a battle that may cost them their lives—and their hearts.
About the Author
Mary E. Pearson is the author of bestselling, award-winning novels for teens. The Miles Between was named a Kirkus Best Book of the Year, and The Adoration of Jenna Fox was listed as a Bank Street Best Children's Book of the Year, an IRA Young Adult Choice, NYPL Stuff for the Teen Age, and a School Library Journal Best Book of the Year. She is also the author of A Room on Lorelei Street, David v. God, and Scribbler of Dreams. Pearson studied art at Long Beach State University, and worked as an artist before earning her teaching credential at San Diego State University. She writes full-time from her home in Carlsbad, California, where she lives with her husband and two dogs.
Praise For Dance of Thieves…
"A brilliant fantasy with a boldly beating heart. Mary E. Pearson is a fearless storyteller—I'm still trying to catch my breath from this book." —Stephanie Garber, New York Times–bestselling author of Caraval and Legendary
"The slow-burning, seductive romance never overwhelms the intricate plot, which is built with layers upon layers of twists, reveals, and double-crosses." —Booklist

"This novel has it all—romance, conflict, danger, and humor." —School Library Journal

"Pearson is a gifted storyteller and spinner of eminently satisfying romances and fantasy." —Publishers Weekly
The Beauty of Darkness:
"Pearson has created such a dynamic and inspiring heroine. . . . Fantasy fans will love this marvelous, high-action conclusion to the trilogy." —School Library Journal
"Full and rich." —Booklist
"Pearson is an excellent storyteller . . . . She brings an ambitious trilogy to a rousing conclusion." —The Horn Book
The Heart of Betrayal:
A New York Times Bestseller
"It's rare that the second book in a series is as good–or perhaps better–than the first, but that's the case here. . . . Anticipation for the next volume will start as soon as this one is put down." —Booklist, starred review

The Kiss of Deception:
"Pearson (the Jenna Fox Chronicles) is off to an extraordinary start with her fantasy series, creating an alluring world and romance that's ideal for fans of Kristin Cashore and Megan Whalen Turner." —Publishers Weekly, starred review

"Pearson offers readers a wonderfully full-bodied story: harrowing, romantic, and full of myth and memory, fate and hope." —Booklist, starred review
"Romance, adventure, mysticism–this book has it all and it just may be the next YA blockbuster." —School Library Journal, starred review