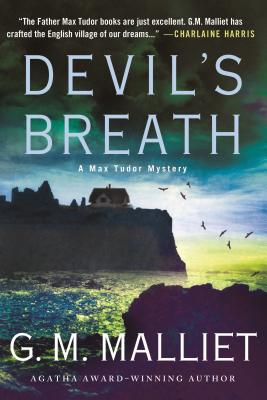 Devil's Breath: A Max Tudor Mystery (Paperback)
A Max Tudor Mystery
Minotaur Books, 9781250159342, 304pp.
Publication Date: April 10, 2018
Description
Agatha Award-winning author G. M. Malliet returns with Devil's Breath, the sixth mystery in her wildly popular series featuring handsome spy-turned-cleric Father Max Tudor.
Having realized there is no escape from his past as an agent, Max has offered his services to MI5 on an as-needed basis. Now it's time for him to follow through. The body of glamorous film star Margot Browne has washed ashore from a luxury yacht and Max's former colleague wants his help to find the murderer.
It's a perfect "closed circle" murder since victim Margot must have been killed by one of the actors, stylists, screenwriters, or second-tier royalty aboard. The investigation into Margot's lurid past uncovers a host of motives--it seems she was not the only person on board with a secret they'd kill to keep.
About the Author
G. M. MALLIET won the Agatha Award for best first novel for Death of a Cozy Writer, which initially won the Malice Domestic Grant, was nominated for both a Macavity and an Anthony Award, and was chosen as one of the Best Books of 2008 by Kirkus Reviews. All of the books in the Max Tudor series-Wicked Autumn, Fatal Winter, Pagan Spring, and A Demon Summer-have been nominated for the Agatha Award as well. She and her husband live in the mid-Atlantic U.S. and travel frequently to the U.K, the setting for her novels.
Advertisement