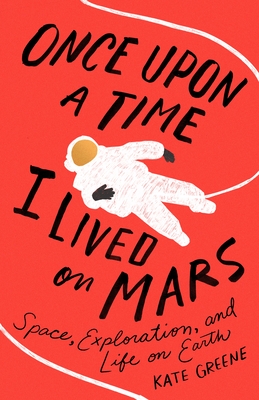 Once Upon a Time I Lived on Mars
Space, Exploration, and Life on Earth
Hardcover

* Individual store prices may vary.
Other Editions of This Title:
Digital Audiobook (4/28/2021)
Digital Audiobook (7/13/2020)
Paperback (7/13/2021)
Description
When it comes to Mars, the focus is often on how to get there: the rockets, the engines, the fuel. But upon arrival, what will it actually be like?

In 2013, Kate Greene moved to Mars. That is, along with five fellow crew members, she embarked on NASA's first HI-SEAS mission, a simulated Martian environment located on the slopes of Mauna Loa in Hawai'i. For four months she lived, worked, and slept in an isolated geodesic dome, conducting a sleep study on her crew mates and gaining incredible insight into human behavior in tight quarters, as well as the nature of boredom, dreams, and isolation that arise amidst the promise of scientific progress and glory.

In Once Upon a Time I Lived on Mars, Greene draws on her experience to contemplate humanity's broader impulse to explore. The result is a twined story of space and life, of the standard, able-bodied astronaut and Greene's brother's disability, of the lag time of interplanetary correspondences and the challenges of a long-distance marriage, of freeze-dried egg powder and fresh pineapple, of departure and return.

By asking what kind of wisdom humanity might take to Mars and elsewhere in the Universe, Greene has written a remarkable, wide-ranging examination of our time in space right now, as a pre-Mars species, poised on the edge, readying for launch.
Praise For Once Upon a Time I Lived on Mars: Space, Exploration, and Life on Earth…
"Enlightening...Greene's eloquent memoir is equal parts escape and comfort."--Publishers Weekly

"[Greene] addresses [the issues] with wit, insight, compassion, and, ultimately, hope."--Booklist

"Greene is a talented writer, and her words shine throughout, whether discussing science or its influence on her. This engaging account will interest sf lovers, scientists, and dreamers who see the red planet in the night sky and wonder, what if."--Library Journal

"In her thoughtful, well-written account of the mission, Greene not only discusses what it was like to spend several months cooped up indoors with five strangers and limited resources but also reflects on what this and other space missions can teach us about ourselves and life on Earth."--Physics Today

"Kate Greene's insightful, nuanced writing is the dose of perspective we so desperately need right now. Once Upon A Time I lived on Mars is a book about the wonders of space, but even more so, it's a triumphant account of what it means to be a thoughtful, messy, and ultimately hopeful human right here on spaceship Earth." —Juli Berwald, author of Spineless

"This stirring, smart, and truly original debut begins with questions and then progresses beyond facile answers, into even less answerable questions. Along the way, Greene charts a course that is propulsive, discursive, and pure pleasure to read, whether it is exploring boredom, guinea pigs, pineapple, grief, or deep space. Like a conversation with your smartest, most fun friend, each essay travels an unexpected and exhilarating path, more often between people than planets, examining the distances between who we were and who we have become, what we expected and what we have found in this life."—Melissa Febos, author of Whip Smart and Abandon Me

"A prescient look at humans alone, separate from the world they once knew. Truly a book for our times."--Sarah Stewart Johnson, author of The Sirens of Mars
St. Martin's Press, 9781250159472, 240pp.
Publication Date: July 14, 2020
About the Author
Kate Greene was the crew writer and second-in-command on the first simulated Mars mission for the NASA-funded HI-SEAS project. A poet, essayist, and former laser physicist, her work has appeared in multiple publications and radio shows. She's taught writing at Columbia University, San Francisco State University, and the Tennessee Prison for Women. She lives in New York City.
or
Not Currently Available for Direct Purchase