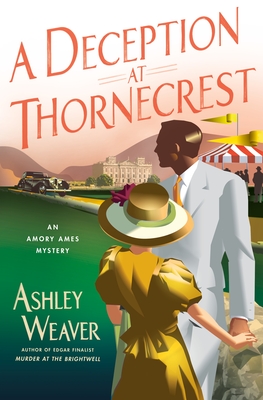 A Deception at Thornecrest
An Amory Ames Mystery
Hardcover

* Individual store prices may vary.
Other Editions of This Title:
Digital Audiobook (9/9/2020)
Compact Disc (9/8/2020)
MP3 CD (9/8/2020)
Description
The stylish, charming next novel in Ashley Weaver's Edgar-nominated Amory Ames mystery series, set in 1930s England, A Deception at Thornecrest.

"Thornecrest looked beautiful in the evening light. One would never imagine the turmoil that had just occurred within its walls."

Amory Ames is alone at her country house Thornecrest, enjoying her last few weeks of peace and quiet as she prepares for the imminent arrival of her baby. Her husband, Milo, is in London on business, and Amory is content to catch up on her correspondence, organize the nursery, and avoid the well-meaning if rather overbearing company of the ladies in the village as they prepare for the Springtide Festival. But then a woman appears on her doorstep, claiming to be another Mrs. Ames, Milo's wife.

Amory's marriage has had its ups and downs in the past, but her faith in her husband has been restored, and Milo has been nothing but thrilled about becoming a father. Though the alleged second Mrs. Ames seems earnest, Amory is convinced she must be mistaken, a belief that Milo confirms upon his homecoming. However, when another unexpected visitor arrives at Thornecrest, secret identities and whirlwind romances appear to be becoming par for the course.

It's not until the day of the festival, when Milo's stable hand Bertie is found dead, that the strange characters appearing in town begin to seem more sinister, and Amory is determined to uncover the killer in the crowd.
Praise For A Deception at Thornecrest: An Amory Ames Mystery…
"A splendid resurrection of a formula popular in the 1930s combining romance and glamour with a tricky case of murder."—Kirkus

"Sprightly . . . Those who enjoy escaping into make-believe English villages in the company of pleasant vicars, mildly eccentric aristocrats, and wily village folk will be satisfied."—Publishers Weekly

"The tightly focused plot emphasizes its appealing, realistic characters as Weaver's affinity for details makes the story fresh. The Ames' deep love and respect for each other highlight the charming A Deception at Thornecrest."—Shelf Awareness

Praise for An Act of Villainy:

"Weaver does it again! Every installment in her pitch-perfect Amory Ames series both thrills and charms. Combining a stylish protagonist, a delightfully roguish husband, witty banter, gorgeous prose, and intriguing mysteries, there is much to fall in love with. Her books are a glittering, whirling throwback to the golden age of mysteries, yet crafted with a panache all their own."–Anna Lee Huber, bestselling author of the Lady Darby Mysteries

"An excellent addition to the series, this could also be read independently. The period setting is as always meticulous and the main characters riveting. Fans of lights period mysteries with fashion and flair will be caught up in Amory's latest adventure."—Library Journal

"Elegant...lovers of classic, twisty British mysteries will have jolly good fun."—Publishers Weekly

Praise for the Amory Ames Mysteries:

"Fans with fond memories of Georgette Heyer's mysteries set in the same period will be delighted with the gallery of suspects and the edgy romance." —Kirkus Reviews

"Sure to appeal to Agatha Christie devotees." —Booklist

"The fourth addition to this lively historical series is one of its best with an evocative 1930s Parisian setting and an unexpected surprise climax." —Library Journal (starred review) on The Essence of Malice

"It's all very Downton Abbey... [Weaver] channels the ambiance and spirit of British society during the post-World War I years." —Associated Press

"With a profound nod to the Golden Age of the British whodunit, Weaver creates a classic mystery, complete with a fashionable setting, a cast of upper-crust Brits, and witty prose." —Richmond Times-Dispatch
Minotaur Books, 9781250159793, 288pp.
Publication Date: September 8, 2020
About the Author
ASHLEY WEAVER is the Technical Services Coordinator at the Allen Parish Libraries in Oberlin, Louisiana. Weaver has worked in libraries since she was 14; she was a page and then a clerk before obtaining her MLIS from Louisiana State University. She is the author of Murder at the Brightwell, Death Wears a Mask, and A Most Novel Revenge. Weaver lives in Oakdale, Louisiana.