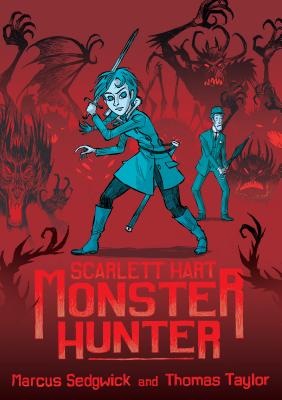 Scarlett Hart
Monster Hunter
Hardcover

* Individual store prices may vary.
Other Editions of This Title:
Paperback (4/3/2018)
Description
Scarlett Hart, orphaned daughter of two legendary monster hunters, is determined to carry on in her parents' footsteps—even if the Royal Academy for the Pursuit and Eradication of Zoological Eccentricities says she's too young to fight perilous horrors. But whether it's creepy mummies or a horrid hound, Scarlett won't back down, and with the help of her loyal butler and a lot of monster-mashing gadgets, she's on the case.

With her parent's archrival, Count Stankovic, ratting her out to T.R.A.P.E.Z.E. and taking all the monster-catching rewards for himself, it's getting hard for Scarlett to do what she was born to do. And when more monsters start mysteriously manifesting than ever before, Scarlett knows she has to get to the bottom of it and save the city . . . whatever the danger!

In his first adventure for middle-grade readers, acclaimed YA author Marcus Sedgwick teams up with Thomas Taylor (illustrator of the original edition of Harry Potter and the Philosopher's Stone) to create a rip-roaring romp full of hairy horrors, villainous villains, and introducing the world's toughest monster hunter—Scarlett Hart!
Praise For Scarlett Hart: Monster Hunter…
"Sedgwick's story and Taylor's images work well together to create an immersive experience... Young readers will find Scarlett aspirational. She's brave, but not unafraid. She's bold, but not arrogant." —New York Times

"The weapons, gadgets, catchphrases, and nondescript Victorian setting will appeal to fans of the steampunk genre, [Scarlett Hart] will likely appeal to comic fans as a bridge between Scooby-Doo! and Paul Pope's "Battling Boy.""—School Library Journal


"A cliff-hanger ending, along with a handful of secrets about Scarlett's parents left unexplained, hopefully means there's a sequel yet to come. This solid middle-grade caper is perfect for fans of Jason Segel and Kirsten Miller's Nightmares! series."—Booklist

"Monster hunt after monster hunt keeps the story whizzing along nicely, with plot developments and revelations sprinkled throughout in a rollicking manner. Rough and scrappy, Taylor's illustrations convey ghoulish cool with subtle aplomb..."—Kirkus


"Sedgwick and Taylor's story unfolds in lively action sequences, and the banter between Scarlett and Napoleon provides humorous interludes."—Publishers Weekly

First Second, 9781250159847, 208pp.
Publication Date: April 3, 2018
About the Author
Marcus Sedgwick was born and raised in Kent in South East England, but now lives in the French Alps. His books have won and been shortlisted for many awards; most notably, he has been shortlisted for Britain's Carnegie Medal six times, has received two Printz Honors, for Revolver and Ghosts of Heaven, and in 2013 won the Printz Award for Midwinterblood.

Thomas Taylor was marooned on this planet in 1973, on a small island called Britain. After an initial period of exploration he found refuge at an Art School, and began pursuing a career in writing and illustrating children's books. His first attempt to get noticed was by doing the cover art for the British edition of Harry Potter and the Philosopher's Stone. Subsequent to this he wrote and illustrated a series of (sometimes award-winning) picture books for younger children, which include The Loudest Roar books about a Tiger called Clovis. He has also written and illustrated a trio of novellas about a teenage boy who can see ghosts, and who teams up with one to solve supernatural crimes — the Dan and the Dead series. His YA novel, Haunters, is about people who can travel in time through their dreams, appearing in the past as ghosts. Thomas has long had an ambition to make a comic book, and is delighted to have teamed up with author Marcus Sedgwick to create Scarlett Hart. Although he still looks to the stars for rescue, Thomas has lots to do in the meantime, including another comic book with Walker Books.
or
Not Currently Available for Direct Purchase