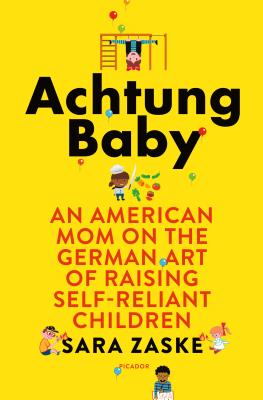 Achtung Baby
An American Mom on the German Art of Raising Self-Reliant Children
Hardcover

* Individual store prices may vary.
Other Editions of This Title:
Digital Audiobook (1/1/2018)
Paperback (12/31/2018)
Description
An Entertaining, Enlightening Look at the Art of Raising Self-Reliant, Independent Children Based on One American Mom's Experiences in Germany

An NPR "Staff Pick" and One of the NPR Book Concierge's"Best Books of the Year"

When Sara Zaske moved from Oregon to Berlin with her husband and toddler, she knew the transition would be challenging, especially when she became pregnant with her second child. She was surprised to discover that German parents give their children a great deal of freedom—much more than Americans. In Berlin, kids walk to school by themselves, ride the subway alone, cut food with sharp knives, and even play with fire. German parents did not share her fears, and their children were thriving. Was she doing the opposite of what she intended, which was to raise capable children? Why was parenting culture so different in the States?

Through her own family's often funny experiences as well as interviews with other parents, teachers, and experts, Zaske shares the many unexpected parenting lessons she learned from living in Germany. Achtung Baby reveals that today's Germans know something that American parents don't (or have perhaps forgotten) about raising kids with "selbstandigkeit" (self-reliance), and provides practical examples American parents can use to give their own children the freedom they need to grow into responsible, independent adults.
Praise For Achtung Baby: An American Mom on the German Art of Raising Self-Reliant Children…
"Ideal for parents of young ones...Unlike many parenting books, Zaske's is not judgmental, prescriptive or didactic. For that, American parents may soon be saying Danke and sending Achtung up the [bestseller] charts, too."—USA Today

"In turns exhilarating and devastating to an American parent....We here in the ostensible land of the free could learn a thing or zwei from our friends in Merkel-world. It's breathtaking to rethink so many American parenting assumptions in light of another culture's way of doing things...A great read."—Slate

"Zaske writes about the positive aspects of child-rearing in Germany in a relatable, self-reflective way, noting how she became aware that many of her parenting fears were culturally driven."—The Cut

"Part memoir, part essay on parenting, Zaske's book is furnished with ample statistics and research from Piaget to the origins of kindergarten in the nineteenth century. Zaske is equally perceptive when probing delicate and complicated topics such as the specific cultural menace of the Germans in relation to their history of disastrous nationalism."—Times Literary Supplement

"A compelling cultural study that will interest all those who wish to learn about German culture, as well as American parents and educators."—Library Journal (starred review)

"Supported by statistics and research studies, Zaske makes a strong argument that German parenting practices are creating smarter and more productive parents and children alike."—Publishers Weekly

"An entertaining, informative, and enlightening narrative on the German methods of parenting that will have many in the U.S. reconsidering how they're raising their children."—Kirkus Reviews

"Is it possible that much of what Americans believe about responsible parenthood, child safety, and the peculiar art of concerted cultivation stems not from reason but from blind adherence to custom and convention? With intelligence, humor, and a healthy dose of skepticism, Achtung Baby suggests it does. Contrasting American parenting with the less regimented German model, Zaske details her experience mothering in Germany to present a portrait of German-style parenting that is at once entertaining, surprising, and instructive. With curiosity and insight, she reveals how many of our parenting assumptions stem not from evidence but from insecurity and fear."—Kim Brooks, author of The Houseguest and Small Animals, and editor at Salon.com

"I was completely drawn into this marvelous account of how Zaske learned to trust her children and allow them the freedoms they craved. It is the story of one family and, at the same time, of childrens' and parents' lives in two huge modern nations. I recommend it to all American parents, educators, policymakers, and others concerned with children's lives and the future of our society."—Peter Gray, author of Free to Learn: How Releasing the Instinct to Play Will Make Our Children Happier, More Self-Reliant, and Better Students for Life

"This is a beautiful book. Zaske uses her personal experience raising her children in Berlin to reveal the differences—fundamental and trivial, serious and humorous—between German and American parenting, finding lessons in the ways Germans rear their children from birth to adolescence. Zaske probes our cultural differences and mines the hard data to offer us her pungent observations. Her insights deserve our attention." —Robert LeVine, author of Do Parents Matter?

"If you're wondering where to find happy, normal, un-helicoptered children these days, the answer is: Germany! Zaske looks to a land that trusts its youth, and lays out a smart, sensible path for raising resilient kids."—Lenore Skenazy, founder of the book, blog and movement, Free-Range Kids
Picador, 9781250160171, 256pp.
Publication Date: January 2, 2018
About the Author
SARA ZASKE is an American writer who lived in Berlin for six and a half years. Her articles on her family's experiences in Germany have appeared on Time.com, in The New York Times, The Wall Street Journal, and Bild am Sontag, Germany's largest Sunday paper. She lives in Idaho with her husband and two children.

Sara is the author of Achtung Baby:An American Mom on the German Art of Raising Self-Reliant Children.
or
Not Currently Available for Direct Purchase