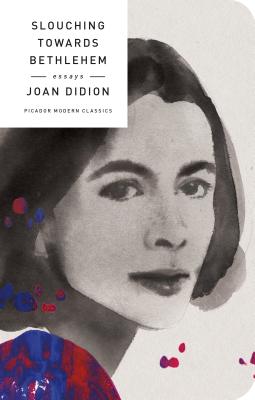 Slouching Towards Bethlehem (Hardcover)
Essays (Picador Modern Classics)
Picador Modern Classics, 9781250160652, 384pp.
Publication Date: November 7, 2017
Other Editions of This Title:
Paperback (10/28/2008)
Paperback (10/1/1990)
Paperback (4/1/1979)
Compact Disc (10/28/2014)
Hardcover (5/1/1968)
Compact Disc (10/28/2014)
MP3 CD (7/22/2014)
* Individual store prices may vary.
Description
Beautifully repackaged as part of the Picador Modern Classics Series, this special edition is small enough to fit in your pocket and bold enough to stand out on your bookshelf.

Celebrated, iconic, and indispensable, Joan Didion's first work of nonfiction, Slouching Towards Bethlehem, is considered a watershed moment in American writing. First published in 1968, the collection was critically praised as one of the "best prose written in this country."
More than perhaps any other book, this collection by one of the most distinctive prose stylists of our era captures the unique time and place of Joan Didion's focus, exploring subjects such as John Wayne and Howard Hughes, growing up in California and the nature of good and evil in a Death Valley motel room, and, especially, the essence of San Francisco's Haight-Ashbury, the heart of the counterculture. As Joyce Carol Oates remarked: "[Didion] has been an articulate witness to the most stubborn and intractable truths of our time, a memorable voice, partly eulogistic, partly despairing; always in control."
About the Author
Joan Didion is the author of many works of fiction and nonfiction, as well as several screenplays written with her late husband, John Gregory Dunne. Her books include The White Album, Play It As It Lays, and Slouching Towards Bethlehem. She lives in New York City.
Praise For Slouching Towards Bethlehem: Essays (Picador Modern Classics)…
"In her portraits of people, Didion is not out to expose but to understand, and she shows us actors and millionaires, doomed brides and naive acid-trippers, left wing ideologues and snobs of the Hawaiian aristocracy in a way that makes them neither villainous nor glamorous, but alive and botched and often mournfully beautiful.... A rich display of some of the best prose written today in this country." —Dan Wakefield, The New York Times Book Review

"These literary gems are the perfect stocking-stuffer size for the serious reader on your list; you'll look smart wrapping up one or all of them." --USA Today

"A slant vision that is arresting and unique...Didion might be an observer from another planet--one so edgy and alert that she ends up knowing more about our own world than we know ourselves." —Anne Tyler
"The story between the lines of Slouching Towards Bethlehem is surely not so much 'California' as it is [Didion's] ability to make us share her passionate sense of it." —Alfred Kazin
"Give one of these adorable mini-editions of classic nonfiction books by women—only slightly larger than a mobile phone—to a bookish friend, and they'll get lit, literally."—BUST
"Gorgeous . . . among the season's sexiest little literary gifts . . . Close-up portraits of the grand dames by illustrator Celia Carlstedt grace the textured, curve-cornered jackets of these pocket-sized volumes (it's as if they've already been gift wrapped)." —Passport Magazine