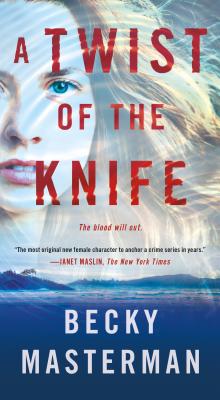 A Twist of the Knife (Mass Market)
A Novel (Brigid Quinn Series #3)
Minotaur Books, 9781250160713, 448pp.
Publication Date: September 25, 2018
Other Editions of This Title:
Digital Audiobook (3/20/2017)
Hardcover (3/21/2017)
CD-Audio (3/21/2017)
Pre-Recorded Audio Player (3/21/2017)
* Individual store prices may vary.
Description
Ex-FBI agent Brigid Quinn is back—staking family and friendship to save a man on death row.
"One of the most memorable FBI agents since Clarice Starling."—Publishers Weekly
"A powerhouse series."—The Boston Globe

Heroes and villains—they've all got family. That's one lesson Brigid Quinn has learned during her three decades in the FBI, along with how to disarm a 250-pound man in under 10 seconds and single-handedly take down serial killers and drug cartels. And ex-FBI agents have family, too. Case in point: Brigid's father, who's just ended up in the hospital.
Going home to Florida is never a treat for Brigid, who greatly prefers her new life and husband in Tucson. At least doing so gives her a chance to look up Laura Coleman, a former colleague who was once nearly killed saving Brigid's life. Today, Laura is working to try to exonerate Marcus Creighton, who is on death row for the murder of his family. It's a famous—and dangerous—case. And Laura could use all the help she can get from Brigid.
As Brigid tries manage the drama of her father's health, her vaguely accusatory mother, and her conveniently scarce brother, she can't help but wonder about her own family secrets alongside of Laura's client's. Seeing is not always believing—and what if Creighton is innocent after all? Isn't the truth always hardest to see when it's close to home? The case is growing ever more convoluted as new evidence comes to light, and Brigid and Laura must race to find the truth…before it's too late.
About the Author
BECKY MASTERMAN, who was an acquisitions editor for a press specializing in medical textbooks for forensic examiners and law enforcement, received her M.A. in creative writing from Florida Atlantic University. Her debut thriller, Rage Against the Dying, was a finalist for the Edgar Award for Best First Novel, the CWA Gold Dagger Award for Best Crime Novel of 2013, as well as the Macavity, Barry, and Anthony awards. She won the Tony Hillerman Fiction Award for A Twist of the Knife. Becky lives in Tucson, Arizona, with her husband.
Praise For A Twist of the Knife: A Novel (Brigid Quinn Series #3)…
"A gripping third entry of this powerhouse series." — The Boston Globe
"Masterman expertly builds both the family story and detective story to unexpected revelations and redemption."
—Salem MacKnee, The News & Observer (Raleigh)
"Author Becky Masterman is as adept as her protagonist….Fantastic….A first sentence grabs you, a final sentence awes you, and most of the other sentences punch you in the face as well. The narrative is easy-reading, smooth and compelling." —The Oklahoman
"Brigid Quinn is a force to be reckoned with. She's smart, strong, refreshingly mature, witty as hell—and an absolute thrill to read."
—Linda Castillo
"What I love about these books is that they're page-turners, they're really thrilling novels."
—Nancy Pearl, NPR's "Morning Edition," on the Brigid Quinn series
"Edgar-finalist Masterman presents a compassionate, clear-eyed depiction of the painful foibles of human nature in her chilling, twist-filled third thriller….A compelling, complex lead, Brigid has no problem skirting the straight and narrow in her quest for justice."
—Publishers Weekly
"Masterman deftly layers in Brigid's family story....This page-turner, which tackles the rising tide of false death-row convictions and the long arm of family secrets, should be perfect for Lisa Gardner fans."
—Booklist
"A crime novel that transcends the genre—a twisting, high-stakes story with characters so real and so recognizably human, that it breaks your heart a little. Brilliant."
—Shari Lapena, author of the New York Times bestseller The Couple Next Door
"Brilliant, intricate, authentic and sometimes raw, this is a masterfully written story that'll quicken your pulse and challenge the grey matter too. Brigid Quinn is my new favourite female investigator."
—Gilly Macmillan
"The intrinsic intricacies of the case, coupled with the rising emotional tension stemming from Brigid's family crisis…will compel both new readers and old fans to cheer Brigid on."
—Library Journal
Additional Praise for Becky Masterman and the Brigid Quinn Novels:
"The most original new female character to anchor a crime series in years."
—Janet Maslin, The New York Times on Fear the Darkness
"When the nominations are made for the best crime-novel debut of the year, we should be hearing [Masterman's] name again."
—The Washington Post on Rage Against the Dying
"Pulse-quickening...scorching...invigorating."
—Janet Maslin, The New York Times on Rage Against the Dying
"Wow. An absolute pleasure. Chilling, smart...and what a voice."
—Gillian Flynn, author of Gone Girl on Rage Against the Dying
"One of the most memorable FBI agents since Clarice Starling."
—Publishers Weekly (starred, Pick of the Week) on Rage Against the Dying
"Masterman lives up to her name in this masterly combination of compelling character and plot."
—Library Journal (starred) on Rage Against the Dying