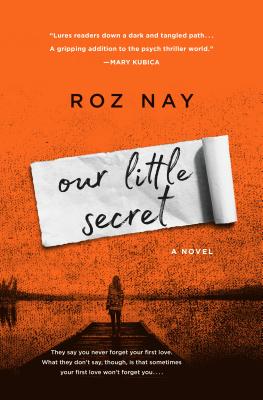 Our Little Secret (Hardcover)
A Novel
St. Martin's Press, 9781250160812, 272pp.
Publication Date: April 17, 2018
Other Editions of This Title:
Paperback (2/12/2019)
MP3 CD (9/11/2018)
* Individual store prices may vary.
Description
THE INTERNATIONALLY BESTSELLING PSYCHOLOGICAL SUSPENSE NOVEL YOU CAN'T MISS...

"A cracking read...Our Little Secret builds to a deliciously dark conclusion." —Ruth Ware, New York Times bestselling author of The Woman in Cabin 10
Roz Nay's Our Little Secret is a twisted tale of love, pain, and revenge that will stay with the reader long after they turn the last page.
They say you never forget your first love. What they don't say though, is that sometimes your first love won't forget you…
Angela Petitjean sits in a cold, dull room. The police have been interrogating her for hours, asking about Saskia Parker. She's the wife of Angela's high school sweetheart, HP, and the mother of his child. She has vanished. Homicide Detective J. Novak believes Angela knows what happened to Saskia. He wants the truth, and he wants it now.
But Angela has a different story to tell. It began more than a decade ago when she and HP met in high school in Cove, Vermont. She was an awkward, shy teenager. He was a popular athlete. They became friends, fell in love, and dated senior year. Everything changed when Angela went to college. When time and distance separated them. When Saskia entered the picture.
That was eight years ago. HP foolishly married a drama queen and Angela moved on with her life. Whatever marital rift caused Saskia to leave her husband has nothing to do with Angela. Nothing at all. Detective Novak needs to stop asking questions and listen to what Angela is telling him. And once he understands everything, he'll have the truth he so desperately wants…
About the Author
Roz Nay grew up in England and studied at Oxford University. She has been published in The Antigonish Review and the anthology Refuge. Roz has worked as an underwater fish counter in Africa, a snowboard videographer in Vermont, and a high school teacher in both the UK and Australia. She now lives in British Columbia, Canada, with her husband and two children. Our Little Secret is her first novel.
Praise For Our Little Secret: A Novel…
"Nay's engrossing read is told from multiple perspectives, and from its chillingly mysterious opening to the subtle brilliance with which a revengeful saga unfolds, its steamy love triangle will hook you and never let you go. It's a debut thriller that's just delicious."—Entertainment Weekly

"Remarkable. Our Little Secret superficially resembles Paula Hawkins' The Girl on a Train and similar psychological thrillers that have stormed the best-seller lists in the last decade. But Nay's work transcends the subgenre. The plot is more textured and heartbreaking, and her prose contains startling turns of phrase that reveal the soul of a poet."—Associated Press
"Nay lures readers down a dark and tangled path that explores the aftereffects of lost first loves...a gripping addition to the psych thriller world." —Mary Kubica, New York Times bestselling author of The Good Girl

"A gripping and disturbing story, which left me guessing until the very end." —B.A. Paris, New York Times bestselling author of Behind Closed Doors and The Breakdown
"Clever and addictive, Our Little Secret won't stay a secret for long—it's that good."—Chevy Stevens, New York Times bestselling author of Still Missing and Never Let You Go
"A cracking read...Our Little Secret builds to a deliciously dark conclusion."— Ruth Ware, New York Times bestselling author of The Woman in Cabin 10

"A hugely accomplished first novel—and one which, in the guise of a page turner, poses many questions about intimacy, jealousy and the vertiginous trajectory that is revenge."—Douglas Kennedy, international bestselling author of The Pursuit of Happiness and Leaving the World
"In Our Little Secret, Roz Nay shows how the past is never truly past, and can be darker than we guess, especially when it comes to first loves. A most promising debut."— Andrew Pyper, bestselling author of The Demonologist and The Only Child
"In Roz Nay's tightly woven debut Our Little Secret we meet Angela – a wily woman with a twisted love story, who is in quite a heap of trouble. As the story unfolds and the mystery deepens, the breadcrumbs Nay expertly leaves behind reveal a dark truth you won't see coming. Ruth Ware fans will love this compulsive, impossible-to-put-down novel!"—Karma Brown, bestselling author of Come Away With Me and The Choices We Make
"A stunning debut…. Our Little Secret is a deliciously twisted novel about a love triangle. It's so suspenseful your heart will be pounding as you hurry to the end. Roz Nay has proven she can write the thriller you haven't read before." —Liz Fenton and Lisa Steinke, authors of The Good Widow
"A juicy, darkly comic tour through an unpredictable mind, populated by characters as captivating as they are despicable. If you liked Disclaimer, you're in for a treat with this one."—Averil Dean, author of Alice Close Your Eyes

"A sneaky-smart, charismatic debut that will win fans among those who enjoy the kind of duplicitous and deliciously complex psychological suspense written by Ruth Ware, Sophie Hannah, and Erin Kelly."—Booklist (starred review)
"Fans of Paula Hawkins and Ruth Ware will devour this twisty psychological thriller; Nay has expertly crafted a narrative that has the potential to veer in several directions, keeping the readers enthralled and guessing until the end."—Library Journal (starred review)
"[A] mesmerizing debut...Nay expertly spins an insidious, clever web, perfectly capturing the soaring heights and crushing lows of first love and how the loss of that love can make even the sanest people a little crazy. Carve out some time for this riveting, one-sitting read."—Kirkus Reviews

"Captivating...Nay is a writer to watch."—Publishers Weekly

"Heading to a cottage this weekend and need a guaranteed good read? Bring this book. Trust me: you're likely to read it in one breathless sitting. When you return to reality, it will be well past midnight and everyone else will have gone to bed. [A] winding, deceptive descent towards the truth about what happened. I didn't see it coming, and neither will you."—The Globe and Mail

"Seemingly every aspiring author out there is now busy capitalizing on the trend, crafting dark psychological thrillers with unreliable female narrators and wild plot twists. It's increasingly difficult, then, to stand out in this crowded market... All of this is why first-time author Roz Nay's debut Our Little Secret is so impressive."—Toronto Star
"Roz Nay keeps readers enthralled with prose that's at once lyrical and incisive. The author can make a drug trip seem poetic. Our Little Secret should keep readers tied to its pages."—Shelf Awareness