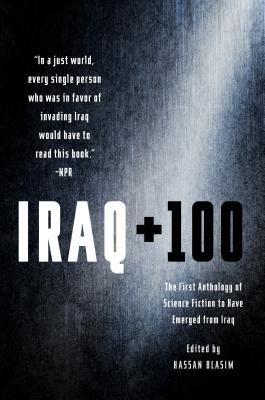 Iraq + 100
The First Anthology of Science Fiction to Have Emerged from Iraq
Paperback

* Individual store prices may vary.
Other Editions of This Title:
Digital Audiobook (9/11/2017)
Description
One of NPR's Best Books of 2017!

A groundbreaking anthology of science fiction from Iraq that will challenge your perception of what it means to be "The Other"

"History is a hostage, but it will bite through the gag you tie around its mouth, bite through and still be heard."—Operation Daniel

In a calm and serene world, one has the luxury of imagining what the future might look like.

Now try to imagine that future when your way of life has been devastated by forces beyond your control.

Iraq + 100 poses a question to Iraqi writers (those who still live in that nation, and those who have joined the worldwide diaspora): What might your home country look like in the year 2103, a century after a disastrous foreign invasion?

Using science fiction, allegory, and magical realism to challenge the perception of what it means to be "The Other", this groundbreaking anthology edited by Hassan Blasim contains stories that are heartbreakingly surreal, and yet utterly recognizable to the human experience. Though born out of exhaustion, fear, and despair, these stories are also fueled by themes of love, family, and endurance, and woven through with a delicate thread of hope for the future.
Praise For Iraq + 100: The First Anthology of Science Fiction to Have Emerged from Iraq…
Praise for Iraq + 100

"Painful, difficult, and necessary; often beautiful, always harrowing. If that sits awkwardly with the conventions of Western science fiction that imagine dystopias at arm's length and totalitarianism as fanciful thought-experiment, then perhaps now more than ever is the time for those conventions to change."—NPR

"Dazzling and disorienting, these stories are not just reflections of turmoil…there's also an undercurrent of perseverance and compassion, not to mention the sheer pleasure of unleashing the imagination and the written word."—The Atlantic

"Inventive and surprising, these tales, many of which are translated, blend the surreal with the commonplace, pushing the boundaries of speculative fiction. Readers will savor each story as it probes the deeper questions of existence and the possibilities and perils of the future. This is a must-read for all science fiction enthusiasts."—Publishers Weekly, starred review

"This powerful collection of Iraqi speculative fiction packs a twofold punch: intriguing futuristic stories melded by a shared, painful past...these tales aren't always comfortable reading, but fans seeking diverse sf will appreciate this anthology."—Library Journal, starred review

"Tales that will intrigue, unsettle and inspire…these stories serve as a moving, perceptive commentary on Iraq, and, indeed, the world, and offer several intriguing visions of the future."—RT Book Reviews

Praise for Hassan Blasim

"If a short story could break the heart of a rock, this might just be the one…." –The New York Times on The Corpse Exhibition: And Other Stories of Iraq

"Brilliant and disturbing… bitter, furious and unforgettable." –Wall Street Journal on The Corpse Exhibition

"Blasim deserves a wider audience, one ready to be shocked and awed by these pitch-black fairytales." –The National on The Corpse Exhibition

"Brutal, vulgar, imaginative, and unerringly captivating…A searing, original portrait of Iraq." –Publishers Weekly on The Corpse Exhibition

"Powerful, moving and deeply descriptive." –Kirkus Reviews on The Corpse Exhibition

"Blunt and gruesome." –The Huffington Post on The Corpse Exhibition

"Bolaño-esque in its visceral exuberance, and also Borgesian in its gnomic complexity… a master of metaphor." –The Guardian on The Iraqi Christ

"At first, you receive Blasim with the kind of shocked applause you'd award a fairly transgressive stand-up. You're quite elated. Then you stop reading it at bedtime. At his best, Blasim produces a corrosive mixture of broken lyricism, bitter irony and hyper-realism which topples into the fantastic and the quotidian in the same reading moment." –M John Harrison
Tor Books, 9781250161321, 224pp.
Publication Date: September 12, 2017
About the Author
Described by The Guardian as "perhaps the greatest writer of Arabic fiction alive," Hassan Blasim is an Iraq-born film director and writer. A multiple PEN Award winner, he is the author of The Corpse Exhibition, which won a number of awards, and The Iraqi Christ, which won the Independent Foreign Fiction Prize in 2014, making Blasim the first Arabic writer to win that award. He lives in Finland.