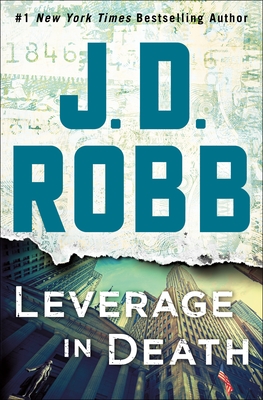 Leverage in Death (Hardcover)
An Eve Dallas Novel (In Death, Book 47)
St. Martin's Press, 9781250161567, 400pp.
Publication Date: September 4, 2018
Other Editions of This Title:
Mass Market (12/31/2018)
Paperback, Large Print (7/2/2019)
MP3 CD (12/31/2018)
Compact Disc (9/4/2018)
Compact Disc (9/4/2018)
Library Binding, Large Print (9/5/2018)
Prebound (12/31/2018)
MP3 CD (9/4/2018)
* Individual store prices may vary.
Description
Lieutenant Eve Dallas puzzles over a bizarre suicide bombing in a Wall St. office building in Leverage in Death, the latest in the #1 New York Times bestselling series from J.D. Robb…
For the airline executives finalizing a merger that would make news in the business world, the nine a.m. meeting would be a major milestone. But after marketing VP Paul Rogan walked into the plush conference room, strapped with explosives, the headlines told of death and destruction instead. The NYPSD's Eve Dallas confirms that Rogan was cruelly coerced by two masked men holding his family hostage. His motive was saving his wife and daughter—but what was the motive of the masked men?
Despite the chaos and bad publicity, blowing up one meeting isn't going to put the brakes on the merger. All it's accomplished is shattering a lot of innocent lives. Now, with the help of her billionaire husband Roarke, Eve must untangle the reason for an inexplicable act of terror, look at suspects inside and outside both corporations, and determine whether the root of this crime lies in simple sabotage, or something far more complex and twisted.
About the Author
J.D. Robb is the pseudonym for #1 New York Times bestselling author Nora Roberts. She is the author of over 200 novels, including the futuristic suspense In Death series. There are more than 500 million copies of her books in print.
Praise For Leverage in Death: An Eve Dallas Novel (In Death, Book 47)…
"Robb again remixes and remasters all the addictively readable ingredients her readers have come to crave, including a tough-as-nails protagonist who takes guff from no one, a plethora of engaging secondary characters who each play their roles to perfection, a generous dash of hot-as-sin sex, and a fine-tuned, tautly paced plot that relentlessly ticks along to the book's satisfying conclusion." – Booklist

Praise for Dark in Death:
"Robb expertly ratchets up the suspense as the endgame approaches in this deadly chess match between Eve and her cunning opponent." —Publishers Weekly

Praise for Secrets in Death:
"It is no secret that Robb's Eve Dallas series continues to be one of the most popular brands in crime fiction. Add that to this installment's perfectly executed plot, snappy pacing, and judicious sprinkling of dry humor, and you have a particularly enjoyable treat for loyal fans and curious new readers alike." – Booklist
"easy reading . . . dramatic . . ." – Kirkus
"Robb continues to impress." – Publishers Weekly
Praise for Echoes in Death:
"Bestseller Robb (aka Nora Roberts) is not only prolific by consistently inventive, entertaining, and clever in her crime series set in a near-future New York City, as shown by the stunning 44th entry." – Publishers Weekly Starred Review
"... the author's latest tautly constructed entry is every bit as addictively readable as the previous 43 installments in this highly entertaining series." – Booklist