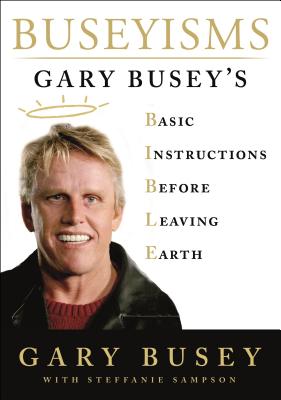 Buseyisms
Gary Busey's Basic Instructions Before Leaving Earth
Hardcover

* Individual store prices may vary.
Other Editions of This Title:
Digital Audiobook (9/3/2018)
CD-Audio (9/4/2018)
Description
Words of wisdom and incredible life stories, told through Gary Busey's unique Buseyisms.
Take a wild ride through the life and mind of Gary Busey in his new hilarious, uplifting, tell-all memoir, Buseyisms. Gary transports you on a laugh-out–loud journey through the crazy twists and turns of his rise to fame, his descent into drug addiction, and his trip to the 'other side' after a near-fatal motorcycle accident. Gary also shares untold stories of his militant upbringing, surviving cancer in the middle of his face, and fun behind the scenes stories of his most popular movies and television roles including: A Star Is Born, The Buddy Holly Story, Lethal Weapon, Point Break, Under Siege, The Firm, Entourage, Celebrity Apprentice, and more. Included in this book are dozens of personal photographs from Gary's early years up until now.
Gary is a living testimony to the resilience of the human body and spirit. In his simply written but profound memoir, he shares his Basic Instructions Before Leaving Earth to help others, who may be going through similar things, to realize that it is possible to survive challenging life events and come out a happy champion.
Praise For Buseyisms: Gary Busey's Basic Instructions Before Leaving Earth…
"Gary Busey is a humdinger." —New York Times Book Review
"Get to know Gary Busey, who once told me he was an angel in an earth suit. Indeed he is, giving us messages he's received from on high, messages that inspire and support us in living a beautiful fulfilled life. Get to know my dear friend Gary Busey, read Buseyisms." —Jeff Bridges, actor, The Big Lebowski and True Grit
"Gary Busey's memoir is pure joy. He has found a way to translate his fearlessness as an actor and musician into the pages of this book. He pulls back the curtain and lets us all in. Sharp, detailed, totally free and all kinds of crazy…just the way we like him." —Joely Fisher, actor, director, and author of Growing Up Fisher

"He actually has a glossary of Buseyisms at the back of the book and I have to tell you, these are surprisingly thoughtful and profound....I'm really proud of this book." —Dr. Phil
"I listened to Gary make up his Buseyisms on the spot and finally came up with my own for our team name, 'Plan B' — Peace Love And Nothing But. I'm warning you, read this now and you'll come away thinking a little bit like my friend, Gary. But you won't ever go full Busey, no one but Gary can. Whenever I'm asked what Gary is like (and that's often of course), I answer using some Bob Dylan thoughts: 'Gary dances beneath the diamond sky with one hand waving free.' I don't know what would spell for a Buseyism, but it's the truth and I love him." —Penn Jillette of Penn & Teller - Las Vegas
"Gary Busey's tenacious spirit shines bright in his entertaining and inspiring book. Buseyisms is a must read!"
—Jack Canfield, co-creator of the #1 New York Times bestselling series Chicken Soup for the Soul

"A soulful and entertaining memoir about the mystery of life that should be read far and wide." —Cathy Byrd, bestselling author of the book and 20th Century Fox motion picture The Boy Who Knew Too Much
"Wonderful. Gary is the poet laureate of our time." —John Millius
"Buseyisms: Gary Busey's Basic Instructions Before Leaving Earth is raw, funny, insightful, and a gift of insight and joy to anyone who reads it. I highly recommend it." —Daniel G. Amen, MD, Founder, Amen Clinics and #1 bestselling author of Memory Rescue and Change Your Brain, Change Your Life
St. Martin's Press, 9781250161741, 304pp.
Publication Date: September 4, 2018
About the Author
GARY BUSEY is a prolific character actor known for
The Buddy Holly Story
,
Lethal Weapon
,
Predator 2
,
Point Break
,
Under Siege
,
The Firm
,
Fear and Loathing in Las Vegas
, and
Piranha 3D
, and many others. He has also made guest appearances on many television shows, including
Gunsmoke
,
Walker, Texas Ranger
,
Law & Order
,
Scrubs
, and
Entourage
. Busey was nominated for the Academy Award for Best Actor for his role in
The Buddy Holly Story
. He lives in Malibu, California.
Steffanie Sampson studied acting at the Stella Adler Academy in Hollywood and appeared in such films as Sharknado 4 and Protecting the King.
She is the coauthor of Buseyisms.
or
Not Currently Available for Direct Purchase