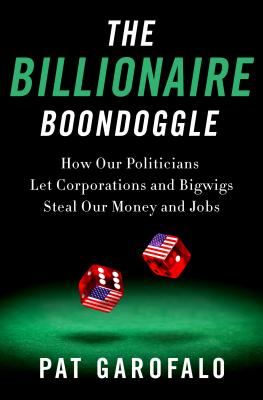 The Billionaire Boondoggle
How Our Politicians Let Corporations and Bigwigs Steal Our Money and Jobs
Hardcover

* Individual store prices may vary.
Other Editions of This Title:
Digital Audiobook (3/11/2019)
Description
"An alarming, fact-driven jeremiad urging change and action." –Kirkus

The first comprehensive look at how politicians let the entertainment industry bilk taxpayers, hijack public policy and hurt economic investment, starting and ending with Trump.

From stadiums and movie productions to casinos and mega-malls to convention centers and hotels, cities and states have paid out billions of dollars in tax breaks, subsidies, and grants to the world's corporate titans. They hope to boost their economies, create new and better jobs, and lure well-known events such as the Super Bowl--not to mention give their officials the chance to meet celebrities. That Big Entertainment drives bigger economies is a myth, however. Overwhelming evidence shows catering public policy to its promises results in a raw deal for the taxpaying public.


In The Billionaire Boondoggle, Garofalo takes readers on a tour of publicly-subsidized corporate America to explain how that myth came to be, how much money America's elected officials throw away, and why courting Big Entertainment just courts disaster.

You'll learn how Maryland gave millions of dollars to Netflix to make House of Cards, and Nevada spent hundreds of millions on a new home for the NFL's Raiders. New Mexico paid big money to host The Avengers, while city after city fell prey to the debt trap that is the Olympics. You'll see how big sporting goods stores like Bass Pro Shops and big casinos across the country all get in on the subsidy scam. And you'll see how many cities got in bed with hotel titans, including Donald J. Trump himself.

This book is the go-to guide for the many ways in which American taxpayers unknowingly subsidize the TV shows they watch, the sports teams they root for and the hotels they sleep in, all based on an economic theory that only adds up for CEOs and bigwigs.
Praise For The Billionaire Boondoggle: How Our Politicians Let Corporations and Bigwigs Steal Our Money and Jobs…
Praise for The Billionaire Boondoggle

"Garofalo's writing is straightforward and uncomplicated; the average reader will come away better informed." –Booklist

"The Billionaire Boondoggle shows how taxpayer money lavished on companies to entice investment and jobs rarely offers returns worth the cash." –New York Post

"For years, Pat Garofalo has been breaking down complex economic concepts and presenting them to audiences in ways that are accessible, illuminating, and novel. He has a deep understanding of economic topics like tax policy combined with a feel for how it intersects with people's everyday lives. His stories have attracted wide audiences and he has built a loyal following that respects and pays attention to his writing." –Amanda Terkel, Senior Political Reporter and Politics Managing Editor at The Huffington Post

"Pat Garofalo has a real knack for finding the intersection of entertainment, politics and economics, and writing about it in a way that shows just how important the issues involved really are. From sports stadiums to the Oscars to the lottery, his work makes it easy to understand how people get ripped off by their favorite teams, hobbies and past-times, and what lawmakers should do about it. His book would be a great addition to the world of business and economics writing." –Robert Schlesinger, managing editor for opinion at U.S. News & World Report and author of White House Ghosts: Presidents and their Speechwriters

"In The Billionaire Boondoggle Pat Garofalo uncorks a facts-driven jeremiad against the corporate greed machine. For too long the entertainment industry has hoodwinked the public, siphoning off taxpayer dollars and capturing public policymakers. In this remarkable, richly documented book thrumming with memorable moments and prickly personalities, Garofalo skillfully and convincingly connects the dots." –Jules Boykoff, Professor of political science at Pacific University in Oregon, author of Power Games: A Political History of the Olympics
Thomas Dunne Books, 9781250162335, 288pp.
Publication Date: March 12, 2019
About the Author
PAT GAROFALO is the managing editor for TalkPoverty.org at the Center for American Progress. He was previously an assistant managing editor for opinion at U.S. News & World Report and economic policy editor at ThinkProgress. Garofalo's writing on economic policy has appeared in a host of top publications, including The Atlantic, The Week, NBC News Think, The Nation, and The Guardian, and he has appeared on NPR, MSNBC, and ABC News, among others. He lives in Washington, D.C. with his wife.
or
Not Currently Available for Direct Purchase