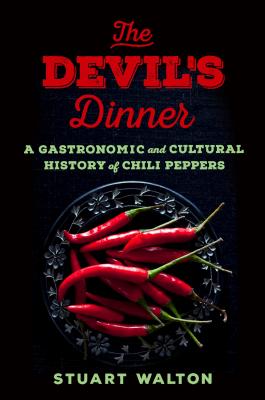 The Devil's Dinner
A Gastronomic and Cultural History of Chili Peppers
Hardcover

* Individual store prices may vary.
Description
Stuart Walton's The Devil's Dinner looks at the history of hot peppers, their culinary uses through the ages, and the significance of spicy food in an increasingly homogenous world.

The Devil's Dinner is the first authoritative history of chili peppers. There are countless books on cooking with chilies, but no book goes into depth about the biological, gastronomical, and cultural impact this forbidden fruit has had upon people all over the world. The story has been too hot to handle.

A billion dollar industry, hot peppers are especially popular in the United States, where a superhot movement is on the rise. Hot peppers started out in Mexico and South America, came to Europe with returning Spanish travelers, lit up Iberian cuisine with piri-piri and pimientos, continued along eastern trade routes, boosted mustard and pepper in cuisines of the Indian subcontinent, then took overland routes to central Europe in the paprika of Hungarian and Austrian dumplings, devilled this and devilled that… they've been everywhere!

The Devil's Dinner tells the history of hot peppers and captures the rise of the superhot movement.
Praise For The Devil's Dinner: A Gastronomic and Cultural History of Chili Peppers…
"In The Devil's Dinner, Stuart Walton serves up a scorching culinary and cultural history of how the chili pepper spread from Latin America throughout the world, leaving a blistering heat trail in its wake. It is certainly ironic that hot peppers evolved to produce a natural defense that now attracts chefs and masochistic contestants the world over. Used as both aphrodisiac and chemical weapon, chili peppers have had an outsize impact for their small size."—Mark Pendergrast, author of Uncommon Grounds: The History of Coffee and How It Transformed Our World

"Chilies have stormed the world. In this engaging history, Stuart Walton deftly balances their cultural links to manliness, evil, and sex against their transformation of the world's gastronomies via bowls of chile con carne, searing Indian curries, spicy Thai condiments, paprika-laced goulash, and little bottles of hot chili sauce."—Rachel Laudan, author of Cuisine and Empire: Cooking in World History

"A brilliant look at how, beside and under the worldwide economic colonial engine of the spice trade, the more easily grown chili pepper spread throughout the world not with money, wars and food fads, but with searing heat and gustatory affection. Though we find ourselves at a debauched stage of chili history, with peppers engineered for their inedible heat and sriracha ubiquity, this story of how we got here is blazingly fascinating." —Tom Nealon, author of Food Fights & Culture Wars: A Secret History of Taste

"I would really like to avoid cliches, so I won't describe Stuart Walton's book as spicy or hot. What I can say is that every object deserves a biography - and a biographer - and Walton and the chili pepper do each other great service in a tale that's part cultural adventure, part culinary exploration, and completely entertaining."
—Dan Koeppel, author of Banana: The Fate of the Fruit That Changed the World

"[A] fascinating overview of the cultural and culinary changes wrought by a fiery little fruit 'that was only telling human beings that it didn't want to be eaten.'"—Publishers Weekly



St. Martin's Press, 9781250163202, 320pp.
Publication Date: October 9, 2018
About the Author
Stuart Walton is a cultural critic and historian who has written about drink and drug cultures since the early 1990s. He is the author of In The Realm of the Senses: A Materialist Theory of Seeing and Feeling, A Natural History of Human Emotions and Out of It: A Cultural History of Intoxication as well as a number of consumer guides to wine, spirits and liqueurs, and cocktails. He lives in Torquay, southwest England