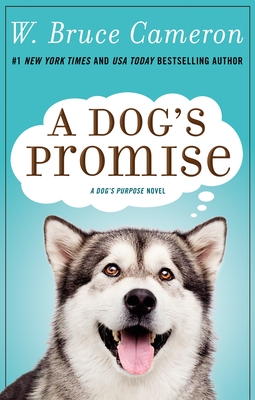 A Dog's Promise
A Novel (A Dog's Purpose #3)
Paperback

* Individual store prices may vary.
Other Editions of This Title:
Digital Audiobook (10/14/2019)
Hardcover (10/15/2019)
CD-Audio (10/15/2019)
Description
A Dog's Promise continues the story of Bailey, the good dog whose journey started in A Dog's Purpose and continued in A Dog's Journey (both major motion pictures).

This time, Bailey is joined by Lacey, another very special dog, who helps Bailey fulfill his promise over the course of several lives. This charming, wise canine soul brings joy, laughter, and comfort as he unites a family fractured by life's inevitable obstacles.

The love and loyalty of these two memorable dogs shows us the incredible power of hope, truth, and unending devotion in this moving novel by award-winning, New York Times bestselling author W. Bruce Cameron.
Praise For A Dog's Promise: A Novel (A Dog's Purpose #3)…
"Fans of Cameron's previous dog stories (A Dog's Purpose and A Dog's Journey, both made into films) will enjoy the further adventures of these wonderful animals and their people. Newcomers will also be charmed by a farm family's story told from a canine perspective." —Library Journal
Forge Books, 9781250163493, 384pp.
Publication Date: June 23, 2020
About the Author
W. BRUCE CAMERON is the #1 New York Times and USA Today bestselling author of A Dog's Purpose, A Dog's Way Home, and A Dog's Journey (all now major motion pictures), The Dog Master, A Dog's Promise, the Puppy Tales for young readers (starting with Ellie's Story and Bailey's Story), The Dogs of Christmas, The Midnight Plan of the Repo Man, and others. He lives in California.
1. When Ethan and CJ explain Bailey's mission to him, they call him an angel dog who is a wise, old soul. Throughout Bailey's journey, as he brings the Trevino family closer together and fulfills the ultimate promise, how does he demonstrate his special gifts as an angel? How is he different from the other dogs in the novel?
2. Ava rescues Bailey and Lacey in the first chapter, and they return the favor in later chapters. What do these scenes say about the way humans and animals need each other? What explains the difference between people like Ava and her father, who are committed to rescuing stray animals, and people like Larry (from the first chapter), who see stray animals as nuisance to be eliminated, or the abusers behind Death Dealin' Dawgs, who see stray animals as a commodity to exploit?
3. What does it take for Chase, Grant, and Burke to overcome the distrust and anger they feel because of being abandoned by Patty? How does Bailey help them develop truly loving relationships—even marriage? What sustains Bailey and Lacey's enduring love for each other (including parenthood between "Cooper" and "Lulu" in chapter sixteen)? In the novel, what is distinctive about a mother dog's love for her puppies?
4. As parents, how do ZZ and Li Min help Wenling develop both a strong mind and a kind heart? What makes Chase and ZZ such kindred souls?
5. Cooper/Bailey is essential in helping Burke and Janji/Lacey become more mobile, making it easier for them to interact with their community. In fact, the command Cooper craves most is "Assist", and he's frustrated when Ava doesn't request it. How would the world be transformed if we all became hooked on Bailey's spirit of service? How does "Assist," when performed by Oscar, change Burke's life?
6. In chapter thirty, Riley/Bailey protects Lady/Lacey from a pit-bull hunter. How does the pit-bull controversy serve as a metaphor for the characters in the novel who feel unloved, and for humans in the real world fear the wrong things?
7. As the characters are gathered in the storm shelter, what do they discover about the power of nature versus the power of structures that are engineered by humans? Why is Bailey happiest on the farm, despite the hazards of the natural world? Why does Chase resist technology, despite the physical exhaustion of his farming methods? What is it about being in such a perilous situation that inspired Burke and Grant to make their revelations?
8. Which lifesaving moment was the most compelling for you? Which scenes of canine comfort resonated with your experiences with your own dogs? Have you ever felt the presence of a former pet in a new pet?
9. As you experienced the novel's cycles—youth and adulthood, separation and reunion, the end of life and the beginning of new life, sorrow and joy—culminating in Oscar/Bailey's final revelations, what new perspectives did you gain on your own purpose? What do you believe the "promise" was? Look up the translation from Malay to English for the word "Janji." It is possible that the "Dog's Promise" is more than one thing? How did you feel when you read the last sentence of the book?
10. If you have read Bruce Cameron's previous books in the series, A Dog's Purpose and A Dog's Journey, discuss Bailey's evolution since he met his original boy for the very first time. What inspiring messages reverberate throughout the trilogy, including the necessity of having at least one dog in your life?