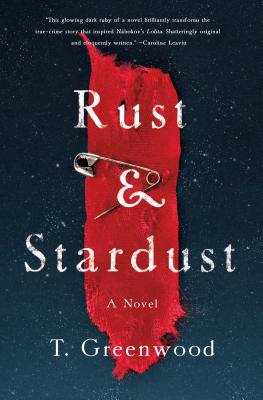 Rust & Stardust
A Novel
Hardcover

* Individual store prices may vary.
Other Editions of This Title:
Digital Audiobook (8/6/2018)
Paperback (4/12/2022)
CD-Audio (8/7/2018)
Library Binding, Large Print (12/1/2018)
Description
"Greenwood's glowing dark ruby of a novel brilliantly transforms the true crime story that inspired Nabokov's Lolita. Shatteringly original and eloquently written....So ferociously suspenseful, I found myself holding my breath." —Caroline Leavitt, New York Times bestselling author of Pictures of You

Camden, NJ, 1948. When 11 year-old Sally Horner steals a notebook from the local Woolworth's, she has no way of knowing that 52 year-old Frank LaSalle, fresh out of prison, is watching her, preparing to make his move. Accosting her outside the store, Frank convinces Sally that he's an FBI agent who can have her arrested in a minute—unless she does as he says.

This chilling novel traces the next two harrowing years as Frank mentally and physically assaults Sally while the two of them travel westward from Camden to San Jose, forever altering not only her life, but the lives of her family, friends, and those she meets along the way.

Based on the experiences of real-life kidnapping victim Sally Horner and her captor, whose story shocked the nation and inspired Vladimir Nabokov to write his controversial and iconic Lolita, this heart-pounding story by award-winning author T. Greenwood at last gives a voice to Sally herself.
Praise For Rust & Stardust: A Novel…
Library Journal Best of 2018!

San Diego Book Award 2019 winner for Best Published Mystery/Suspense!

"Thoughtfully rendered." —Vanity Fair

"Chilling...a perfect read." —Bustle

"A beautifully written, unnerving tragedy woven from equal measures of hope and menace."
—Booklist (starred review)

"Heartrending....Readers who relish novels based on true events will be both riveted and disturbed by this retelling of one of America's most famous abduction cases." —Library Journal (starred review)

"Fast-moving....T. Greenwood has clearly done her research." —New York Review of Books

"Riveting suspense....Grace touches this dark tale....Greenwood's story will spellbind readers." —Publishers Weekly

"Enthralling...Wonderfully researched and written with stirring prose, Rust & Stardust is a gut-wrenching read." —Tulsa Book Review

"Well-written and heartbreaking." —Watertown Daily Times

"Unflinching but compassionate, Greenwood deftly unravels the devastating layers of malice and carelessness that tore Sally from her family, but also the love and perseverance that eventually brought her home." — Bryn Greenwood, author of the New York Times bestseller All the Ugly and Wonderful Things

"Greenwood's glowing dark ruby of a novel brilliantly transforms the true crime story that inspired Nabokov's Lolita. Shatteringly original and eloquently written, Rust and Stardust is a lot about how what we believe to be true can shape or ruin a life, and the bright lure of innocence pitted against the murk of evil. So ferociously suspenseful, I found myself holding my breath, and so gorgeous and so unsettling in all the roads it might have taken, I kept rereading pages." —Caroline Leavitt, New York Times bestselling author of Pictures of You and
Cruel Beautiful World

"A riveting and thoughtful exploration of how the dark secrets of a terrible crime affect and hurt so many—and how light and hope persist in the face of such horrors. Greenwood writes with such compassion and feeling, and she is such a confident, skillful storyteller, that you'll stay up late to find out the fates of her memorable, beautiful characters." —Edan Lepucki, New York Times bestselling author of California and Woman No. 17

"A harrowing, ripped-from-the-headlines story of lives altered in the blink of an eye, once again proving her eloquence and dexterity as an author." —Mary Kubica, New York Times bestselling author of The Good Girl

"A lyrical and haunting meditation on family, love, and survival, this novel—and Sally Horner—stayed with me long after I turned the last page." —Jillian Cantor, author of Margot

"Greenwood is unmatched in her innate ability to weave lush, poetic language into a riveting story that hooks the reader from page one." —Amy Hatvany, author of Best Kept Secret, and It Happens All the Time
St. Martin's Press, 9781250164193, 368pp.
Publication Date: August 7, 2018
About the Author
T. Greenwood has received grants from the Sherwood Anderson Foundation, the Christopher Isherwood Foundation, the National Endowment for the Arts, and the Maryland State Arts Council.

Two Rivers was named 2009 Best General Fiction Book at the San Diego Book Awards, and Grace received the same award for 2012. Her eighth novel, Bodies of Water, was a 2014 Lambda Literary Awards Finalist.

Greenwood teaches creative writing for San Diego Writer's Ink, Grossmont College, and online for The Writer's Center. She and her husband, Patrick, live in San Diego, CA, with their two daughters.
1. What did you know about the novel Lolita — either from your own studies, or as portrayed in popular film adaptations—before reading Rust & Stardust?
2. Did reading Sally's story change your opinion about Nabokov's novel?
3. To what extent do you think the author took artistic liberties with this work? What does it take for a novelist to bring a "real" character to life? What do you think an author's responsibility is to the truth when depicting historical events or people?
4. We are taught, as young readers, that every story has a "moral". Is there a moral to this novel? If so, what is it?
5. What can we learn about our world—and ourselves—from Sally's story?
6. Each of the point of view characters in this story are united by the common tragedy of Sally's disappearance. But the story is not entirely tragic in that Sally has a lasting effect on the lives of each of these characters. Discuss the impact she has on Vivi, Sister Mary Katherine, Lena, and Ruth.
7. Who do you think the hero(ine) of this story is? Why?
8. Discuss Ella Horner's role in Sally's kidnapping. Do you blame her for not picking up on Sally's ambivalence about going to the shore with Frank? For her delay in notifying the authorities? How would this story be different if it had occurred in 2018 rather than 1948?
9. Motherhood is a theme explored through a variety of characters. Discuss the various mothers (and maternal figures) in this story.
10. How do you feel that we never get inside Frank La Salle's head? Did you find yourself needing to understand his motives?
11. How would the novel be different if it offered Frank's perspective as well?
12. Discuss the title, which comes from Lolita – in a poem written by Humbert Humbert. (Dolores Haze is Lolita's real name.)
My car is limping, Dolores Haze

And the last long lap is the hardest,

And I shall be dumped where the weed decays,

And the rest is rust and stardust.
How does it relate to Sally's story?
or
Not Currently Available for Direct Purchase