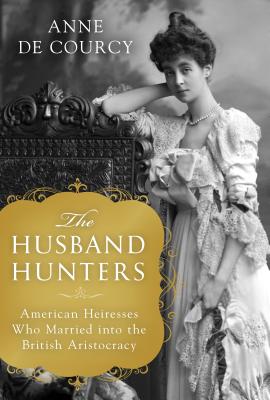 The Husband Hunters
American Heiresses Who Married into the British Aristocracy
Hardcover

* Individual store prices may vary.
Other Editions of This Title:
Digital Audiobook (8/6/2018)
Paperback (9/10/2019)
CD-Audio (8/7/2018)
Description
A deliciously told group biography of the young, rich, American heiresses who married into the impoverished British aristocracy at the turn of the twentieth century – the real women who inspired Downton Abbey

Towards the end of the nineteenth century and for the first few years of the twentieth, a strange invasion took place in Britain. The citadel of power, privilege and breeding in which the titled, land-owning governing class had barricaded itself for so long was breached. The incomers were a group of young women who, fifty years earlier, would have been looked on as the alien denizens of another world - the New World, to be precise. From 1874 - the year that Jennie Jerome, the first known 'Dollar Princess', married Randolph Churchill - to 1905, dozens of young American heiresses married into the British peerage, bringing with them all the fabulous wealth, glamour and sophistication of the Gilded Age.
Anne de Courcy sets the stories of these young women and their families in the context of their times. Based on extensive first-hand research, drawing on diaries, memoirs and letters, this richly entertaining group biography reveals what they thought of their new lives in England - and what England thought of them.
Praise For The Husband Hunters: American Heiresses Who Married into the British Aristocracy…
"[A] diverting new study…[the American heiresses] were brave. They were venturesome…they were just what was needed to shake the cocktail and bring some pizazz to the party. De Courcy conjures it all with skill." —New York Times Book Review
"A true account of the women who inspired Downton Abbey… [de Courcy] gets in their heads and in their homes, exploring what life was like for them after their moves and the clash of cultures that ensued."—Vanity Fair
"Anglophiles fascinated by the intricate tribal codes of the British upper classes will find plenty to feed their interest in this narrative...if we're looking to history to better understand our own time, The Husband Hunters has something to say about how we got here." —Boston Globe

"Amusing [and] breezily readable." —Washington Times
"de Courcy brings the Victorian and Edwardian eras vibrantly to life with her meticulously well-researched book, conveyed in an approachable prose style...A highly readable social history that contains all of the juicy drama of a prime-time soap opera." –Kirkus Reviews

"Vanderbilts, Astors, Churchills, Marlboroughs; diamonds, tiaras, yachts, mansions; all are documented in glorious detail and should satisfy those readers with insatiable thirst for all things peerage."—Booklist
"Fascinating…enough glitz and glamour to enthrall those who couldn't get enough of the recent royal nuptials."—Publishers Weekly
"Witty and well researched, Anne de Courcy brings to colorful, dramatic life these dollar princesses whose vast fortunes propelled them to glittering trans-Atlantic marriages that captivated international society."—Daisy Goodwin, New York Times bestselling author of The Fortune Hunter
"Anne de Courcy has a sharp instinct for absurdity and there is much of that in this entertaining book." – Anne Sebba, Literary Review
"Anne de Courcy has written the definitive account of the real-life buccaneers . . . de Courcy argues with conviction that it wasn't simply about money. Englishmen found the dollar princesses irresistible and were drawn to their vitality, social ease and lack of stuffiness . . . de Courcy is excellent on the cultural clashes between the Americans and British." – The Times of London
"Cleverly researched, sparkling with diamonds and wickedly funny." – Jane Ridley, The Spectator, "Books of the Year"

"For all those who long for more Edith Wharton novels, Anne de Courcy's The Husband Hunters is a worthy successor, especially as it is the true story of The Buccaneers. Anne de Courcy's thrilling prose, and fascinating diaries and letters of the period, means the story of the capitulation of British lords to 400 energetic American heiresses is impossible to put down." —Rebecca Fraser, author of The Mayflower
"An acidly funny account of the unholy alliance between eye-wateringly rich and socially ambitious American women and a clutch of impoverished British peers . . . Lively, shrewd and fresh as a gilded rose. . . . I can't wait to read it again." – Miranda Seymour, The Daily Telegraph
"A sparkling and richly entertaining account of an intriguing and unusual culture clash." – The Mail on Sunday
St. Martin's Press, 9781250164599, 320pp.
Publication Date: August 7, 2018
About the Author
Anne de Courcy is the author of several widely acclaimed works of social history and biography, including THE HUSBAND HUNTERS, MARGOT AT WAR, THE FISHING FLEET, THE VICEROY'S DAUGHTERS and DEBS AT WAR. She lives in London and Gloucestershire.