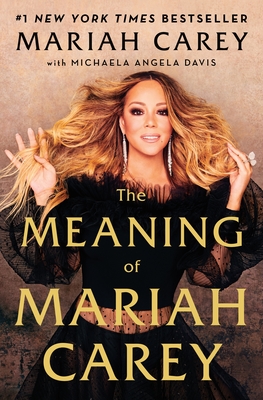 The Meaning of Mariah Carey
Hardcover

* Individual store prices may vary.
Other Editions of This Title:
Paperback (11/2/2021)
Description
The Instant #1 New York Times Bestseller

The global icon, award-winning singer, songwriter, producer, actress, mother, daughter, sister, storyteller, and artist finally tells the unfiltered story of her life in The Meaning of Mariah Carey

It took me a lifetime to have the courage and the clarity to write my memoir. I want to tell the story of the moments - the ups and downs, the triumphs and traumas, the debacles and the dreams, that contributed to the person I am today. Though there have been countless stories about me throughout my career and very public personal life, it's been impossible to communicate the complexities and depths of my experience in any single magazine article or a ten-minute television interview. And even then, my words were filtered through someone else's lens, largely satisfying someone else's assignment to define me.

This book is composed of my memories, my mishaps, my struggles, my survival and my songs. Unfiltered. I went deep into my childhood and gave the scared little girl inside of me a big voice. I let the abandoned and ambitious adolescent have her say, and the betrayed and triumphant woman I became tell her side.

Writing this memoir was incredibly hard, humbling and healing. My sincere hope is that you are moved to a new understanding, not only about me, but also about the resilience of the human spirit.

Love,
Mariah
Praise For The Meaning of Mariah Carey…
"A full-circle triumph for Carey... The writing in this book is arresting. Carey is rendered as much a spiritual force as a musical prodigy — resilient, self-aware, and also funny, in her regal way."
- The New York Times

"The Meaning of Mariah Carey is an instant classic of pop diva lit"
- Rolling Stone

"We finally get to meet the real woman behind the image of a diva... Now, by releasing her memoir, Mariah Carey is finally free—and she's offering that key to freedom to readers who have longed to hear her true story so they can better understand their own. It seems she has finally, after all these years, become the butterfly she's always wanted to be."
- O Magazine

"Mariah Carey's memoir is her best performance yet."
- L.A. Times

"Any reader of her new memoir, will appreciate and devour unapologetic chapters that aim to take back the narrative on Carey's terms, dahling."
- USA Today

"A fascinating memoir by a misunderstood star... A carefully pieced together self-portrait of one of this generation's most fascinatingly idiosyncratic, frequently misunderstood artists from the ground up."
- The Guardian

"As piercing and specific as a song… Carey's prose has rhythm and high drama… There's plenty in the 337-page volume that will surprise even the most devoted Lambs. [Mariah Carey is] a miracle, a memoirist, a singer, a songwriter — the girl's got range. Famously so."
- Entertainment Weekly

"Page-turning…Provides depth and valuable context around the experiences of a star... A wholly entertaining tale of a woman who made a harmony out of the discordant elements of her life."
- Time Magazine

"The notoriously private Mariah Carey shares her personal experiences on her own terms. Nothing is left off the table."
- Essence

"Mariah Carey's new book makes it official: We are in the golden age of the celebrity memoir"
- The New York Post

"Carey's memoir is an incisive, entertaining, and impressively well-written account of her road from poverty and obscurity to superstardom."
- The New Yorker

"Vivid, powerful, and comforting"
- BuzzFeed
Andy Cohen Books, 9781250164681, 368pp.
Publication Date: September 29, 2020
About the Author
Mariah Carey is an American artist of Black and Irish ancestry.

She is an award-winning singer, songwriter, producer, actress, entrepreneur, and philanthropist. She has recorded fifteen studio albums and holds numerous industry records, including the most number one singles of any solo artist in history.

She has received many accolades, honors, and distinctions throughout her career, including the Congressional Award for her charitable work with youth through the Fresh Air Fund's Camp Mariah. She is an inductee into the Songwriters Hall of Fame. Carey remains forever thankful and fiercely loyal to her global family of fans.

Ms. Carey is the mother of two children, Moroccan and Monroe.