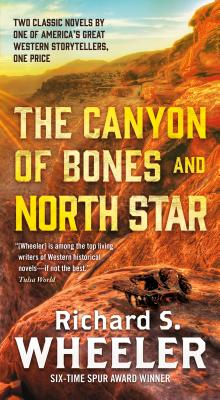 The Canyon of Bones and North Star (Skye's West) (Mass Market)
Forge Books, 9781250165862, 608pp.
Publication Date: December 31, 2018
* Individual store prices may vary.
Description
Two Skye's West novels by Spur Award-winner and legendary Western writer Richard S. Wheeler in one volume.
The Canyon of Bones
Mountain man Barnaby Skye takes work guiding wealthy Englishman Graves Mercer on an exploration of the Yellowstone and Missouri River valleys. Mercer has come to the American wilderness seeking thrilling, preferably salacious, material for British tabloids. He takes an ancient bone that's sacred among certain tribes—and the act may cost the party their lives.
North Star
Barnaby Skye faces radical change as the wilderness vanishes, buffalo are slaughtered, and the government puts the tribes on reservation land. His family's struggle to adapt takes them from Montana to Wyoming, wrestling with the tide of settlers and the new settlements that dot the western plains and mountains.
About the Author
Richard S. Wheeler (1935-2019) wrote over fifty novels and several short stories. He won six Spur Awards (for Fool's Coach, Sierra, Masterson, Drum's Ring, Vengeance Valley, and The Canyon of Bones) and the Owen Wister Award for lifetime achievement in the field of western literature. His series include Skye's West and The Witness.
Before turning to fiction he was a newsman and book editor. Wheeler lived in the literary and film community of Livingston, Montana.