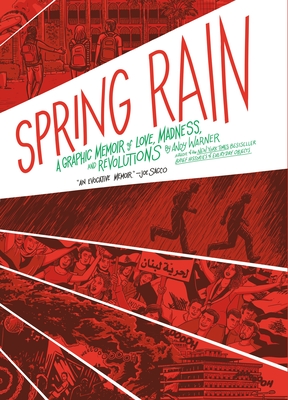 Spring Rain
A Graphic Memoir of Love, Madness, and Revolutions
Paperback

* Individual store prices may vary.
Description
An intimate graphic memoir by a New York Times–bestselling writer about his semester abroad in Beirut as he grows close to a crowd of mostly LGBTQ students, and suffers a mental breakdown while the city erupts into revolution.

"An evocative memoir" —Joe Sacco

In 2005 Andy Warner travelled to Lebanon to study literature in Beirut, one of the world's most cosmopolitan and storied cities. Twenty-one years old and recently broken up from his girlfriend, Warner feels his life is both intense and directionless. Immersing himself in the vibrant and diverse city, he quickly befriends a group of LGBT students, many of whom are ex-pats straddling different cultures and embracing the freedoms of the multicultural city. Warner and his friends party, do drugs, and hook up, even as violence breaks out in the city—the scars of a fifteen-year civil war reopening with a series of political assassinations and bombings. As the city descends into chaos and violence, Warner feels his grasp on reality slowly begin to slip as he confronts traumas in his past and anxiety over his future.

Illustrated in beautiful and intricate detail, Spring Rain is an absorbing and poignant graphic memoir of a young man's attempt to gain control over his life as well as a portrait of a city and a nation's violent struggle to define its future.
Praise For Spring Rain: A Graphic Memoir of Love, Madness, and Revolutions…
"Excellent... Spring Rain is about the way the troubles of the world seem more troublesome when one is already dealing with emotional difficulties, and how those same emotional difficulties can make the state of society seem more menacing, creating a self-reinforcing feedback loop that can drag even those keenly attuned to it into an awful state....A highly personal book."--Leonard Pierce, The Comics Journal

"Drawing parallels between Lebanese political unrest and his own mental health struggles, Warner's intricate graphic memoir resists simplistic clichés... Warner's work honors the richness of Lebanon and the fragile, fleeting nature of peace." —Publisher's Weekly

"A cartoonist uses his art to connect the world he sees collapsing outside with the psychological state crumbling within. The political and psychological potently intertwine within this highly charged memoir."—Kirkus Review (starred)

"Spring Rain captures the feel of tumultuous and glorious Beirut in an evocative memoir that sits at the intersection of the personal and the political." —Joe Sacco, author of Footnotes in Gaza

"Whether he's depicting the reality of a nation in revolt or the nightmare of a personal break from reality that threatens the possibility of tragic consequences, Warner's skills as a cartoonist serve both to offer the story cohesion and to ensure the (extremely helpful) passages on Lebanon's history aren't too dense. In total, Spring Rain is a timely work that never oversteps itself by narrowing its focus to provide a fleeting glimpse of revolutions both personal and political.... A captivating graphic memoir in which a young American details his 2005 semester abroad in Lebanon at a time of great political and personal upheaval."—Zack Ruskin, Shelf Awareness

"Warner's terrific coming-of-age memoir gives us a tour through a city—and mind—on the brink." —Matt Bors, Editor of The Nib
St. Martin's Griffin, 9781250165978, 208pp.
Publication Date: January 28, 2020
About the Author
ANDY WARNER's comics have been published by Slate, Medium, American Public Media, Symbolia, popsci.com, Showtime's Years of Living Dangerously, the Center for Constitutional Rights, the United Nations Refugee and Works Agency, Generation Progress, UNICEF, BuzzFeed, and Upworthy. He is the cofounder and coeditor of Irene.He writes and draws in a garden shed in San Francisco, and he lives in Berkeley and comes from the sea. He is the author of Brief Histories of Everyday Objects.