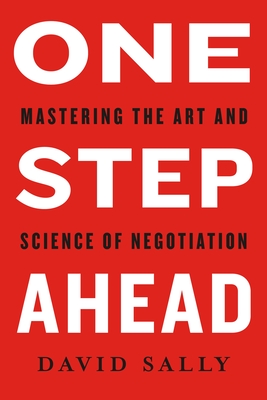 One Step Ahead
Mastering the Art and Science of Negotiation
Hardcover

* Individual store prices may vary.
Description
There's been a revolution in negotiating tactics.

The world's best negotiators have moved beyond How to Win Friends & Influence People and Getting to Yes. For over twenty years. David Sally has been teaching the art of negotiation at leading business schools and to executives at top companies. Now, he delivers the proven, clear, actionable insights you need to stay competitive in an ever-changing marketplace.

One Step Ahead offers the fundamental wisdom that elevates the sophisticated negotiator above everyone else. Readers will gain the advantage in everything from determining when to negotiate and deciphering a game strategically, to understanding which personality traits matter, why emotions are not necessarily to be avoided, and how to be tough and fair. You'll learn to be round on the outside and square on the inside, how to command the idiom, why to avoid bumping into the furniture, and how to achieve mastery of the word and the number. While all of life is not a negotiation, Sally says, a negotiation incorporates all of life—One Step Ahead is for anyone and everyone who bargains, parents, manages, buys, sells, emotes, and engages.

Based on cutting-edge studies and real-world results, and drawing parallels to everything from the NBA to the corner con game to Machiavelli, Xi Jinping, and Barack Obama, One Step Ahead upends conventional wisdom to make sure that you have what it takes to stay one step ahead—no matter whom you are facing across the table.
Praise For One Step Ahead: Mastering the Art and Science of Negotiation…
"One Step Ahead helped me realize who I truly was as a negotiator. It was my good fortune to successfully operate in the most dire life and death situations in what remains one of the world's most complex regions. Thank you, David, for having the skill and understanding to break down the inner workings of my efforts in a way I had yet to experience in the written word." —Giandomenico (Gianni) Picco

"A comprehensive guidebook delivering valuable skills to apply in both business and personal relationships." —Library Journal (starred review)

"Entertaining and conversational, [One Step Ahead] is an important tool for getting to yes, as well as understanding exactly what will prompt an opponent to say it." —Publishers Weekly

"A deep, thoughtful master class on the 'negotiation game.'" —Kirkus Reviews

"A beautifully written book which is wise, funny, scientific, and practical." —Colin Camerer, Professor at California Institute of Technology and author of Behavioral Game Theory

"'Words matter.' But David Sally writes, 'Words present facts, question assumptions, express emotions, issue orders, declare war, elevate cardinals to Pope, sentence offenders to prison, create contracts and promises, and so on.' That's why his books are so much more fun to read than mine. This is the wisest, most readable book on negotiation I've seen. Destined to become a classic." —Robert H. Frank, author of Under the Influence: Putting Peer Pressure to Work

"From defusing ultimatums to the art of persuasion, David Sally delivers master lessons on negotiation. This book offers brilliant, practical, and engaging advice gleaned from business titans, world leaders, and scholars." —Maurice Schweitzer, Professor at the Wharton School and coauthor of Friend & Foe

"Negotiation is an area where most people think that they can 'wing it' and achieve their objectives. They could not be more wrong. One Step Ahead reveals the inner workings of negotiation with unsurpassed clarity and is an entertaining and essential way to get past the clichés. The people, scenes, and science David Sally captures will cause you to view the bargaining, con artists, beauty contests, toughness and fairness, emotions, words, and numbers in our world with changed and knowing eyes." —Jonathan Klein, Co-founder, Deputy Chairman and former CEO (20 years), Getty Images
St. Martin's Press, 9781250166395, 384pp.
Publication Date: May 5, 2020
About the Author
David Sally is an innovative strategist and behavioral economist. In 1995, he received his PhD in Economics from the University of Chicago Booth School of Business. His research in behavioral game theory has been widely published and informed his award-winning teaching of negotiations and leadership at Cornell's Johnson School and Dartmouth's Tuck School of Business.

In 2011 David co-founded Anderson Sally LLC, one of the world's first soccer analytics consulting companies, where he helps clients make the right investments and find a sustainable competitive advantage. He is the author of One Step Ahead: Mastering the Art and Science of Negotiation.