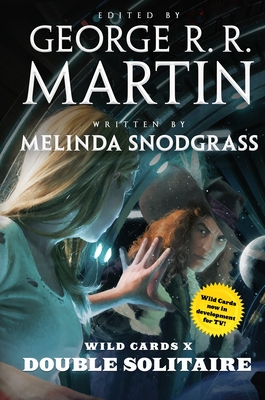 Wild Cards X
Double Solitaire
Paperback

* Individual store prices may vary.
Description
Edited by George R. R. Martin, the New York Times bestselling author of A Game of Thrones, Wild Cards X: Double Solitaire from Melinda Snodgrass, creator of Dr. Tachyon, is the first solo Wild Cards novel!

Soon to be a show on Hulu!

Rights to develop Wild Cards for TV have been acquired by Universal Cable Productions, the team that brought you The Magicians and Mr. Robot, with the co-editor of Wild Cards, Melinda Snodgrass as executive producer.

Aboard his grandfather's spaceship and fleeing the violent turmoil between jokers, aces, and nats that his vicious ambition spawned, Blaise is headed for a new conquest: the planet Takis. Dr. Tachyon is left behind... but he's lost more than his only way of returning to his homeworld. Blaise has stolen his body, as well—leaving Tach trapped in the pregnant body of a teenage runaway.

Tachyon must sell his soul to reach Takis—and once there, confront Blaise amidst the political and military machinations of Takisian society. Treachery and treason await him. At stake is nothing less than the destiny of an entire world.
Praise For Wild Cards X: Double Solitaire…
Praise for the Wild Cards series

"Perhaps the most original and provocative of the shared worlds books." —Peter S. Beagle, author of The Last Unicorn

"Delicious...Everything I hoped for in a new Wild Cards book. The character interactions and plot twists have exactly the complexity, surprise, and unsentimental realism I'd expect out of a George R. R. Martin project." —Austin Grossman, author of Soon I Will be Invincible on Inside Straight

"This is a wild ride of good, blood-pumping fun that packs a surprisingly emotional punch for a book that looks on the surface like just another superhero adventure." — Publishers Weekly on High Stakes

"Emotionally powerful. Wild Cards deals up the variety of short fiction without losing the continuity of a novel."—The Seattle Times

"A delightfully imaginative speculation."—The Toronto Star
Tor Books, 9781250168139, 432pp.
Publication Date: December 3, 2019
About the Author
Melinda Snodgrass was a story editor and executive script consultant on Star Trek: The Next Generation. Her acclaimed episode, "The Measure of a Man," was nominated for the Writer's Guild Award for outstanding writing in a drama series. With George R. R. Martin, she cocreated the popular Wild Cards series of shared-world novels and anthologies. She lives in New Mexico.

George R. R. Martin has been a full-time writer for over 25 years. He is the author of the acclaimed, internationally bestselling fantasy series A Song of Ice and Fire, which is the basis of HBO's popular Game of Thrones television series. Martin has won multiple science fiction awards, including 4 Hugos, 2 Nebulas, the Bram Stoker, the Locus Award, the World Fantasy Award, the Daedelus, the Balrog, and the Daikon (Japanese Hugo).

The Wild Cards Trust is the creator of the Wild Cards series.
or
Not Currently Available for Direct Purchase