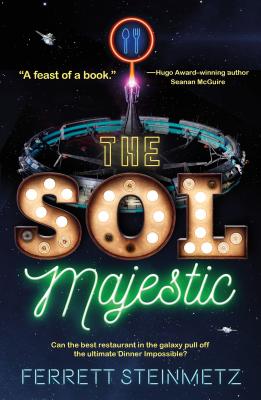 The Sol Majestic
A novel
Paperback

* Individual store prices may vary.
Description
The Sol Majestic is a big-hearted and delightful intergalactic hopepunk adventure for fans of Becky Chambers and The Good Place

"A feast of a book."—Hugo Award-winning author Seanan McGuire

Kenna, an aspirational teen guru, wanders destitute across the stars as he tries to achieve his parents' ambition to advise the celestial elite.

Everything changes when Kenna wins a free dinner at The Sol Majestic, the galaxy's most renowned restaurant, giving him access to the cosmos's one-percent. His dream is jeopardized, however, when he learns his highly-publicized "free meal" risks putting The Sol Majestic into financial ruin. Kenna and a motley gang of newfound friends—including a teleporting celebrity chef, a trust-fund adrenaline junkie, an inept apprentice, and a brilliant mistress of disguise—must concoct an extravagant scheme to save everything they cherish. In doing so, Kenna may sacrifice his ideals—or learn even greater lessons about wisdom, friendship, and love.

Utterly charming and out of this world, Ferrett Steinmetz's The Sol Majestic will satisfy the appetites of sci-fi aficionados and newcomers alike.
Praise For The Sol Majestic: A novel…
"Much like the kitchen in which it's set, Steinmetz's culinary space opera is filled with variety. At its heart, it's a complex, chaotic, and mystifying coming-of-age story of a young man becoming a lover, an aesthete, and an activist....Steinmetz (The Uploaded) elevates his story with lush details and vividly rendered characters, crafting a memorable love letter to the nourishment of body and soul as well as the dignity of work and service."—Publishers Weekly, starred review

"The discussion around this novel implies that it's a revelous romp, but that would be oversimplifying it. Yes, the characters are fun and mad, the descriptions of the restaurant and its inhabitants wondrous and sparkling. But like the food sumptuously described here, strange, surprising and satisfying notes burst through while consuming each chapter. Like Kenna, we arrive at the Sol Majestic for a meal and are served a new outlook on life — one that's rather obvious but no less triumphant." — The Washington Post

"The Sol Majestic by Ferrett Steinmetz is not a love letter: it's a love asterisk, a love starburst, radiating out in so many contradictory directions that it shouldn't possibly work, and yet somehow, gloriously, does.
It is a feast of a book!" —New York Times bestselling author Seanan McGuire

"Ferrett's fiction always has something clever and hungry about it, and The Sol Majestic is no exception - if anything it's the logical next step, and his pinnacle so far. Strange, rich, thoughtful, and just plain fun - this is a book to swallow whole." — Cherie Priest, Hugo and Nebula Award nominated author for Boneshaker

"There are moving tales and clever tales. This one happens to be both. Steinmetz never ceases to amaze."— Ken Liu, Author of The Dandelion Dynasty and The Paper Menagerie and Other Stories

"If Baz Luhrmann was going to direct an episode of Chef's Kitchen, this book would be the result. Steinmetz has brought his signature high-saturation prose to questions of identity, truth, faith, food, and sex in this completely one-of-a-kind book. It grabbed me by the brain and didn't let go until long after I got to the end." – Hugo and Campbell award finalist Sarah Gailey, author of River of Teeth

"Dizzying, beautiful worldbuilding with characters that make you ache. Damn this book is good." – Hugo Award finalist Mur Lafferty, author of Six Wakes

"From the first hors d'oeuvre to the last bite of dessert, there is a complexity of characters, motivations, and love. Compelling and delicious!" –Lawrence M. Schoen, author of The Moons of Barsk

"Steinmetz builds up to a suspenseful finale that's deliciously satisfying. An uneven first course, but the meal as a whole is worth savoring." —Kirkus Reviews
Tor Books, 9781250168191, 384pp.
Publication Date: June 11, 2019
About the Author
FERRETT STEINMETZ is a graduate of both the Clarion Writers' Workshop and Viable Paradise. He was nominated for the Nebula Award in 2012 for his novelette Sauerkraut Station, and for the Compton Crook Award in 2015. He is the author of The Sol Majestic for Tor Books, as well as the 'Mancer trilogy and The Uploaded. He has written for Asimov's Science Fiction, Beneath Ceaseless Skies, Shimmer, and Andromeda Spaceways Inflight Magazine. Ferret lives in Cleveland with his very clever wife, a small black dog of indeterminate origin, and a friendly ghost.