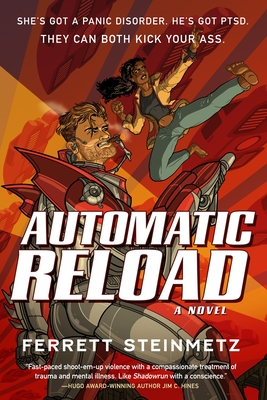 Automatic Reload (Paperback)
A Novel
Tor Books, 9781250168214, 304pp.
Publication Date: July 28, 2020
* Individual store prices may vary.
Description
Ferrett Steinmetz's high-octane cyberpunk romance Automatic Reload about a tortured mercenary and the genetically enginnered assassin he loves.

Meet Mat, a tortured mercenary who has become the perfect shot, and Silvia, an idealistic woman genetically engineered to murder you to death.

Together they run for the shadiest corporation in the world...and realize their messed-up brain chemistry cannot overpower their very real chemistry.

Automatic Reload is the genre's most unexpectedly heartfelt romantic comedy with explosions, perfect for fans of both Altered Carbon and Atomic Blonde.

"Shadowrun with a conscience."—Hugo Award-winning author Jim C. Hines

"LUXURIATES in the intricate beauty that is technology, exults in the mechanics of cyberpunk. And it does all this while being a ROM-COM with a lot of EXPLOSIONS."—Cassandra Khaw, finalist for the British Fantasy and Locus Awards for Hammers on Bone
About the Author
FERRETT STEINMETZ is a graduate of both the Clarion Writers' Workshop and Viable Paradise. He was nominated for the Nebula Award in 2012 for his novelette Sauerkraut Station, and for the Compton Crook Award in 2015. He is the author of The Sol Majestic for Tor Books, as well as the 'Mancer trilogy and The Uploaded. He has written for Asimov's Science Fiction, Beneath Ceaseless Skies, Shimmer, and Andromeda Spaceways Inflight Magazine. Ferret lives in Cleveland with his very clever wife, a small black dog of indeterminate origin, and a friendly ghost.
Praise For Automatic Reload: A Novel…
"Steinmetz expertly fuses cyberpunk staples and romantic comedy elements to deliver an over-the-top, action-packed tale while also addressing mental illness and body issues "—Publisher's Weekly starred review

"Steinmetz has mixed fast-paced shoot-em-up violence with a compassionate treatment of trauma and mental illness to create an engaging page-turner. Like Shadowrun with a conscience."— Hugo Award-winning author Jim. C Hines

"Automatic Reload is for everyone who ever wished the Transformers movies were less Michael Bay, more transformation sequences; it luxuriates in the intricate beauty that is technology, exults in the mechanics of cyberpunk. And it does all this while being a rom-com with a lot of explosions." —Cassandra Khaw, finalist for the British Fantasy and Locus Awards for Hammers on Bone

"Automatic Reload is an adrenaline-fueled cyborg rampage wrapped around a creamy sweet center. With a heart-stopping pace, tender interludes, and rich technical details, Ferrett Steinmetz has crafted a story that cranks itself to eleven. You'd better have your seat belt on, because this book barrels through tight corners and hairpin turns, all the way to its unexpected finish line." —S. B. Divya, Nebula Award nominated author of Runtime and co-editor of Hugo-nominated Escape Pod

"A very human look at the future of lethal autonomous weapons, and the constant strain of mental illness. Automatic Reload might just be the most violent cyborg meet-cute ever written." —Corey J. White, author of Killing Gravity

"Brutally weird and terrifyingly believable, Ferret Steinmetz takes the gloves off and punches you repeatedly in the brain with a high-tech look at a fatal future. Automatic Reload is what happens when humanity's lines are crossed. We'll never be able to go back."— K. C. Alexander, author of Necrotech and Mass Effect: Nexus Uprising

"A wicked technothriller full of gut-punching action, sharp twists, and surprisingly tender moments. Also, the most heart-pounding cyborg tech support you will ever read." – Spencer Ellsworth, author of The Starfire Trilogy

"Automatic Reload is a wild ride through an all-too-believable, terminally capitalist future. I came for the shoot-em-up action, but the relationships in this book have more punch than the most well-tuned gun. I was cheering for Silvia and Mat all the way through." —Alex Wells, author of Hunger Makes the Wolf

"Frederick Pohl said good science fiction shouldn't just predict the automobile, but also the traffic jam. Automatic Reload does that for body-modification, AI, and computer-aided combat. We get the traffic jam, plus road rage, hyper-surveillance, and hails of bullets...but we also get the fragile people trying to survive it all. I hope it isn't prophetic, but I'm afraid it might be. " —James Alan Gardner, author of They Promised Me the Gun Wasn't Loaded

"Steinmetz delivers a 'rom-com with explosions' featuring a hero with PTSD and control issues, and a killer heroine with a panic disorder. The action is nonstop, with issues of mental illness, identity, and humanity woven subtly throughout. Mat breaks the fourth wall in his random musings, rather like a cyborg Deadpool."— Library Journal, starred review

Reviews for Ferrett Steinmetz's The Sol Majestic

"The discussion around this novel implies that it's a revelous romp, but that would be oversimplifying it. Yes, the characters are fun and mad, the descriptions of the restaurant and its inhabitants wondrous and sparkling. But like the food sumptuously described here, strange, surprising and satisfying notes burst through while consuming each chapter." — The Washington Post

"The Sol Majestic by Ferrett Steinmetz is not a love letter: it's a love asterisk, a love starburst, radiating out in so many contradictory directions that it shouldn't possibly work, and yet somehow, gloriously, does.
It is a feast of a book!" —New York Times bestselling author Seanan McGuire

"Ferrett's fiction always has something clever and hungry about it, and The Sol Majestic is no exception - if anything it's the logical next step, and his pinnacle so far. Strange, rich, thoughtful, and just plain fun - this is a book to swallow whole." — Cherie Priest, Hugo and Nebula Award nominated author for Boneshaker

"There are moving tales and clever tales. This one happens to be both. Steinmetz never ceases to amaze."— Ken Liu, Author of The Dandelion Dynasty and The Paper Menagerie and Other Stories

"If Baz Luhrmann was going to direct an episode of Chef's Kitchen, this book would be the result. Steinmetz has brought his signature high-saturation prose to questions of identity, truth, faith, food, and sex in this completely one-of-a-kind book. It grabbed me by the brain and didn't let go until long after I got to the end." – Hugo and Campbell award finalist Sarah Gailey, author of River of Teeth

"Dizzying, beautiful worldbuilding with characters that make you ache. Damn this book is good." – Hugo Award finalist Mur Lafferty, author of Six Wakes

"From the first hors d'oeuvre to the last bite of dessert, there is a complexity of characters, motivations, and love. Compelling and delicious!" –Lawrence M. Schoen, author of The Moons of Barsk