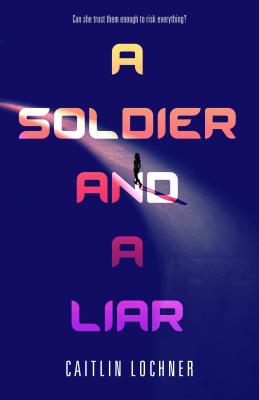 A Soldier and A Liar (Paperback)
Square Fish, 9781250168245, 368pp.
Publication Date: February 18, 2020
Other Editions of This Title:
Digital Audiobook (2/18/2019)
Hardcover (2/19/2019)
* Individual store prices may vary.
Description
In a world on the brink of war, four superpowered teens must learn to work together for peace in Caitlin Lochner's action-packed debut novel, A Soldier and A Liar.
Lai Cathwell is good at keeping secrets. As a Nyte, a supernaturally gifted teenager who is feared and shunned by the ungifted, this skill is essential to survival. Orchestrating her own imprisonment to escape military duty has only honed her ability to deceive others. But when rebels start attacking the city, Lai is dragged back into the fight with a new team of Nytes.
Thrown together with Jay, a self-conscious perfectionist consumed by the desire to be accepted; Al, a short-tempered fighter lying for the sake of revenge; and Erik, an amnesiac hell-bent on finding his memories and his place in the world, Lai realizes she's facing an entirely different kind of challenge—one that might just be impossible. But if this team can't learn to work together, the entire sector will be plunged into war.
Praise for A Soldier and A Liar
"Along with action, there is also a bit of mystery threaded throughout. This, along with the author's accessible writing and the book's short chapters, make this a perfect choice for reluctant readers. Purchase this action-packed tale where Alexandra Bracken's Darkest Minds series is popular." —School Library Journal
"It was difficult for me to put this book down! The dynamic between all the characters was very wonderful" —Anna Bowen, Swoon Reader
About the Author
Caitlin Lochner is a long-time nerd, traveler, and architecture enthusiast who worked as an assistant English teacher in Tokyo for three years before pursuing her MFA in Creative Writing at the University of Central Florida. She can typically be found absorbed in books, games, or manga, or else obsessing over said books, games, and manga. A Soldier and a Liar is her debut novel.
Praise For A Soldier and A Liar…
Praise from the Swoon Reads community:
"It was difficult for me to put this book down! The dynamic between all the characters was very wonderful" —Anna Bowen
"A diverse cast, lots of action, and the narrative voice was beautiful. And, wow, was that ending a twist!" —cute_entei
"An edge-of-your-seat, intellectual, magical story ride." —lilsakura423