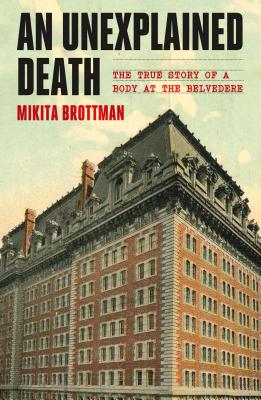 An Unexplained Death
The True Story of a Body at the Belvedere
Hardcover

* Individual store prices may vary.
Other Editions of This Title:
Digital Audiobook (11/5/2018)
Description
An Unexplained Death is an obsessive investigation into a mysterious death at the Belvedere—a once-grand hotel—and a poignant, gripping meditation on suicide and voyeurism

"The poster is new. I notice it right away, taped to a utility pole. Beneath the word 'Missing,' printed in a bold, high-impact font, are two sepia-toned photographs of a man dressed in a bow tie and tux."

Most people would keep walking. Maybe they'd pay a bit closer attention to the local news that evening. Mikita Brottman spent ten years sifting through the details of the missing man's life and disappearance, and his purported suicide by jumping from the roof of her own apartment building, the Belvedere.

As Brottman delves into the murky circumstances surrounding Rey Rivera's death—which begins to look more and more like a murder—she contemplates the nature of and motives behind suicide, and uncovers a haunting pattern of guests at the Belvedere, when it was still a historic hotel, taking their own lives on the premises. Finally, she fearlessly takes us to the edge of her own morbid curiosity and asks us to consider our own darker impulses and obsessions.
Praise For An Unexplained Death: The True Story of a Body at the Belvedere…
"A compelling, often creepy book…Mixing fascinating investigation and macabre memoir, this is a dark ride with substance." —Kirkus Reviews

"This is a learned, lucid, and finally heartbreaking account of urban obsession. It's David Fincher's film Zodiac crossed with accounts of Judge Crater's disappearance crossed with Ms. Brottman's wild take on the unknowability of life and the necessity of staying obsessed. Ms. Brottman is a groove—and so is her book." —James Ellroy

"Brottman meticulously follows any and all threads she can ...but Brottman's book is, sneakily, more than just a true crime narrative." —NPR.org

"A page-turning look at the darker impulses of the human psyche." —Publishers Weekly *Starred Review*
"What better place for a mystery than in an iconic old hotel such as the Baltimore Belvedere? …The topic is enthralling." —San Francisco Book Review

"This book works as both a glimpse into the well of obsession (Brottman's) and as a philosophical treatise into the nature of suicide…Anyone who enjoys true crime is liable to enjoy the story behind Brottman's search and Rivera's death." —New York Journal of Books

"Mesmerizing. A haunting meditation on the opacity of facts—how the who, what, when, and where always fail to plumb the abyss: the why. Brottman's inquiry into the death of Rey Rivera turns into an 11-year hunt for revelation along the knife-edge of pathology." —Claudia Rowe, author of The Spider and the Fly: A Writer, a Murderer and a Story of Obsession

"[A] page-turner...those who choose books with dark subject matter, suspense, and microhistory elements will all find something to enjoy here." —Booklist

"At once a meditation on suicide and the ways people die as well as a solid piece of investigative reporting, An Unexplained Death crosses man lines and takes big risks. Admirable. Compelling. Unusual." —Beverly Lowry, author of Crossed Over and Who Killed These Girls

"Mikita Brottman's An Unexplained Death is not just a thrilling whodunit, with new clues unfolding every chapter, it's a beautifully written elegy about the mystery of death. By the end of the book, you'll be just as fascinated by Brottman as you will be by her main character: the handsome and devoted Rey Rivera, who suddenly goes missing early on a Baltimore spring evening. This is one riveting, heartbreaking read." —Skip Hollandsworth, author of The Midnight Assassin: The Hunt for America's First Serial Killer

"An Unexplained Death begins as a factual mystery, then opens up into something far greater: the fundamental mysteries that concern us all. Mikita Brottman is a gripping writer and an intrepid explorer, a brave chronicler of her obsessions, and ours." —Zachary Lazar, author of Vengeance

"Gripping, immersive, and beautifully written, with an unsettling juxtaposition of criminality and mundanity. Brottman blends tragic and gruesome details with an intelligent and refined touch." —Henry Bond, photographer and author of Lacan at the Scene

"An intriguing story of a woman's decade-long morbid obsession with suicide and the mysterious death of the 32-year-old stranger who died after crashing through the roof of her home, Baltimore's historic Belvedere Hotel." —Caitlin Rother, New York Times bestselling author of Then No One Can Have Her
Henry Holt and Co., 9781250169143, 288pp.
Publication Date: November 6, 2018
About the Author
Mikita Brottman, PhD, is an Oxford-educated scholar and psychoanalyst and the author of several previous books, including An Unexplained Death, The Great Grisby, and The Maximum Security Book Club. She is a professor of humanities at the Maryland Institute College of Art in Baltimore.