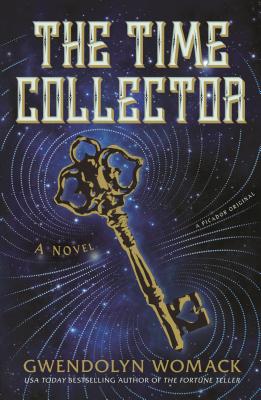 The Time Collector
A Novel
Paperback

* Individual store prices may vary.
Other Editions of This Title:
Digital Audiobook (4/15/2019)
Compact Disc (4/16/2019)
MP3 CD (4/16/2019)
Compact Disc (4/16/2019)
Description
A thrilling page-turner from Gwendolyn Womack, the USA Today bestselling author of The Fortune Teller

"The Time Collector's fast pace and fascinating premise will delight history and romance lovers."—Yangsze Choo, New York Times bestselling author of The Ghost Bride and The Night Tiger

Travel through time with the touch of a hand.
Roan West can perceive the past of any object he touches. A highly skilled psychometrist, he uses his talents to find and sell valuable antiques, but his quiet life in New Orleans is about to change. Stuart, a fellow psychometrist and Roan's close friend, has used his own abilities to unearth several "ooparts"—out-of-place artifacts that challenge recorded history. Soon after the discovery, Stuart disappears, making him one of several pyschometrists who have recently died or vanished. When Roan comes across a viral video of a young woman who has discovered a priceless pocket watch just by "sensing" it, he knows he has to warn her—but will Melicent Tilpin listen? And can Roan find Stuart before it's too late? The quest for answers will lead Roan and Melicent around the world, bringing them closer to each other and a startling truth.
Praise For The Time Collector: A Novel…
*A New York Post Best Book of the Week*
*One of BBC Culture's Ten Books to Read This Month*
"Beginning with this otherworldly duo, [Roan and Melicent], Womack spins a suspenseful web of mysteries and murderous rivalries, connected by an underpinning of love."—Jane Ciabattari, BBC Culture

"It's hard not to love a book that creates great characters, has a great thriller story at the center, and lets the reader do some armchair travel... [The Time Collector] is all kinds of things: it's a bit of a romance, it's a bit of an identity quest for Melicent, it's an awakening for Roan... A blast of a read, pure story adrenaline."—Mystery Scene magazine
"A mystical thrill ride, spanning several continents. Flashbacks to different times in history enrich the story with tragedy and hope...For fans of historical fiction who like a hint of the supernatural and cosmic connection."—Booklist
"A compelling exploration of time, history, and our primal need to connect with the past, The Time Collector is also a rollicking adventure through ancient mysteries and the moving story of two stunningly drawn characters, chasing the answer to the question of what it means to be human."—Charlie Lovett, New York Times bestselling author of The Bookman's Tale and The Lost Book of the Grail

"A wonderfully intriguing tale, filled with the mystery of objects that tell a story. The Time Collector's fast pace and fascinating premise will delight history and romance lovers."—Yangsze Choo, New York Times bestselling author of The Ghost Bride

"Gwendolyn Womack weaves a suspenseful tale that tackles the question of 'time'—how it's measured, its impact on nature and human consciousness—and I could hardly put it down! The Time Collector is a treasure trove of ancient artifacts, mysticism, and intrigue, sprinkled with a dash of romance—my very favorite things. What a book!"—Heather Webb, international bestselling author of Meet Me in Monaco

"Gwendolyn Womack creates such marvelous worlds, magnetic characters, and fascinating stories. The Time Collector is her best novel yet—a feast of historical delights that enrich a spellbinding mystery. I can't wait to see where she takes us next."—Glen Erik Hamilton, Anthony Award-winning author of Mercy River
"The Time Collector is a glittering jewel of a novel, in which the past is something tangible that is all around us. With multi-faceted characters, a pulse-pounding plot, and threads of history beautifully woven into the story, this is a novel you won't want to put down, and one that will stay with you long after you've turned the final page."—Alyssa Palombo, author of The Spellbook of Katrina Van Tassel
"The Time Collector is a fascinating tale of psychometrists, people who touch an object and sense the stories embedded within them. Pick up this book and you too will be transported across the globe and the centuries into exhilarating worlds filled with history and mystery, magic and mysticism, romance and danger. Its pages make the past come alive. Once you hold this object in your hands, you won't be able to put it down."—Amy Weiss, author of Crescendo

"The Time Collector is more than a story; it's a fantastical, inventive, and masterfully woven adventure across many lifetimes. Perhaps a future psychometrist will hold my copy of the book and know how much I enjoyed it. One can only hope."—Therese Walsh, author of the critically acclaimed novel The Moon Sisters

Picador, 9781250169235, 368pp.
Publication Date: April 16, 2019
About the Author
Originally from Houston, Texas, GWENDOLYN WOMACK studied theater at the University of Alaska, Fairbanks and holds an MFA in Directing Theatre, Video, and Cinema from California Institute of the Arts. She is the USA Today bestselling author of The Fortune Teller and the RWA Prism Award-winning reincarnation thriller, The Memory Painter. She resides in Los Angeles with her family.
1. Have you ever heard of psychometry before? Do you think it is the same as being a psychic?
2. Have you ever experienced a moment like Melicent or Roan have, where you touched an antique and had a sense of the story that might exist inside of it? Or felt a strong emotional tie to an object that you couldn't explain?
3. What did you think of Sun's character? Did her backstory surprise you? If so, in what ways?
4. Ooparts, or out-of-place artifacts, are real archaeological phenomena. If you were an archaeologist and had to discuss ooparts with a classroom, how would you explain their existence to your students?
5. Have you ever visited a crop circle? Do you think they are manmade, or is there a more mysterious force behind their creation?
6. Were you able to guess who was behind the abductions and the murders? What led you to suspect them? Or were you caught off guard like Melicent?
7. Roan decides not to take Melicent with him when he travels to Mexico. Did you empathize with his decision? What would you have done if you were in his shoes?
8. If you were a psychometrist, how would you use your ability? What would you accomplish?
9. One of the narrative's central ideas is that objects hold memories that can reveal the hidden truths and secrets people carry with them. Which character surprised you the most?
10. At one point, Roan thinks, "Souls left echoes of their lives on earth. Was there a way to follow the echoes back to the original voice?" Do you agree with him? And do you think that kind of time travel will ever be possible?
11. Roan's Time Room charts how time pieces have evolved over the centuries, from antiquity to the most advanced contemporary inventions. Where do you see our ability to understand and "capture" time heading in the future?