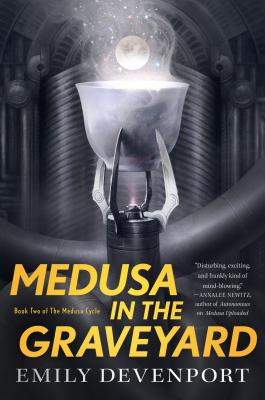 Medusa in the Graveyard (Paperback)
Book Two of the Medusa Cycle
Tor Books, 9781250169365, 304pp.
Publication Date: July 23, 2019
* Individual store prices may vary.
Description
Medusa in the Graveyard is the action-packed, science fiction sequel to Emily Devenport's Medusa Uploaded.

The Verge—15 new science fiction and fantasy books to check out in July
Oichi Angelis, former Worm, along with her fellow insurgents on the generation starship Olympia, head deeper into the Charon System for the planet called Graveyard.
Ancient, sentient, alien starships wait for them—three colossi so powerful they remain aware even in self-imposed sleep. The race that made the Three are dead, but Oichi's people were engineered with this ancient DNA.
A delegation from Olympia must journey to the heart of Graveyard and be judged by the Three. Before they're done, they will discover that weapons are the least of what the ships have to offer.
About the Author
EMILY DEVENPORT has written several novels under various pseudonyms including one which was a finalist for the Philip K. Dick award. She is currently studies Geology and works as a volunteer at the Desert Botanical Garden in Phoenix. Emily is the author of Medusa Uploaded.
Praise For Medusa in the Graveyard: Book Two of the Medusa Cycle…
Praise for Medusa Uploaded
io9—28 New Scifi and Fantasy Books to Add to Your Shelves in May
The Verge—12 Science Fiction and Fantasy Novels to Check Out This May
Kirkus—Best SFF and Horror Out in May
"The first book in the Medusa Cycle does not disappoint."—RT Book Reviews (4 stars)
"A chilling tale of class warfare in deep space."—Booklist
"Readers will be riveted."—Publishers Weekly (starred review)
"An enticing start to a new space opera . . . will capture readers."—Library Journal
"The worlds . . . both physical and virtual, are richly detailed and gorgeously imagined."—Kirkus
"Fascinating courtly intrigue and bloody power games set on a generation ship full of secrets—Medusa Uploaded is an imaginative, intense mystery about family dramas and ancient technologies whose influence reverberates across the stars. Disturbing, exciting, and frankly kind of mind-blowing."—Annalee Newitz, author of Autonomous