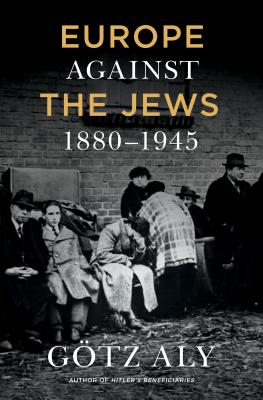 Europe Against the Jews, 1880-1945
Hardcover

* Individual store prices may vary.
Other Editions of This Title:
Paperback (4/13/2021)
Description
From the award-winning historian of the Holocaust, Europe Against the Jews, 1880-1945 is the first book to move beyond Germany's singular crime to the collaboration of Europe as a whole.

The Holocaust was perpetrated by the Germans, but it would not have been possible without the assistance of thousands of helpers in other countries: state officials, police, and civilians who eagerly supported the genocide. If we are to fully understand how and why the Holocaust happened, Götz Aly argues in this groundbreaking study, we must examine its prehistory throughout Europe. We must look at countries as far-flung as Romania and France, Russia and Greece, where, decades before the Nazis came to power, a deadly combination of envy, competition, nationalism, and social upheaval fueled a surge of anti-Semitism, creating the preconditions for the deportations and murder to come.

In the late nineteenth century, new opportunities for education and social advancement were opening up, and Jewish minorities took particular advantage of them, leading to widespread resentment. At the same time, newly created nation-states, especially in the east, were striving for ethnic homogeneity and national renewal, goals which they saw as inextricably linked. Drawing upon a wide range of previously unpublished sources, Aly traces the sequence of events that made persecution of Jews an increasingly acceptable European practice.
Ultimately, the German architects of genocide found support for the Final Solution in nearly all the countries they occupied or were allied with.

Without diminishing the guilt of German perpetrators, Aly documents the involvement of all of Europe in the destruction of the Jews, once again deepening our understanding of this most tormented history.
Praise For Europe Against the Jews, 1880-1945…
"Aly is an earnest, tireless compiler of the often arcane or overlooked [with] a masterly command of the facts of the Nazi catastrophe. . . . his most ambitious effort."
—The New York Times Book Review

"If HBO's The Plot Against America makes you want to know the grim real-life context, read German historian Götz Aly's new book, Europe Against the Jews."
—New York Magazine

"Sweeping and persuasive . . . Aly makes a convincing case that the 'pace and extent' of the genocide could not have been achieved without widespread cooperation. This expertly researched account is destined to influence future histories of the Holocaust."
—Publishers Weekly

"A major work on anti-Semitism of incredible research and singular scholarship. . . . Aly delivers again, this time expanding his lens outside of Germany to offer further revelations about the Holocaust."
—Kirkus Reviews

"Aly's panorama of horror is devastating. This is often a tough read—but a necessary one."
—Der Spiegel

"Götz Aly's account comes alive with its descriptive details. They are what reveal the true infamy of anti-Jewish persecution."
—Frankfurter Rundschau

"Götz Aly . . . uses exemplary individual destinies with their small stories to tell a much larger story, which makes this book all the more urgent."
—Bayerischer Rundfunk

"Historian Götz Aly unfolds a panorama of enmity in Europe Against the Jews. His book has arrived just at the right time because it shows how much European hatred of Jews was stoked by nationalism."
—Deutschlandfunk radio

"Reading this book, you have to ask yourself: What flaw in those democracies helped nurture an anti-Semitism that made the Holocaust possible? And when you've finished, you can't help but ask yourself: What flaw in present-day European democracies has helped nurture anger and resentment toward refugees, asylum seekers, and immigrants, and where will this story end?"
—Freie Presse

"This book couldn't be more current. Aly gives a persuasive answer to the urgent question: What laid the groundwork for the anti-Semitism in Europe that allowed the National Socialists to find support for the Final Solution?"
—Handelsblatt

"What Aly has unearthed in Eastern European archives and elsewhere yields a wealth of previously unpublished evidence . . . a comprehensive and disturbing overview of European anti-Semitism."
—Süddeutsche Zeitung
Metropolitan Books, 9781250170170, 400pp.
Publication Date: April 7, 2020
About the Author
Götz Aly is the author of Hitler's Beneficiaries and Why the Germans? Why the Jews?, among other books. One of the most respected historians of the Third Reich and the Holocaust, he has received the National Jewish Book Award, as well as Germany's prestigious Heinrich Mann Prize, the Ludwig Börne Prize, and the Geschwister Scholl Prize, among numerous other honors. His books have been translated into 13 languages. He lives in Berlin.
or
Not Currently Available for Direct Purchase