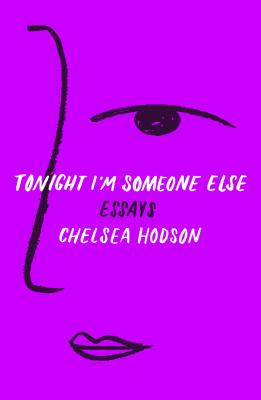 Tonight I'm Someone Else
Essays
Paperback

* Individual store prices may vary.
Description
"I had a real romance with this book." —Miranda July

A highly anticipated collection, from the writer Maggie Nelson has called, "bracingly good…refreshing and welcome," that explores the myriad ways in which desire and commodification intersect.

From graffiti gangs and Grand Theft Auto to sugar daddies, Schopenhauer, and a deadly game of Russian roulette, in these essays, Chelsea Hodson probes her own desires to examine where the physical and the proprietary collide. She asks what our privacy, our intimacy, and our own bodies are worth in the increasingly digital world of liking, linking, and sharing.

Starting with Hodson's own work experience, which ranges from the mundane to the bizarre—including modeling and working on a NASA Mars mission— Hodson expands outward, looking at the ways in which the human will submits, whether in the marketplace or in a relationship. Both tender and jarring, this collection is relevant to anyone who's ever searched for what the self is worth.

Hodson's accumulation within each piece is purposeful, and her prose vivid, clear, and sometimes even shocking, as she explores the wonderful and strange forms of desire. Tonight I'm Someone Else is a fresh, poetic debut from an exciting emerging voice, in which Hodson asks, "How much can a body endure?" And the resounding answer: "Almost everything."
Praise For Tonight I'm Someone Else: Essays…
BuzzFeed's 10 Summer Book Releases To Pre-Order
The Millions: Most Anticipated in The Great 2018 Book Preview
AV Club: The 10 books we can't wait to read in 2018
Elle's 30 Best Books to Read This Summer
Chicago Tribune's 25 Hot Books for Summer
NYLON'S Great Books to Read This Summer
NYLON'S Best Book of 2018 So Far
BookTrib's 30 Books Perfect for Summer Reading
Chicago Review of Book's Best New Books
The Nervous Breakdown's Official Book Club Selection
Paperback Paris's 18 Most Anticipated Books of Summer
Refinery29's Best Books of June
Pop Sugar's Hottest Books to Pick Up This Summer
Literary Hub's The 16 Books You Should Read This June
Chicago Review of Books: The Best Books of 2018 So Far
PopSugar: 2018's Best Nonfiction Books That Are More Than Just History Lessons

"Most likely to become a new classic." —The Wing

"It's not hard to understand why Miranda July—a surreal writer herself—is a fan...lucid insights, and Hodson's transfixing style, mark a memorable first collection."—The Washington Post

"Reading Hodson's work feels risky; it's breathtaking, both in its inherent exhilaration and also, often, because it's funny. . .But it also makes you feel connected to things, as if you are forging new relationships to the things and people in the world around you, uncovering new understandings about permanence, about intuition, about love and sex and lies and secrets and truth, about life." —NYLON

"[Tonight I'm Someone Else is] precise about the most mysterious things, cool, and thoughtfully exploratory. From the title on, [this book] draws upon a concentrated attention to self that leads continually toward something new." —The Believer

"Chelsea Hodson catalogs and explores all the weird kinks you develop while looking for love in your 20s: excessive longing, self-sabotage, self-delusion, self-obsession, self-deletion, and lying all the time. . . .Hodson digs deep beneath the surface of her loves to draw out life-sustaining truths trapped as stray thoughts, poignant details, and well-wrought memories." —The Stranger

"I'm so blown away by Chelsea Hodson that I almost don't know what to say. TONIGHT I'M SOMEONE ELSE is thoughtful, insightful, and so affecting that it's painful. Every sentence will stay with you for a long, long time. Read this book. " —HelloGiggles

"Many book lovers would jump on board any train Miranda July and Maggie Nelson are on; this essay collection, which explores the body, desire, and Grand Theft Auto, is their latest recommendation." —Elle.com

"[Tonight I'm Someone Else is] precise about the most mysterious things, cool, and thoughtfully exploratory. From the title on, [this book] draws upon a concentrated attention to self that leads continually toward something new." —The Believer

"Read this startlingly honest essay collection and beware: You will emerge utterly changed." —Refinery29

"[Chelsea Hodson] has a particular ability to blend immediacy with a sharply rendered sense of distance; the combination makes for a memorable experience." —Vol. 1 Brooklyn

"This essay collection is shape-shifting, and Hodson's voice has got me under a spell of sorts. I am making my way through it and going from awe to exhilaration to discomfort, and back to awe." —Literary Hub

"These essays are sexy but they have stars in their eyes. They're reckless and dramatic, but somehow concurrently tender and clean... Tonight I'm Someone Else is a debut unlike any other I've read in a long time." —The Public

"This sad, smart essay collection... feels much like staring at your own face in a shattered mirror." — Philadelphia Weekly

"On a line level, Tonight I'm Someone Else might be the book of the year. These essays are lyrically precise and impeccably formed." —Largehearted Boy

"Desire, admiration, aspiration, envy: the essays in Chelsea Hodson's collection know this surge, they ride it effortlessly." —The Lifted Brow

"Beautiful and poetic at moments, jarring and like an out-of-body experience at others, this collection is a must-have." —Book Trib

"Hodson's writing style...offers a clear and strong point of view...This is overall a unique collection about being an artist and a woman in a world that doesn't always value either." —Booklist

"The author's word choices capture entire worlds and emotional landscapes... Hodson's language magnetizes and begs for attention...keeping the pages turning. A simultaneously bewildering and compelling body of work." —Kirkus Reviews

"Hodson's essays have such a sexy drama to them—and ultimately it's the romance of just getting through life; the passion that comes from being a wholly alert woman and living to tell about it. I had a real romance with this book." —Miranda July

"Chelsea Hodson tests herself against her desires, grapples with their consequences, and presents a surgically precise account of what they were to her. These essays are bewitching—despite their discipline and rigor, you can smell the blood." —Sarah Manguso, author of 300 Arguments and The Two Kinds of Decay

"Chelsea Hodson is my favorite essayist. Her work is like the desert: clean and mysterious and full of skeletons. I'll make a prediction: TONIGHT I'M SOMEONE ELSE will go down as a classic." —Scott McClanahan, author of The Sarah Book

"Her essays are a specialized artform where poetry meets philosophy. They reflect on the gruesome side of being a woman in the excellent tradition of Joan Didion and Sylvia Plath. I highly recommend Chelsea Hodson's book to all readers." —Atticus Lish, author of Preparation for the Next Life

"This book has dark humor, recklessness, exhilaration. . . .I felt I was reading a writer who would tell harder truths than many other writers, and she turns this nerve against herself to good effect." —Amy Hempel

Praise for Pity the Animal (a chapbook):
"Wild and chiseled, both. . . .Pity The Animal has its own youthful, American verve, as well as its own dedication to parataxis and precision." —Maggie Nelson

"Wonderful—small and sharp as a dagger." —Molly Crabapple
Holt Paperbacks, 9781250170194, 208pp.
Publication Date: June 5, 2018
About the Author
Chelsea Hodson earned her MFA at Bennington College and was a PEN Center USA Emerging Voices Fellow. Her work has been published in The New York Times Magazine, Frieze Magazine, Black Warrior Review, The Lifted Brow, and more. She teaches at the Mors Tua Vita Mea workshop in Sezze Romano, Italy, and lives in Brooklyn, New York