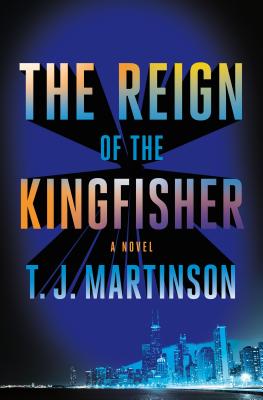 The Reign of the Kingfisher
A Novel
Hardcover

* Individual store prices may vary.
Other Editions of This Title:
Digital Audiobook (3/4/2019)
Paperback (4/14/2020)
Description
"Hits a grand slam for its intended audience. It might even convince skeptics that superhero stories can make good literature." —Pittsburgh Post-Gazette
"An extraordinary novel." —Emily St. John Mandel, bestselling author of Station Eleven

30 years ago a superhero tried to save Chicago. Now the city is again under siege, in this gritty, suspenseful, and beautifully written novel from award-winning debut author T.J. Martinson

Somewhere in Chicago, a roomful of people have been taken hostage. The hostages will be killed one by one, the masked gunman says on-screen, unless the police will admit that they faked the death of the legendary superhero called the Kingfisher and helped him to give up his defense of the city thirty years ago.

Retired reporter Marcus Waters made his name as a journalist covering the enigmatic superhero's five years of cleaning up Chicago's streets. Then the Kingfisher died, Chicago resumed its violent turmoil, and Marcus slid back into obscurity.

But did the Kingfisher really die? And who would take hostages connected to the Kingfisher's past attempts to clean up the streets? With the help of disgraced police officer Lucinda Tillman and a young hacktivist named Wren, Marcus will explore the city's violence, corruption, and chaos to figure out if the vigilante hero died tragically, or gave up hope and abandoned the city—and for the hostages, the clock is ticking.
Praise For The Reign of the Kingfisher: A Novel…
"Mr. Martinson nails the crime thriller tone and style from the get-go... the Kingfisher's story becomes an elegant deconstruction of superhero mythology and a deep examination of 21st-century heroism. Alan Moore and Joseph Campbell would most likely approve.—Pittsburgh Post-Gazette

"The Reign of the Kingfisher is an extraordinary novel. Martinson's prose is so stunning, and his characters so indelible, that I'd suggest you read it even if you don't read comic books and have little interest in superheroes; this is a book for people who like reading really, really good books. It's an exciting debut, and a story that will stay with you for a long time." —Emily St. John Mandel, NYT bestselling author of Station Eleven

"Martinson novelizes the superhero comics form with such a meticulous yet fluid style, readers may forget there is no artwork…On its face a breakneck thriller, Kingfisher also delves into themes of morality and vigilantism, corruption and justice. Martinson's debut is compelling, artistic and, quite simply, a blast."
—Shelf Awareness

"Martinson's gripping first novel provides a stunningly realistic take on superheroes and vigilantism, veering widely from idealism to pessimism. It's also a gripping crime novel...Martinson holds the reader rapt from the book's opening lines to its very last, delivering a novel that should resonate with fans of thrillers and comic books alike."
—Mystery Scene Magazine

"Fans of superhero tales will relish Martinson's energetic debut…Martinson ratchets up the tension and keeps the suspense high to the end. Readers will eagerly await his next novel."
—Publishers Weekly, starred review

"Martinson's debut effort nestles perfectly into the sweet spot between superhero mythology and crime fiction…A swift and provocative story that explores some dark hidden corners of two beloved genres, all the while offering up an interesting commentary on the day's pop culture."
—CrimeReads

"Debut novelist Martinson provides great storytelling…A linguistically nimble and narratively taut fiction that skews closer to Jeffrey Deaver or Don Winslow than tales of costumed capers. A solid crime novel about people just trying to do the right thing in a bad old world."
—Kirkus

"Martinson has crafted a top-shelf crime thriller, one with rich characterizations, vivid settings and a twisty-turny plot. Yes, there's a superhero here, but the book isn't ABOUT a superhero – not really. As a lover of all things superhero, The Reign of the Kingfisher was always going to be in my wheelhouse; the truly impressive part is that I'd have loved this book even if I wasn't.
—The Maine Edge

"This genre-bending book has plenty for suspense fiction aficionados to revel in."
—Bookpage

"Martinson's debut novel is set in a Chicago that used to have a superhero. It's one of those books that plays with genre in an interesting way: the prologue reads like a graphic novel, and the entire book reads like literary detective fiction. With a superhero in it."
—The Millions

"Great fun thriller, electrically alive writing and scene setting, that's clearly meant for comics fans...this really does seem to me a new way to create action tales that work as fiction, all words, no pictures, realistic, full-length, fleshed out. It speaks in literary language to fans of comics, the sort we've seen in recent decades (if we were looking in that direction). I'm very glad to have a way into that world."
—Shawangunk Journal

"I really enjoyed the brisk pacing of this surprisingly dense and thoughtful novel, as we race against time with our heroes to stop a maniac from killing innocent people in his fixation on a superhero long disappeared…The Reign Of The Kingfisher is a highly entertaining, well thought-out superhero novel that plays almost cinematically as the reader travels from present to past and back again to uncover the truth behind the enigma of the Kingfisher."
—CriminalElement.com
Flatiron Books, 9781250170217, 352pp.
Publication Date: March 5, 2019
About the Author
T.J. Martinson is from Illinois and is currently working towards a PhD in English from Indiana University – Bloomington. The Reign of the Kingfisher is his debut novel.
or
Not Currently Available for Direct Purchase