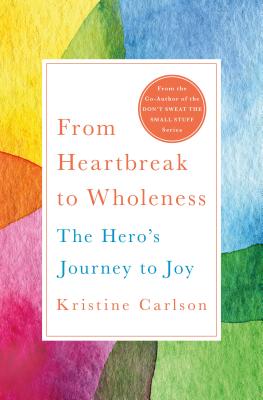 From Heartbreak to Wholeness
The Hero's Journey to Joy
Hardcover

* Individual store prices may vary.
Other Editions of This Title:
Digital Audiobook (6/11/2018)
CD-Audio (6/12/2018)
Description
A guidebook for discovering how heartbreak can become the doorway to profound meaning and joy from the bestselling co-creator of the Don't Sweat the Small Stuff Series

In 2006, after building the bestselling franchise Don't Sweat the Small Stuff with her husband Richard, Kristine Carlson faced a shattering loss—the sudden death of her beloved spouse. Woven together with the remarkable stories of others' loss and recovery, her deeply moving story reveals a clear process of healing that is common to everyone and goes far beyond ordinary prescriptions for getting through hard times. In her new book, From Heartbreak to Wholeness, Kristine offers a life-altering map for navigating the heroic journey from loss to joy—one that ultimately awakens readers to a deep love affair with life.

Every day, people suffer heartbreaks of some kind—loss of a loved one, divorce, illness, loss of a job or home—and seek to understand why these losses and traumas have befallen them and how they'll make it through in one piece. For readers who have endured loss of any kind, Kristine takes them by the hand, showing them how to traverse their own jagged edge of growth and emerge as the hero whole, happy, and empowered.

Each chapter of From Heartbreak to Wholeness includes powerful exercises in self-inquiry and reflection, along with step-by-step guidance for writing one's own heroic story of healing. Journey with Kristine Carlson and learn how you can walk the path from heartbreak to wholeness.
Praise For From Heartbreak to Wholeness: The Hero's Journey to Joy…
"From Heartbreak to Wholeness is a pure lighthouse, beaming its beautiful warming light through the thick fog of loss and suffering that each of us gets lost in at times. It's with breathtaking empathy, kindness, and knowing that Kristine Carlson signals the way back to the shore of ourselves, where we rediscover how to play and dance and rejoice in the sweet miracle of our lives, not despite loss, but because of it." —SARK author & artist of Succulent Wild Woman and Glad No Matter What

"Kristine Carlson's brilliant new book, From Heartbreak to Wholeness, accomplishes two vital tasks—making sense of the pain we suffer in loss and giving us a luminous map to find our authentic joy again. A teacher of profound insight, she shows us how to turn life's moments of crisis into grist for the mill of awakening." —Shauna Shapiro, PhD, author of The Art and Science of Mindfulness

"With compassion and love as only Kristine Carlson can do, this book takes you by the hand and helps you not only find your way back to life but walks with you on your hero's journey after loss."—Christina Rasmussen, author of Second Firsts

"Kristine's work offers a pathway of deep healing for all those who have experienced loss. She writes from her heart and bases what she shares on her own direct experience. She has walked the path and has found her way to the other side; not by bypassing the canyon of heartbreak but by walking directly through it. I hope this book finds its way into the hands and hearts of those who need it most.—Dustin DiPerna, author of Streams of Wisdom

"Kristine Carlson is the hero and speaks so eloquently about how to move through heartbreak and return to our natural state of joy. Her story will inspire you to frame your own journey in a way that will transform your perception of yourself. Kris shows you how to broadcast your happiness through having a love affair with your life!" —Michelle Gielan, bestselling author of Broadcasting Happiness

"Kristine Carlson is a luminous human being, one who is wise in matters of the heart. With her new book, From Heartbreak to Wholeness, she invites readers into a world that is so alive with feeling that it melts away the walls that pain and loss construct."
—Barnet Bain, filmmaker and author of The Book of Doing and Being

"Over 10 years of research has shown me that happiness is a choice even when life is hard. From Heartbreak to Wholeness shows us how to live this research. Thank you, Kris, for being living proof of all this research; thank you for choosing happiness!"
—Shawn Achor, New York Times bestselling author of The Happiness Advantage and Big Potential

"With her late husband, Dr. Richard Carlson, Kristine Carlson built a legacy of inspiration with the Don't Sweat the Small Stuff series. She is a woman who lives the principles they wrote about together with such clarity — spiritual truths that extend beyond the field of positive psychology, reaching into the realm of the sublime. With her new book, From Heartbreak to Wholeness, Kristine offers a process to heal the heartbreak of humanity, one that can reawaken love, hope, and vision even in those of us who still cry tears for someone or something we have lost."—Marianne Williamson, author of A Return to Love and Tears to Triumph

"If you've lost the love of your life—whether to death, divorce, separation, or some other life-altering shock—you probably feel as if you've lost everything. Not only has Kris Carlson traveled this hardest path already, she is shining a light from the other side to show the rest of us the way back. From Heartbreak to Wholeness gives you the courage to be the hero you are at every step of your journey home from loss, however difficult that may sound today." —JJ Virgin, author of The Virgin Diet, JJ Virgin's Sugar Impact Diet and Miracle Mindset"
St. Martin's Press, 9781250170439, 256pp.
Publication Date: June 12, 2018
About the Author
Kristine Carlson has captivated readers worldwide with her books, including Don't Sweat the Small Stuff for Moms, An Hour to Live, An Hour to Love, Don't Sweat the Small Stuff in Love, and Don't Sweat the Small Stuff for Women. Kristine has been featured on national radio and television broadcasts, including The Today Show, Empowered Living Radio, The View, and Oprah. Today, she is emerging as a profound leader in the areas that matter most to the human heart—how to heal and move forward, and how to love.
or
Not Currently Available for Direct Purchase