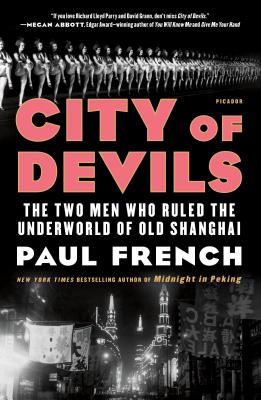 City of Devils
The Two Men Who Ruled the Underworld of Old Shanghai
Paperback

* Individual store prices may vary.
Other Editions of This Title:
Digital Audiobook (7/2/2018)
Hardcover (7/3/2018)
Description
Now one of Kirkus Reviews' "Best Books of the Year"

From Paul French, the New York Times bestselling author of Midnight in Peking—winner of both the Edgar Award for Best Fact Crime and the CWA Gold Dagger for Non-Fiction—comes City of Devils, a rags-to-riches tale of two self-made men set against a backdrop of crime and vice in the sprawling badlands of Shanghai.

Shanghai, 1930s: It was a haven for outlaws from all over the world: a place where pasts could be forgotten, fascism and communism outrun, names invented, and fortunes made—and lost.

"Lucky" Jack Riley was the most notorious of those outlaws. An ex–U.S. Navy boxing champion, he escaped from prison and rose to become the Slots King of Shanghai. "Dapper" Joe Farren—a Jewish boy who fled Vienna's ghetto—ruled the nightclubs. His chorus lines rivaled Ziegfeld's.

In 1940, Lucky Jack and Dapper Joe bestrode the Shanghai Badlands like kings, while all around the Solitary Island was poverty, starvation, and war. They thought they ruled Shanghai, but the city had other ideas. This is the story of their rise to power, their downfall, and the trail of destruction left in their wake. Shanghai was their playground for a flickering few years, a city where for a fleeting moment even the wildest dreams could come true.
Praise For City of Devils: The Two Men Who Ruled the Underworld of Old Shanghai…
Summer reading pick by the Los Angeles Times, Men's Journal, Newsweek, Bookish, Financial Times, and Bloomberg

A Vulture, BBC.com, CrimeReads, National Book Review, NY Post, and Criminal Element Pick of the Month

"Shanghai, in Mr. French, has its champion storyteller."—The Economist

"Few writers are more expert at mingling crime narrative and social history, journalistic precision and novelistic sweep, than Paul French. His books paint times and places so beguiling and tell stories so vivid and harrowing that, within pages, we're utterly in their dark thrall. If you love Richard Lloyd Parry and David Grann, don't miss City of Devils."
—Megan Abbott, Edgar award-winning author of You Will Know Me and Give Me Your Hand

"It's hard to go wrong with dope, decadence, and the demimonde . . . French recounts all this with great energy and brio."—Gary Krist, The New York Times Book Review

"Historical true crime that transports you back to the decadence and deranged beauty of 1930s Shanghai—a place that rivaled Prohibition Chicago for colorful miscreants and bruisers, including an ex-Navy boxer who became the Slot King of Shanghai." —Newsweek, "Best 50 Books of 2018 (so far)"

"French combines the skills of a scholar with the soul of Dashiell Hammett."—Boris Kachka, Vulture.com, 7 Books You Should Read This July

"Nothing lasts forever: In 1930s Shanghai, the no-holds-barred gangster scene was run by an American ex-Navyman and a Jewish man who'd fled Vienna. Their milieu — and its end — comes alive."—Carolyn Kellogg, Los Angeles Times

"Move over Weimar: Paul French's City of Devils, a history of glam and seedy interwar Shanghai's refugees and criminals, is nostalgic noir at its best."—New York Magazine

"An engaging and salacious tale of the Shanghai underworld."—CrimeReads.com, "The Most Anticipated Crime, Mystery, and Thriller Titles of 2018"

"In City of Devils, Mr. French burrows into the unsavory side of the metropolis, focusing on the less photogenic elements of the age: drugs, guns, gangs, gambling and graft. Derided at the time as "Chicago on the Huangpu" for its lawless nature, the Shanghai Mr. French depicts seems flagrantly corrupt and dangerous, but strangely enticing… In contrast to the sort of hazy nostalgia that elides many sordid tales of old Shanghai, "City of Devils" casts a sharp, clear light on the shady characters who—no less than their legitimate counterparts—played a role in creating Shanghai's now-mythic golden age."—Maura Cunningham, Wall Street Journal

"Drugs, gambling, vice, and banditry power China's seaport mecca in this rollicking true crime saga…. In French's wonderfully atmospheric portrait, Shanghai is a tapestry of grungy dive bars, swanky nightspots, drunken soldiers, brazen showgirls, Chinese gangsters, corrupt cops, and schemers like "Evil Evelyn," a madam who enticed wealthy wives with gigolos and blackmailed them with the resulting photos…. French's two-fisted prose…makes this deep noir history unforgettable."
—Publishers Weekly *STARRED REVIEW*

"Fast-paced, plot-twisty... In addition to this suspenseful yarn, the author paints a striking portrait of a Shanghai on the eve of Japanese occupation…. A Casablanca without heroes and just the thing for those who like their crime stories the darkest shade of noir."—Kirkus *STARRED REVIEW*

"City of Devils is classified as "literary non-fiction," which basically means that it's a well-told, well-written historical narrative. Set in a nearly lawless Shanghai in the 1930s, the book follows two self-made men ("Lucky Jack" Riley, the slots king of Shanghai, and "Dapper Joe" Farren, the ringleader of a series of nightclubs) as they rise, then fall, in a true-crime noir set in a debauched city on the eve of its own downfall." —James Tarmy, Bloomberg

"City of Devils is more than just Jack and Joe's stories. It's the story of old Shanghai. It's the story of racial and class divides. It's the story of a city between world wars and the fall of the "Paris of the Orient" during the second. And it features a cast of dozens, all brought back to life with vivid detail and panache by Paul French . . .The amount of research that went into City of Devils is staggering—and yet French's prose is never dry. He has a singular knack for infusing hot, beating blood into men and women long dead, throwing us back into the wild and raucous parties of Shanghai's Badlands. This reads like an adventure novel rather than the meticulous result of years of scholastic digging. From the very introduction, you'll be hooked. I honestly can't remember the last time a work of nonfiction was so compelling and readable; I devoured half of the book before I came up for air."—Criminal Element

"A true tale that reads like Humphrey Bogart or Robert Mitchum should have starred in the film adaptation...I enjoyed City Of Devils tremendously, as a piece of history come to vivid life, and as a meditation on hubris, overreach and how some people's innate craving for adventure can lead to disaster."—Los Angeles Review of Books, China Channel

"For readers who can't get enough fast-paced true crime books, City of Devils by Paul French is unquestionably the right book to pick up this summer."—Bookish

"With the narrative rhythm of classic noir and the polyglot slang of 1930s Shanghai, French, winner of an Edgar and a Gold Dagger for his true-crime best-seller Midnight in Peking (2012), tells a fast-paced, page-turning yarn about the rise and fall of two of the city's crime kings.... This gripping history is interspersed with gossip-rag excerpts and swirling rumors as the tension mounts, Shanghai's complicated international politics intensify, and the war begins."—Booklist

"City of Devils is an astonishing achievement, magically transporting the reader back to Old Shanghai, then sweeping us through its streets and its bars in a gripping, breakneck ultra-noir narrative reminiscent of vintage Ellroy."—David Peace, Author of Tokyo Year Zero

"A brilliant neo-noir about the rise and fall of two refugee outlaws at the end of Shanghai's golden age in the 1930's. Not since JG Ballard's Empire of the Sun have I read a book that has so captured the decadence, pulchritude and madness of the "Paris of the Orient"...French's prose is economical, razor sharp and lyrical...If you're interested in Shanghai, World War Two in the east, I cannot recommend City of Devils highly enough."—Adrian McKinty, Award-winning author of the Detective Sean Duffy Series

"To understand the "surrealist city," as present-day Shanghai is enigmatically called, Paul French's City of Devils is an absolute must. A solid, ground-breaking historical true-crime narrative, it is written with such vivid, well-researched details and totally captured me—a native Shanghainese—as if in a time capsule of the heretofore-unknown past passions and pathos of the city."—Qiu Xiaolong, Award-winning author of Inspector Chen series

"Few epochs stir up quite so much intrigue, mystery, and glamor as Shanghai in the 1930s: a divided city, a bustling port, a crossroads for the world, and a kind of frontier outpost where the citizens largely made up their own laws....City of Devils represents the very best of historical true crime: learned, gritty, and raucous." —CrimeReads.com

"A vivid and well-researched account of a gaudy, wild and cosmopolitan place as it hurtles towards its ultimate and violent demise."—Financial Times *critics pick*

"A story with the dark resonance of James Ellroy's novel "L.A. Confidential" and the seedy glamour of Alan Furst's between-the-wars mysteries...Reader advisory: By the time you are done with this extraordinary book, you will believe in devils, too."—Mary Ann Gwinn, Newsday

"A fascinating, cautionary tale of hubris and greed."—The Sun (Malaysia)

"City of Devils keeps you gripped from the start to the finish. It's written in the fast-paced style of a noir detective novel and brings the opulence and squalor of 1930's Shanghai vividly to life with a remarkable attention to historical detail and brilliant portrayals not just of the two major protagonists but the rich supporting cast of characters… I can't recommend [it] highly enough."—Richard Brown, Medium

"It's not often that I come across a history book whose most standout feature is its style…[A] very well written account of an oft-discussed time in a place that almost never gets mentioned. Paul French has a real gem in City of Devils."—The Mercury (Kansas)

"French is steeped in stories of old Shanghai, and his understanding of the time and period allows him to build a fully-realized world around his compelling characters. A large part of the book's joy is in its detail: the fashion, the drinks, the drugs, the cars, the bars, the slang."—Asian Review of Books

"Astonishing...meticulously researched...French takes you deep into those Badlands, grips you by the throat and doesn't let go."—BookReporter

"[Paul French] is finally back…Meticulously researched and eloquently written, [City of Devils] captures the feel of the time period and the lawlessness that seemed to flourish in Shanghai's International Settlement...Thrilling."—Elizabeth M. Lynch, China Law & Policy

"This enthralling piece of non-fiction takes you into the lives of some of the times' most notorious criminals, and gives you a completely different perspective of the city, and perhaps another reason to visit!"—The Beijinger

"The atmospherics are redolent."—Mark I. Pinsky, New York Journal of Books

"Brings interwar Shanghai to life in a gritty work of narrative non-fiction...a vivid picture of the city's nightlife and criminal underworld...it is a fascinating tale of a city on the edge."—Post Magazine (UK)

"Reads like a compelling noir novel…Spoiler: no one here comes to a good end, but the intrigue and drama is so outrageous that you won't miss the happy ending. City of Devils could inspire a great modern noir film, one directed by John Woo and starring Ryan Gosling and Christian Bale."—Military.com
Picador, 9781250170590, 336pp.
Publication Date: July 2, 2019
About the Author
Born in London and educated there and in Glasgow, PAUL FRENCH has lived and worked in Shanghai for many years. He is a widely published analyst and commentator on China and has written a number of books, including a history of foreign correspondents in China and a biography of the legendary Shanghai adman, journalist and adventurer Carl Crow.

His book Midnight in Peking was a New York Times bestseller, a BBC Radio 4 Book of the Week, and will be made into an international miniseries by Kudos Film and Television, the UK creators of Broadchurch and Life on Mars.