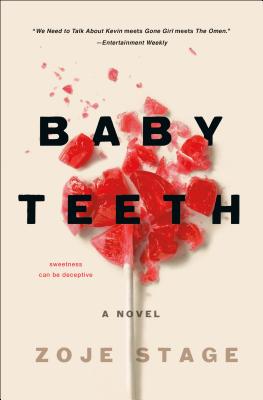 Baby Teeth (Hardcover)
St. Martin's Press, 9781250170750, 320pp.
Publication Date: July 17, 2018
* Individual store prices may vary.
Description
"Best Summer Reads for 2018" --Publishers Weekly
"We Need to Talk About Kevin meets Gone Girl meets The Omen....a twisty, delirious read that will constantly question your sympathies for the two characters as their bond continues to crumble." --Entertainment Weekly

"A deliciously creepy read." --New York Post

"A pulse-spiking thriller." --PopSugar

In the tradition of ROOM comes a debut about a mom desperate to find help for her young daughter, whose disturbing behavior grows increasingly dangerous.
"Unnerving and unputdownable, Baby Teeth will get under your skin and keep you trapped in its chilling grip until the shocking conclusion." --New York Times bestselling author Lisa Scottoline
Suzette is unable to form a bond with her seven-year-old daughter, who cannot--or will not--speak. Ever since Hanna was a baby, she felt rejected by her. It's as if the child hates her, leaving Suzette very frightened.
Alex wants to believe his wife's accounts of their daughter's cruel and unusual behavior, but he's never seen anything but her love. Is Hanna just a naughty girl whose antics reveal intelligence, creativity, maybe even charm? Or is she actually trying to kill her mother?
A powerhouse, razor-sharp novel of psychological suspense from blazing new talent Zoje Stage, Baby Teeth raises more questions than it answers--and will leave you guessing until its shocking conclusion.
About the Author
Zoje Stage lives in Pittsburgh, Pennsylvania. Baby Teeth is her first novel.