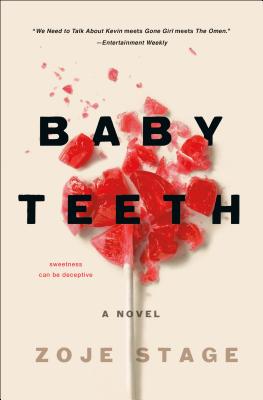 Baby Teeth
A Novel
Hardcover

* Individual store prices may vary.
Other Editions of This Title:
Digital Audiobook (7/16/2018)
Paperback (7/16/2019)
Mass Market (3/31/2020)
Paperback, Large Print (9/11/2019)
Paperback, Korean (1/18/2021)
Library Binding, Large Print (8/2/2018)
Description
One of Entertainment Weekly's Must-Read Books for July | People Magazine's Book of the Week | One of Bustle's "Fifteen Books With Chilling Protagonists That Will Keep You Guessing" | One of PopSugar's "25 Must-Read Books That Will Make July Fly By!" | One of the "Biggest Thrillers of the Summer"—SheReads | A Barnes and Noble Blog Best Thriller for July! | "New & Noteworthy" —USA Today | "Summer 2018 Must-Read"—Bookish | "One of 11 Crime Novels You Should Read in July"—Crime Reads | "Best Summer Reads for 2018"—Publishers Weekly | "The Five Best Horror Books of 2018-2019"—Forbes

"Gripping"—InStyle
"Propulsive."—New York Times Book Review
"A wholly original and terrifically creepy story."—Refinery29
"A twisty, delirious read"—EntertainmentWeekly.com
"A deliciously creepy read."—New York Post

MEET HANNA: Seven-year-old Hanna is a sweet-but-silent angel in the eyes of her adoring father Alex. He's the only person who understands her. But her mother Suzette stands in her way, and she'll try any trick she can think of to get rid of her. Ideally for good.

MEET SUZETTE: Suzette loves her daughter, but after years of expulsions and strained home schooling, her precarious health and sanity are weakening day by day. She's also becoming increasingly frightened by Hanna's little games, while her husband Alex remains blind to the failing family dynamics. Soon, Suzette starts to fear that maybe their supposedly innocent baby girl may have a truly sinister agenda.
A battle of wills between mother and daughter reveals the frailty and falsehood of familial bonds in award-winning playwright and filmmaker Zoje Stage's tense novel of psychological suspense, Baby Teeth.

"Unnerving and unputdownable, Baby Teeth will get under your skin and keep you trapped in its chilling grip until the shocking conclusion."—New York Times bestselling author Lisa Scottoline

"We Need to Talk About Kevin meets Gone Girl meets The Omen...a twisty, delirious read that will constantly question your sympathies for the two characters as their bond continues to crumble."—Entertainment Weekly

"A pulse-spiking thriller."—PopSugar
Praise For Baby Teeth: A Novel…
Named one of "Summer 2018's Must-Read Mysteries & Thrillers" by Bookish

"Unnerving and unputdownable, BABY TEETH will get under your skin and keep you trapped in its chilling grip until the shocking conclusion." —New York Times bestselling author Lisa Scottoline

"Propulsive." —The New York Times Book Review

"You might want to cover your eyes." —Entertainment Weekly, "The Must List"

"A deliciously creepy read." —New York Post

"Baby Teeth is one of the most original books in the horror genre. It has one of the most memorable protagonists who will stay with you for a long while."—Forbes

"Baby Teeth is a mesmerizing thriller that effectively taps into deep-seated anxieties that any parent will find uncomfortably familiar. Hard to put down and harder to forget, the book will delight readers looking for an escape over the summer." —Pittsburgh Post-Gazette

"A stay-at-home mom desperately tries to connect with her mute 7-year-old daughter, whose disturbing behavior continues to escalate in this gripping debut novel from an indie screenwriter." —InStyle

"We bet that parents will find this novel particularly unsettling." —Bookish

"Deliciously creepy…the author keeps the suspense taut…offering a terrifying glimpse into the inner thoughts of a budding sociopath." —Library Journal (starred)

"Tightly plotted, expertly choreographed.... Stage palpably conveys Suzette's fear, anger, frustration, and desperation while exploring the deleterious effects that motherhood can have on one's marriage and self-worth. ...Stage fuses horror with domestic suspense to paint an unflinching portrait of childhood psychopathy and maternal regret." —Kirkus (starred)

"Stage's deviously fun debut takes child-rearing anxiety to demented new heights. Stage expertly crafts this creepy, can't-put-it-down thriller into a fearless exploration of parenting and marriage that finds the cracks in unconditional love." —Publishers Weekly (starred)

"A totally engaging and unnerving read. Debut novelist Stage has convincingly created one of the youngest villains ever, and readers will be unable to resist the urge to meet Hanna." —Booklist

"Zoje Stage's Baby Teeth is cunning, sharp, and nasty, and wickedly funny until it isn't funny anymore. This intelligent, unrelenting, layered shocker can stand proudly alongside classics like The Other and The Butcher Boy, with their 'evil' children uncannily reflecting our own sins." —Paul Tremblay, nationally bestselling author of A Head Full of Ghosts and The Cabin at the End of the World

"Every time we read the premise of Baby Teeth, all the hair on the back of our neck stands up. Simply put, it's about a sweet little girl who wants to kill her mother. And it. Is. Bonkers. Do you have goosebumps yet?" —HelloGiggles

"Imagine WE NEED TO TALK ABOUT KEVIN only with insight into what Kevin was thinking—and if Eva had fought back. This dark, terrifying novel unfolds as a battle of wits between a struggling mother and her psychotic young daughter—and its genius is that the reader's allegiance isn't allowed to linger too long on either side. You'll be desperate to discuss the ending once you've recovered from the shock of it. A must-read." —Catherine Ryan Howard, USA Today bestselling author of Distress Signals

"'Maybe it had been a mistake, trying to set Mommy on fire.'—
Yeah, it's that kind of book
—and oh, is it good! Don't miss this riveting debut by a stunning new voice in horror!"—
J.D. Barker, International Bestselling Author of The Fourth Monkey and Dracul

"Baby Teeth is electrifyingly creepy. It calls to mind the great monster children of The Fifth Child or We Need to Talk About Kevin, but has a devilish tension all its own. Twisted, playful, and deeply unsettling, Zoje Stage's debut announces her as a new voice worth celebrating."—Colin Winnette, author of The Job of the Wasp

"Baby Teeth is deeply unsettling in the best possible way. Absolutely unforgettable and unflinching, it digs right into the painful nerve of family, obligation and dependence—it's a hell of a debut." —Kelly Braffet, author of Save Yourself
St. Martin's Press, 9781250170750, 320pp.
Publication Date: July 17, 2018
About the Author
Zoje Stage lives in Pittsburgh, Pennsylvania. Baby Teeth is her first novel.
1. Was Hanna a misunderstood child, mentally ill, or evil? Did you have any compassion or empathy for her? Would she be any different if Suzette were out of the picture?
2. Do you think Suzette bears any responsibility for Hanna's naughty behavior? Has she been an instigator of any kind?
3. Do you think Alex bears any responsibility for Hanna's duplicitous behavior, as he has been the beneficiary of her "good" side, her love?
4. Did Suzette's upbringing—and the baggage she brought to motherhood—make her a better or worse mother?
5. Why does Hanna choose not to speak? Is it intentional? Is she afraid of something? What do you make of her unusual means to make herself understood?
6. Who is the most selfish character—Suzette, Alex, or Hanna—and why?
7. Who is the most sympathetic character—Suzette, Alex, or Hanna—and why?
8. What was the largest contributing factor to the Jensens' delay in realizing their child needed serious help: Alex's denial and need for perfection? Suzette's fear of losing Alex? Hanna's ability to manipulate both of them? Or something else?
9. What do you think happens next with Hanna? Can she be successfully treated?
or
Not Currently Available for Direct Purchase