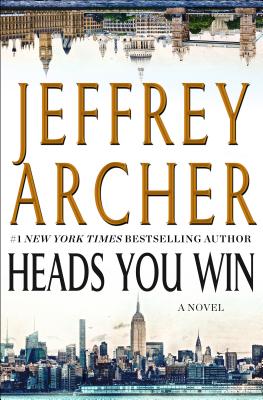 Heads You Win (Hardcover)
A Novel
St. Martin's Press, 9781250172501, 448pp.
Publication Date: November 6, 2018
* Individual store prices may vary.
Description
Leningrad, Russia, 1968. Alexander Karpenko is no ordinary child, and from an early age, it is clear he is destined to lead his countrymen. But when his father is assassinated by the KGB for defying the state, he and his mother will have to escape from Russia if they hope to survive. At the docks, they are confronted with an irreversible choice: should they board a container ship bound for America, or Great Britain? Alexander leaves that choice to the toss of a coin . . .
In a single moment, a double twist decides Alexander's future. During an epic tale of fate and fortune, spanning two continents and thirty years, we follow his triumphs and defeats as he struggles as an immigrant to conquer his new world. As this unique story unfolds, Alexander comes to realize where his destiny lies, and accepts that he must face the past he left behind in Russia.
With a final twist that will shock even his most ardent fans, this is #1 New York Times bestseller Jeffrey Archer's most ambitious and creative work since Kane and Abel.
About the Author
JEFFREY ARCHER was educated at Oxford University. He served five years as a Member of Parliament in the House of Commons and has served twenty-six years as a Member of the House of Lords. Now published in 97 countries and more than 37 languages, all of his novels and short story collections—including Kane & Abel, Only Time Will Tell and This Was a Man—have been international bestsellers. Jeffrey is married with two sons and three grandchildren, and lives in London, Cambridge and Majorca.
Praise For Heads You Win: A Novel…
"Archer, no stranger to sprawling epics, covers three decades in the life of Alex/Sasha, working his way to a stunning conclusion that packs a wallop. Typical for an Archer novel, the writing and characterizations are superb, and the book features several plot twists that send the story lines off in surprising new directions. There are a couple of moments, late in the novel, that should make readers' jaws drop – moments so unexpected and surreal that they require a second reading, just to make sure we really just read what we think we did." – Booklist (starred review)