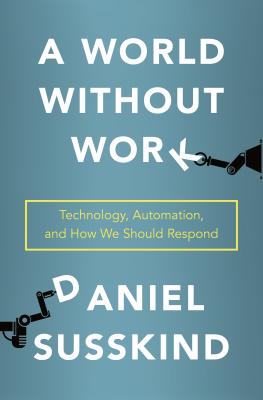 A World Without Work (Hardcover)
Technology, Automation, and How We Should Respond
Metropolitan Books, 9781250173515, 272pp.
Publication Date: January 14, 2020
Other Editions of This Title:
CD-Audio (1/14/2020)
* Individual store prices may vary.
Description
From an Oxford economist, a visionary look at how advances in artificial intelligence will erode employment across all types of occupations
For all the general anxiety about computers taking people's jobs, economists have long been optimistic about technology's impact on employment. Historically, new inventions have always complemented human labor, helping rather than hurting workers. But as acclaimed economist Daniel Susskind demonstrates, advances in artificial intelligence mean that all kinds of work are increasingly at risk – as is the structure of the entire world economy.
In a lively and approachable style, Susskind explains why this time really is different. Switching careers is increasingly difficult: truckers and taxi drivers thrown out of work by driverless cars, for instance, won't easily transition to become nurses or coders. At the same time, cerebral tasks that used to be far beyond the ability of computers, from diagnosing illnesses to drafting legal contracts, are now rapidly coming within their reach. Eventually, the economy might have no need for human labor at all.
This is not necessarily a bad thing, Susskind emphasizes. Technological progress has the potential not just to upend the global economy but to bring about unprecedented material prosperity. Enjoying that prosperity, though, requires us to plan for dealing with the economic disruption – and finding meaning in a world where paid work no longer functions as the center of our lives.
About the Author
Daniel Susskind is the coauthor of The Future of the Professions, named as one of the best books of the year by the Financial Times, New Scientist, and the Times Literary Supplement. He is a fellow in economics at Balliol College, Oxford. Previously, he was a policy adviser for the prime minister's strategy unit and a senior adviser in the cabinet office of the British government.