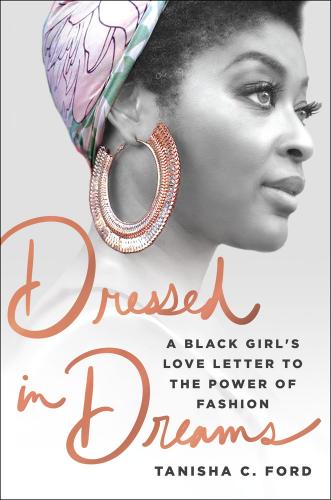 Dressed in Dreams
A Black Girl's Love Letter to the Power of Fashion
Hardcover

* Individual store prices may vary.
Description
NOW OPTIONED BY Sony Pictures TV FOR A LIVE-ACTION SERIES ADAPTATION: produced by Freida Pinto and Gabrielle Union

"A perfect time to look at the ethos of black hair in America — and the perfect person to do it is Tanisha Ford" —Changing America

"Everyone from the shopaholic to the clearance rack queen will see themselves in [Ford's] pages." —Essence

"Takes you not only into the closet, but the inner sanctum of an ordinary extraordinary Black girl who discovered herself through clothes." —Michaela Angela Davis, Image Activist and Writer

"[A] delightful style story." —The Philadelphia Inquirer

From sneakers to leather jackets, a bold, witty, and deeply personal dive into Black America's closet In this highly engaging book, fashionista and pop culture expert Tanisha C. Ford investigates Afros and dashikis, go-go boots and hotpants of the sixties, hip hop's baggy jeans and bamboo earrings, and the #BlackLivesMatter-inspired hoodies of today.

The history of these garments is deeply intertwined with Ford's story as a black girl coming of age in a Midwestern rust belt city. She experimented with the Jheri curl; discovered how wearing the wrong color tennis shoes at the roller rink during the drug and gang wars of the 1980s could get you beaten; and rocked oversized, brightly colored jeans and Timberlands at an elite boarding school where the white upper crust wore conservative wool shift dresses.

Dressed in Dreams is a story of desire, access, conformity, and black innovation that explains things like the importance of knockoff culture; the role of "ghetto fabulous" full-length furs and colorful leather in the 1990s; how black girls make magic out of a dollar store t-shirt, rhinestones, and airbrushed paint; and black parents' emphasis on dressing nice. Ford talks about the pain of seeing black style appropriated by the mainstream fashion industry and fashion's power, especially in middle America. In this richly evocative narrative, she shares her lifelong fashion revolution—from figuring out her own personal style to discovering what makes Midwestern fashion a real thing too.
Praise For Dressed in Dreams: A Black Girl's Love Letter to the Power of Fashion…
Essence's 10 BOOKS WE'RE DYING TO TOSS INTO OUR SUMMER TOTES | The Philadelphia Inquirer's BIG SUMMER BOOKS FOR 2019 | 6 BOOKS THAT COMPLICATE THE IDEA OF INDEPENDENCE by Colorlines | Bitch Media's 15 NONFICTION BOOKS FEMINISTS SHOULD READ THIS SPRING | ONE OF The Root's FAVORITE READS OF 2019

"For Ford, fashion isn't just about how we look—she knows that what we wear is both personal and political." —The Root

"Poignant yet funny ... Ford does a brilliant job tracing the roots of fashion and its intersection with African-American culture, music and social movements." —Diverse

"A professor and pop-culture observer finds insight behind the statement, 'clothes are never just garments'... An entertaining coming-of-age memoir from 'a proud dashiki daughter, dressed in my own dreams.'" —Kirkus Reviews

"Ford's memoir explores the connections between Black style and Black struggle; her nostalgia for Nike
"kicks" is tempered with pain over the crack and gang era they represented ("We watched as our parents'
freedom dreams morphed into crack vapor") and anger at Nike executives who "for damn sure weren't
showing up on our doorsteps to give their condolences to so-and-so's mama after her kid was gunned
down in their shoes or beaten and robbed for them." Ford's ultimate fashion achievement, successfully
bucking racial profiling at a Louis Vuitton store, represents "enfranchisement . . . a feeling few black folk
in this country get to feel." —Booklist (starred review)

"A rich and exciting book that focuses on family love, girlhood, the black arts movement and the closet. I loved this book. I am still smiling and embracing my memories of coming of age and creating and finding multiple identities while styling in and out of my own closet. Groundbreaking." —Deborah Willis, New York University and author of Posing Beauty

"Tanisha Ford explores and explicates the intricacies and politics of black style with the rigor of a critic and the heart of a writer. Deconstructing everything from Afros, dashikis, bamboo earrings, baggy jeans, sneakers, and hoodies, she's a master at letting us see and feel how what we wear expresses our politics and our deepest desires." —Michael Eric Dyson, New York Times bestselling author of What Truth Sounds Like

"What a charming and endearing collection of memories that will inspire future fashionistas who dare to dream beyond their surroundings." —Mimi Plange, fashion designer and creative director

"In Dressed in Dreams, Tanisha Ford gets Hurston with it, fearlessly and tenderly combing through the closet of her own black girlhood to unearth a treasure trove of sartorial choices - ones that reveal the innovative, rich and delicious complexity of black female identity. Dressed in Dreams proves that when it comes to black women 'we are what we wear' is much more than a threadbare adage. In Ford's capable hands, it's elevated to homage." —Joan Morgan, cultural critic and author of She Begat This: 20 Years of The Miseducation of Lauryn Hill

"There is no one more deft at weaving the fabric of our collective story together with our fashion choices and the politics that shape them than Tanisha Ford. This book will make you reminisce, reconnect and reflect anew on the fashion of the nineties, but with a Midwestern girls twist. Like your favorite album, you will want to take this journey from beginning to end." —Brittney Cooper, author of Eloquent Rage

"I love this book. It's a very funny and rare take on Black American style, and it's a Black girl's coming of age story that isn't tragic." —Akiba Solomon, co-author of How We Fight White Supremacy

"Surprisingly blunt yet lingeringly nuanced, Dressed in Dreams is a socioeconomic exploration of race, class and gender, dressed up as simple, personal coming-of-age stories. Ultimately, it's not about the clothes." —Aja Raden, author of Stoned

"A winning look at black girl fashion." —Library Journal (starred review)
St. Martin's Press, 9781250173539, 256pp.
Publication Date: June 25, 2019
About the Author
Tanisha C. Ford is a pop culture expert and star academic. A Professor of History at the CUNY Graduate Center, she has written for the New York Times, ELLE.com, the Atlantic, the Root, and featured on NPR, among other places. Ford is the author of Dressed in Dreams, Kwame Brathwaite: Black is Beautiful, and Liberated Threads, which won the 2016 Organization of American Historians' Liberty Legacy Foundation Award for best book on civil rights history. She lives in Harlem.