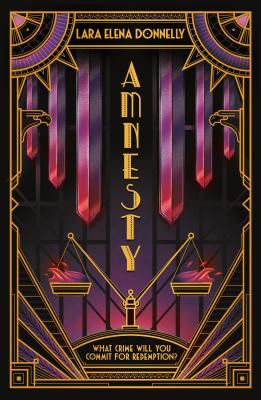 Amnesty
Book 3 in the Amberlough Dossier
Paperback

* Individual store prices may vary.
Description
Donnelly's Amnesty completes the Nebula and LAMBDA Award-nominated Amberlough Dossier glam spy thriller trilogy that Publishers Weekly describes as "Impressive...as heartbreaking as it is satisfying." (starred review)

In Amberlough City, out of the ASHES of revolution, a TRAITOR returns, a political CAMPAIGN comes to a roaring head, and the people demand JUSTICE for crimes past.

As a nation struggles to rebuild, who can escape retribution?

Amnesty is a smart, decadent, heart-pounding conclusion to Lara Elena Donnelly's widely-praised glam spy trilogy that will have readers enthralled until the very end.

The Amberlough Dossier
#1: Amberlough
#2: Armistice
#3: Amnesty
Praise For Amnesty: Book 3 in the Amberlough Dossier…
Praise for the Amberlough Dossier

Amberlough selected Nebula finalist for Best Novel & Lambda Literary Award Finalist for Best SFFH Novel

For Amnesty:

"Set in a vibrant Art Deco milieu, Donnelly's characters smoke, drink, meet clandestinely, scheme, and doublecross, trying to make the best of circumstances that require a series of unenviable compromises. Amnesty attempts, after systematically stripping away all its characters' pretenses, to answer the question: Can spies ever really come in from the cold? A fitting finale for the series; the experience of reading it is somewhat like watching an elegant train wreck in progress and wondering if there will be any survivors." —Booklist

"A triumph of craft….Amnesty pulls off an emotionally satisfying conclusion, one that feels informed by what came before without feeling inevitable. At the end, it reaches for the hope that people can do better, at least in small ways—can learn from their choices. As the capstone of a trilogy, it works, and works well." — Tor.com

"It's always a bit sad when a series you love comes to an end. It's hard to say goodbye to the characters you've formed a bond with, and a good ending will leave you nostalgic for the world as a whole. And in my opinion, Amnesty is a good ending to the Amberlough Dossier." — The Fantasy Inn

"A fitting end to Donnelly's glittering extravagant world. Again, Donnelly spins her story with great elan: the description is fine-tuned as is her characters. Worthy and well-written." —The Nameless Zine


"Signature elegant and emotive prose and magnificent characters....Amnesty was a fantastic conclusion to the glamorous and devastating Amberlough Dossier. This is one of my favourite series, these characters stay with you long after you put the books down. For vintage spy glam, chaotic disaster gays and high stakes, pick up the Amberlough Dossier and be prepared to be swept away."—Wild Heart Reads

For Armistice:

"Bracing [and] timely...Donnelly has successfully built upon her intricate, lush world of passionate spies and turncoats, and each character leaps off the page in this satisfying novel that succeeds on both grand an intimate scales." —Publishers Weekly, starred review

"Donnelly's use of language, setting, and descriptions all serve to evoke a smoky, lustrous Art Deco atmosphere reminiscent of a 1930s theatrical production. Offer it to adventurous Le Carré fans: readers in search of espionage and political intrigue—with a dash of romance—against a distinctive backdrop." — Booklist


"Donnelly returns readers to the world of Amberlough (2017) in this sequel, in which the fallout of a fascist regime's triumph continues to haunt those who escaped it...or who thought they had. Readers who enjoy luxuriating in the book's rich prose, sharp dialogue, and detailed interpersonal histories." — Kirkus Reviews


"Various rumors, rescues, and releases coincide toward the book's end — always believably, always unpredictably, and always in a superbly written, Art Deco-inspired atmosphere of louche extravagance." —The Seattle Review of Books


"Donnelly's use of language and wit made this book a delight to read." —Lightspeed magazine

"Where Amberlough spiralled down into tight, claustrophobic tragedy, Armistice opens up with the promise of change. It teases with the idea that personal happiness is possible for its protagonists, and the idea that a fascist regime may be opposed—may not, after all, last forever. That makes Armistice a rather easier book to read than Amberlough: less harrowing and less tragic in the Shakespearean sense. It doesn't hurt than Donnelly paces her twists and revelations very well, creating a remarkably smooth narrative experience. Armistice is a damn good book." —Tor.com

"Donnelly is attempting to reimagine the spy novel free of heteronormative, patriarchal, Eurocentric restrictions. The result is highly entertaining and also contains a number of uncomfortable parallels to modern-day political shifts, offering a clear sense of just what is at stake if totalitarianism masked as moral rectitude is allowed to prevail." — Historical Novel Society

"Lara Elena Donnelly's...attention to detail grounds her characters, giving them a rich specificity... Donnelly excels at complicated relationships, which provide her characters with real pathos as readers watch them struggle against society and their own expectations. ARMISTICE starts slowly but the careful build-up of tension pays off with action in the end. The characters and world building continue to excel, and I left feeling satisfied and looking forward to the third book, which seems like it will be quite an adventure." – Elitist Book Reviews


"Armistice is different enough from Amberlough that I didn't get a sense of a middle-book slump, and it's certainly strong enough to propel the series forward into the third novel, which — as I understand things — is currently titled Amnesty and slated for a 2019 release. I've thoroughly enjoyed Donnelly's AMBERLOUGH DOSSIER so far, and you can bet I'll continue recommending this series to readers who enjoy spycraft, stagecraft, and rock-solid characters."—Fantasy Literature

"A fine sequel to the decadent and fascinating Amberlough....The world here is a riot of Eastern -flavored colors, clothing and fragrances. It is more tropical and a lot takes place at a huge manor house overlooking the ocean. It's what I like best about Donnelly's writing: the utter decadence of it all. It is as full of intrigue as the previous novel." —The Nameless Zine

"In this stunning sequel, Lara Elena Donnelly returns to the shadowy world of her debut novel Amberlough. Donnelly's writing remains in tip top shape, utterly fantastic. Fans of the first book won't be disappointed." — The Illustrated Page

"Armistice was an great read, tightly written with plenty of character development and tense moments."—A Bookish Read

"Armistice is the sequel to last year's book Amberlough, which was sold to me as a gayer secondary world Cabaret, an extremely accurate description of its contents. Armistice is, frankly, even awesomer, and I am delighted as hell that it exists in the world." — Reading the End

"Armistice destroyed my soul and I loved every minute of it... It is the characters that truly bring this book to life. Donnelly writes them so well you can't help but grieve with them, laugh with them and feel their joy. ... Amberlough and Armistice are masterpieces of fiction. If I was only allowed to read one series for the rest of my life it would be the Amberlough Dossier." —Wild Heart Reads


For Amberlough:

"James Bond by way of Oscar Wilde." —Holly Black

"Donnelly blends romance and tragedy, evoking gilded-age glamour and the thrill of a spy adventure, in this impressive debut. As heartbreaking as it is satisfying." –Publishers Weekly, starred review

"Donnelly's striking debut brings a complex world of politics, espionage, and cabaret life to full vision. The emotional journeys of the characters as they struggle to survive in a society under siege by dark forces will strike a chord with readers as they race to the story's conclusion." —Library Journal, starred review, Debut of the Month

"A tightly woven and diverse cast of spies, criminals, cabaret bohemians, and lovers struggles to save what matters to each of them against a tide of rising fascism and violence in Donnelly's debut novel, set in a vaguely 1920s milieu….A sense of inevitable loss and futility permeates this rich drama. The fascists may never be defeated but only escaped—if the characters are willing to abandon the people they love." —Kirkus Reviews

"Amberlough grabbed me from the first page. It is beautiful, all too real, and full of pain. Read it. It will change you." —Hugo Award-winning author Mary Robinette Kowal

"An astonishing first novel!" —World Fantasy Award-winning author Ellen Kushner

"Sparkling with slang, full of riotous characters, and dripping with intrigue, Amberlough is a dazzling romp through a tumultuous, ravishing world." —Robert Jackson Bennett, winner of the Shirley Jackson Award and the Edgar Award

"It's a terrific novel. Very Evelyn Waugh meets The Sandbaggers." —John Chu, Hugo-award winning author

"A peach softens and grows sweeter until it reaches a fragile state, lasting only about six hours, during which it's actually better than perfect--and then it goes off, it's gone, it's through. In Amberlough Donnelly takes us to a city and culture just tipping from this pluperfect moment. What a rich and melancholy book; so tragic, so gay!" —Kai Ashante Wilson, author of Sorcerer of the Wildeeps and the Nebula & World Fantasy finalist for "The Devil in America"

"This is the book we need right now. Amberlough is a gorgeous, crucial reminder that even when the Fascists take over, people will fight back - no matter how flawed or frightened or damaged they might be, or how much they risk by doing so." —Sam J. Miller, finalist for the Nebula, World Fantasy, and Theodore Sturgeon Awards and winner of the Shirley Jackson Award

"Amberlough offers a sharp, lush, sensual espionage Cabaret, a Weimar world of lovers, criminals and spies all floating toward the fire." —Max Gladstone, LAMBDA Literary Award finalist

"Intrigue and passions intertwine in Amberlough – A city on the edge of political upheaval, glittering with decadence and riddled with spies! Be careful or you too will be lost in the whirl of the kind of glamour familiar in 1930s Shanghai or Weimar-era Berlin. Donnelley's debut is powerfully seductive and wrenching." —Fran Wilde, author of Updraft

"A glittering cabaret of a novel, with show-stopping language on every page." —Lev AC Rosen, author of Depth

"Holy cow—this book is sharp, queer, sexy, and positively eviscerating. It's Cabaret meets spy novel in a lushly imagined fictional city, and a terrifyingly topical tale of fascism's rise. It's a brilliantly realized gut-punch. Highly recommended!" —James L. Sutter, co-creator of the Pathfinder RPG series

"Lust and betrayal, intrigue and treachery, feints within feints within feints—Amberlough will keep readers up late into the night. I look forward to more adventures from Lara Elena Donnelly." —D.B. Jackson, author of the Thieftaker Chronicles

"Amberlough is the stiletto-sharp tale of an intelligence agent caught between corrupt handlers, a rising fascist regime, and his doomed passion for the notorious star of a sizzling underworld nightclub. Sexy and suspenseful, with characters who play for keeps, Donnelly's debut novel mixes secrets, spying, and outlawed love like a perfectly made cocktail... one that seduces before hitting you with an unforgettable kick." —A.M. Dellamonica, LAMBDA Literary Award finalist for Child of a Hidden Sea

"Weirdly elegant, wholly engaging, Donnelly's Amberlough is a richly visualized and genuinely fascinating novel. I couldn't put it down." —Josh Lanyon, author of the Adrien English Mysteries, and USA Book News Award for GLBT Fiction and the Eppie Award winner
Tor Books, 9781250173621, 384pp.
Publication Date: April 16, 2019
About the Author
LARA ELENA DONNELLY is a graduate of the Alpha and Clarion writing workshops. Her fiction won the Dell Magazine Award for Undergraduate Excellence in Science Fiction and Fantasy and she has been published in Icarus, Strange Horizons, Grim Corps, and Mythic Delirium. Donnelly has worked as professional fire performer, belly dancer, and is knowledgeable in aerial acrobatics and burlesque. Amberlough is her debut novel.